Rebag's 2020 Luxury Resale Report
Foreword
In October 2019, we revealed
Clair by Rebag
, our Comprehensive Luxury Appraisal Index for Resale. Clair, with its instant offers, universal taxonomy, and standardized grading system, was designed to bring one vital thing only: radical transparency to the opaque luxury resale.
Transparency has always been at the heart of Rebag, so in turn, our goal is to provide educational consumer
resources that lift the veil over a seemingly exclusive industry.

With this in mind, we are excited to present to you the first-ever Clair Report, a consumer resource covering shifts within the luxury resale market pertaining to retained brand value, pricing trends, and significant changes in overall brand ranking since Clair's 2019 debut.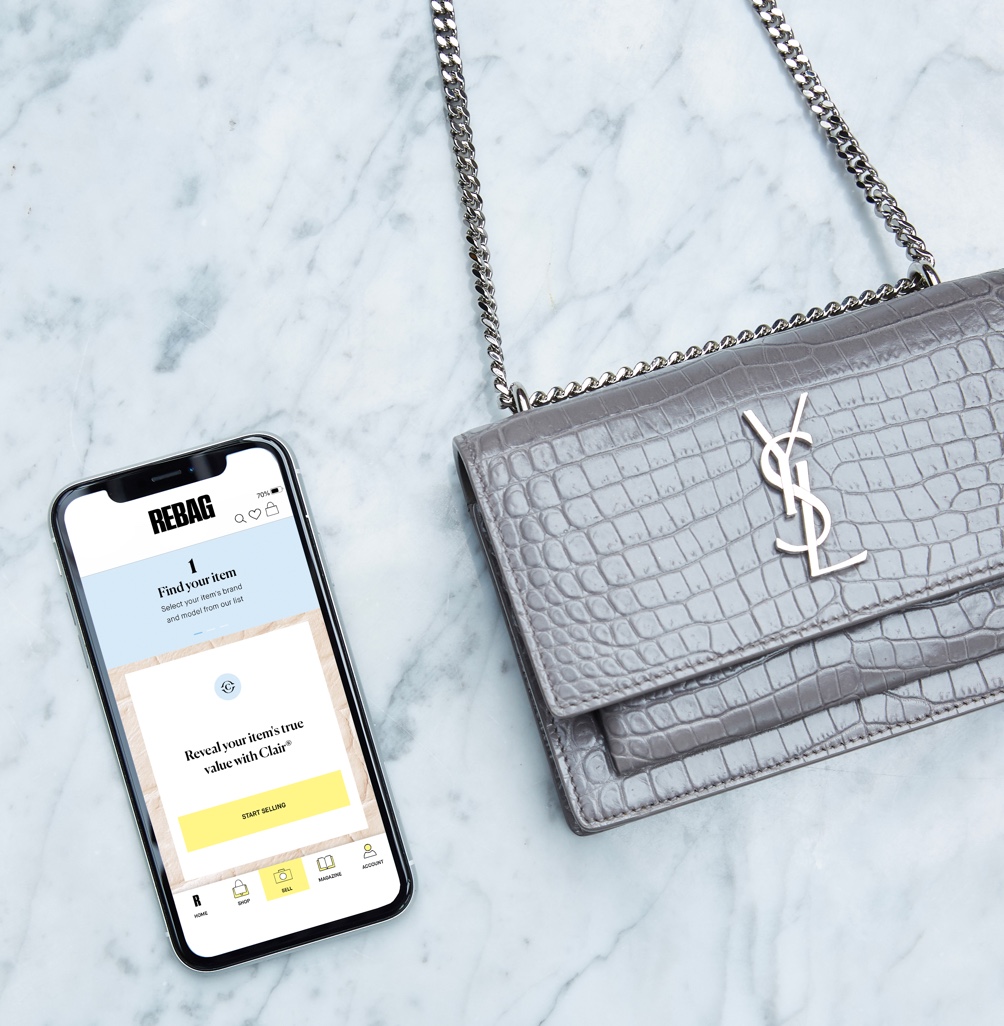 "Since launching Clair in October 2019,
our submissions have almost tripled.
We see that as customers validating our approach to provide
radical transparency
. The resale industry is constantly changing. The Clair Report is our way of tracking those changes, sharing them with the public, and
empowering consumers
to make informed decisions and investments."
CEO & Founder
| Charles Gorra
The Value Of Brands
Using Clair data to take a closer look at the brands we all know and love, Rebag has calculated each brand's average percentage of value retained compared to their retail prices for handbags and accessories.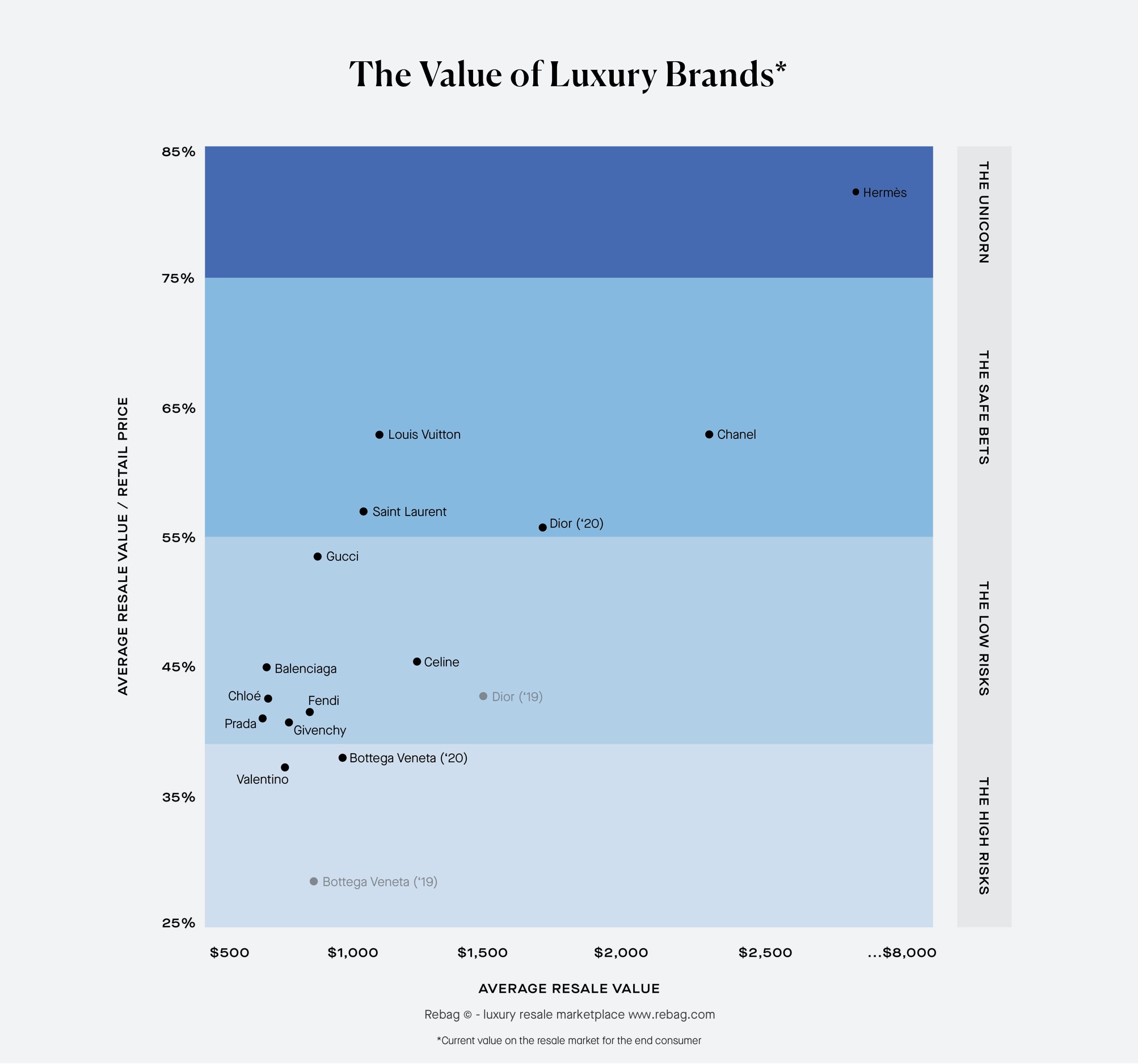 Unsurprisingly, Hermès, Chanel and Louis Vuitton have not wavered from the upper echelons of brand value, with
Hermès handbags
maintaining on average 80% of their value, and on average 63% of their value for Chanel and LV.
After all, there is a lot to be said about their rich, storied histories that have made them into household names today. But, in an unexpected and fascinating twist, two designer houses have risen in the rankings since 2019…
Bottega Veneta
28% 38%
'19 vs '20 average value retention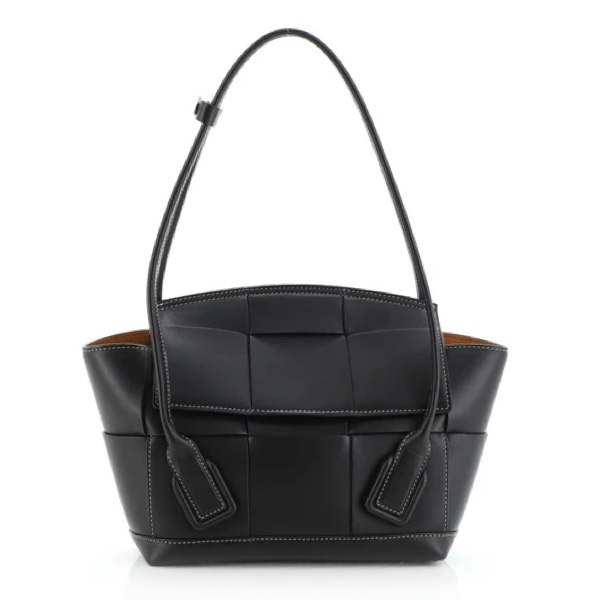 +10% since 2019
Shop Bottega Veneta
Christian Dior
43% 56%
'19 vs '20 average value retention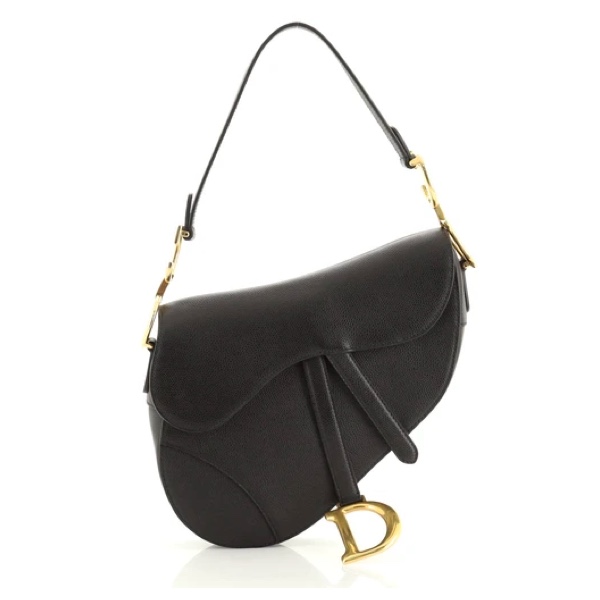 +13% since 2019
Shop Christian Dior
Boosting Brand Value
Let's take a closer look at rising stars Bottega Veneta and Christian Dior, whose values have increased from 2019 to 2020, thanks in large part to new collections.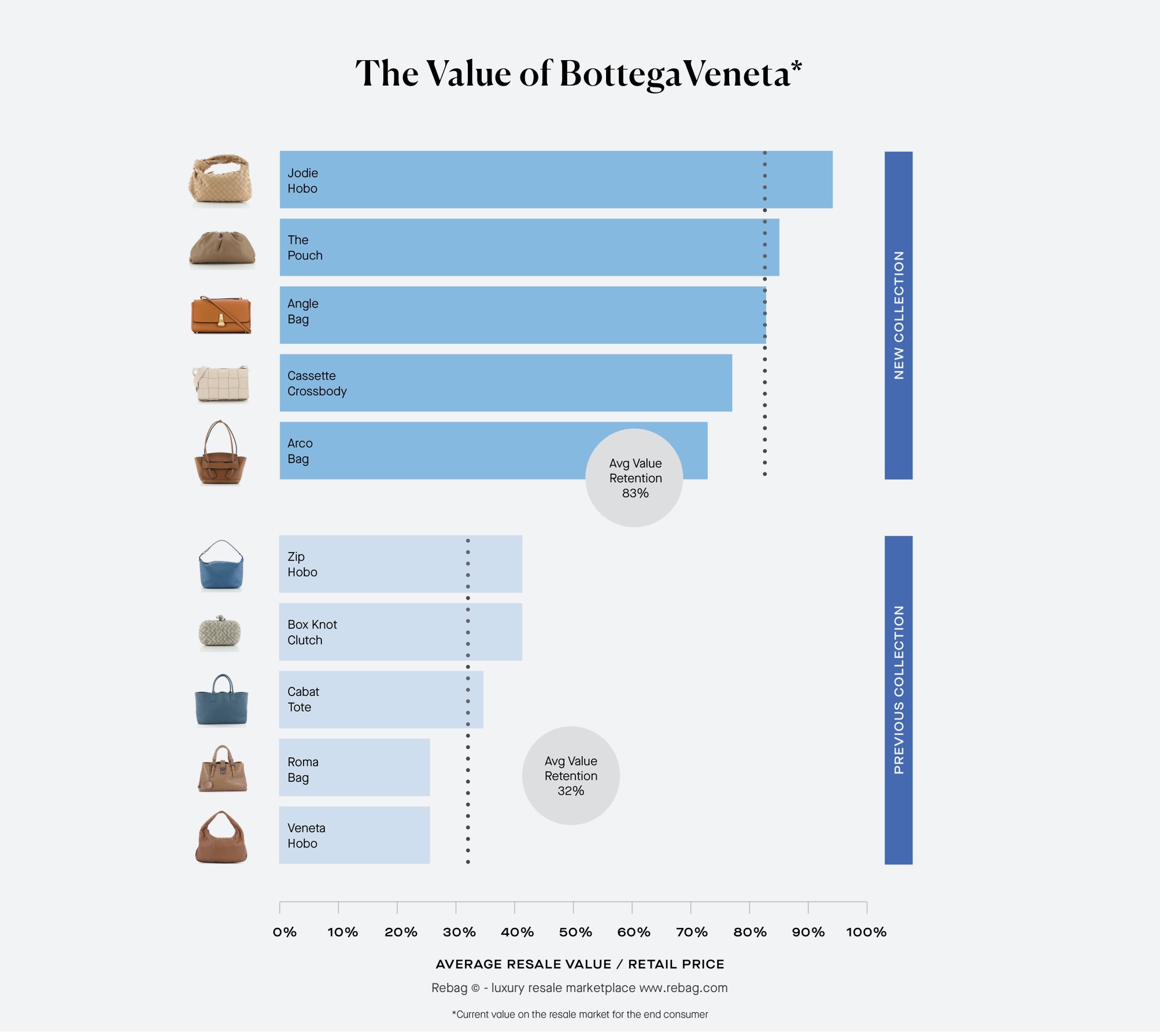 In 2018, Bottega Veneta brought on a new Creative Director, Daniel Lee, who has since catapulted the fashion house into the spotlight. The handbag collections under his reign have been minimalist in design yet rich in quality,
filling the void that Phoebe Philo's departure from Celine had left behind. The appetite for Lee's designs has dramatically influenced the brand's rise in the rankings.
The Winners
96%
average value retention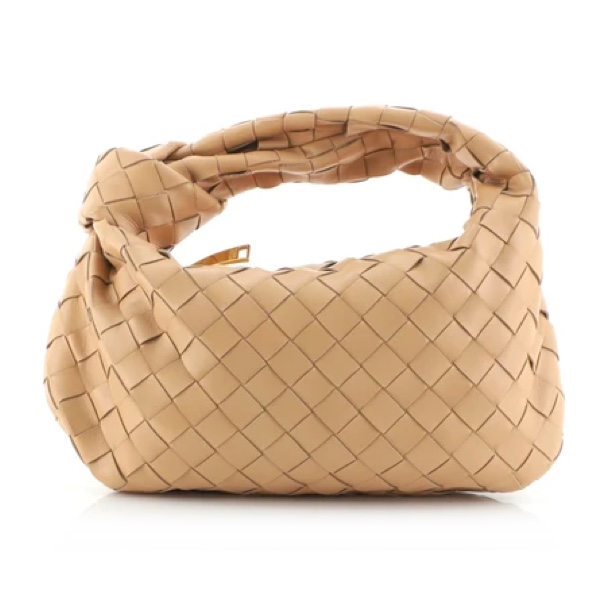 Bottega Veneta
BV Jodie Hobo
Shop The BV Jodie
86%
average value retention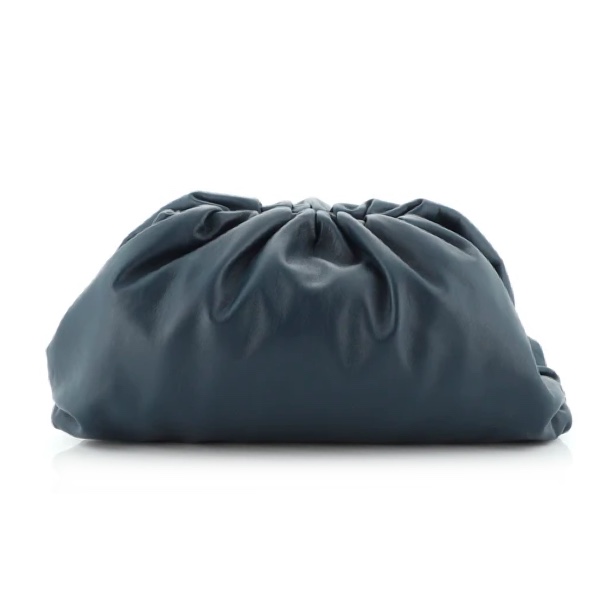 Bottega Veneta
The Pouch
Shop The Pouch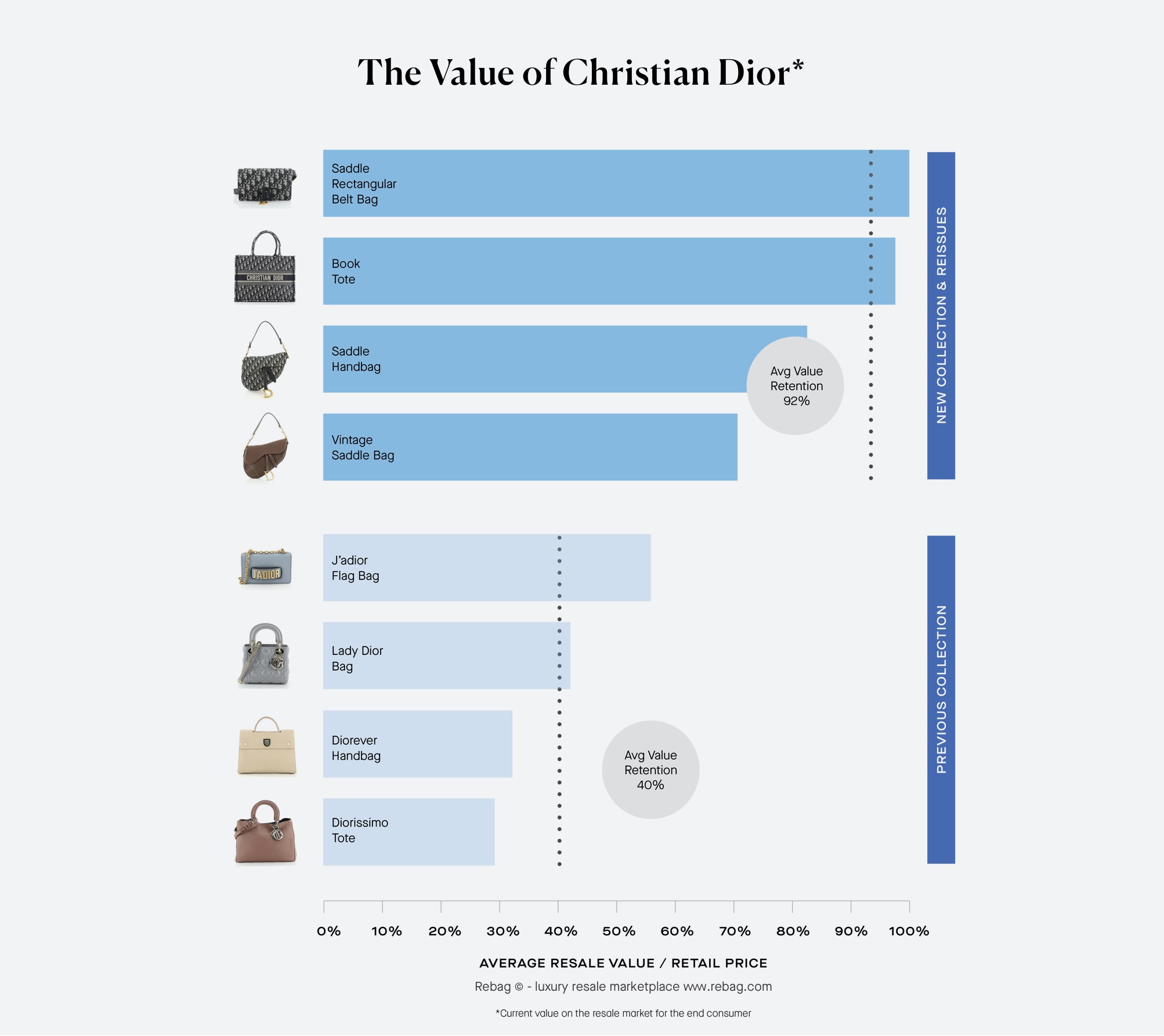 The demand for Dior has increased since 2018 when the brand reissued its Saddle Bag model and released even more heavy hitters such as the Book Tote.
Thanks to the trends of 'vintage revival' and 'logomania,' the current trend climate has been pushing the French luxury house upwards in value.
The Winners
98%
average value retention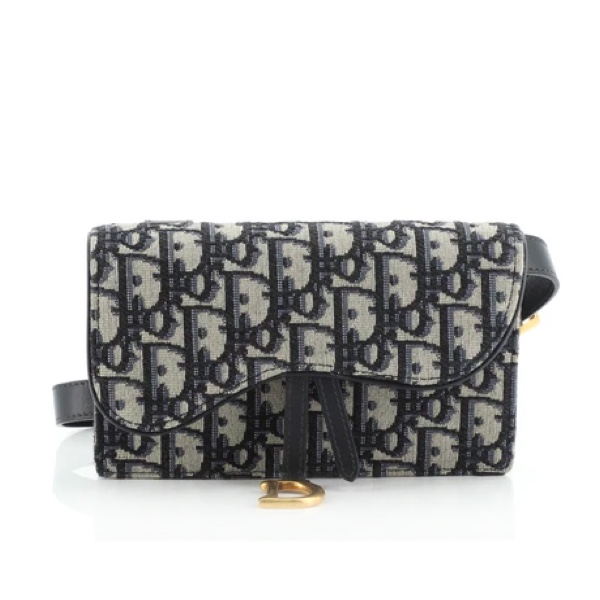 Christian Dior
Saddle Rectangular Belt Bag
Shop The Belt Bag
94%
average value retention
Christian Dior
Book Tote
Shop The Book Tote
Resale Value Trends
The pricing of once-loved luxury goods tends to stump those who cannot decode their meaning, but in truth, an item's resale value is often linked to trends across both the retail and resale realms. Let's uncover the interesting pricing behind two beloved styles…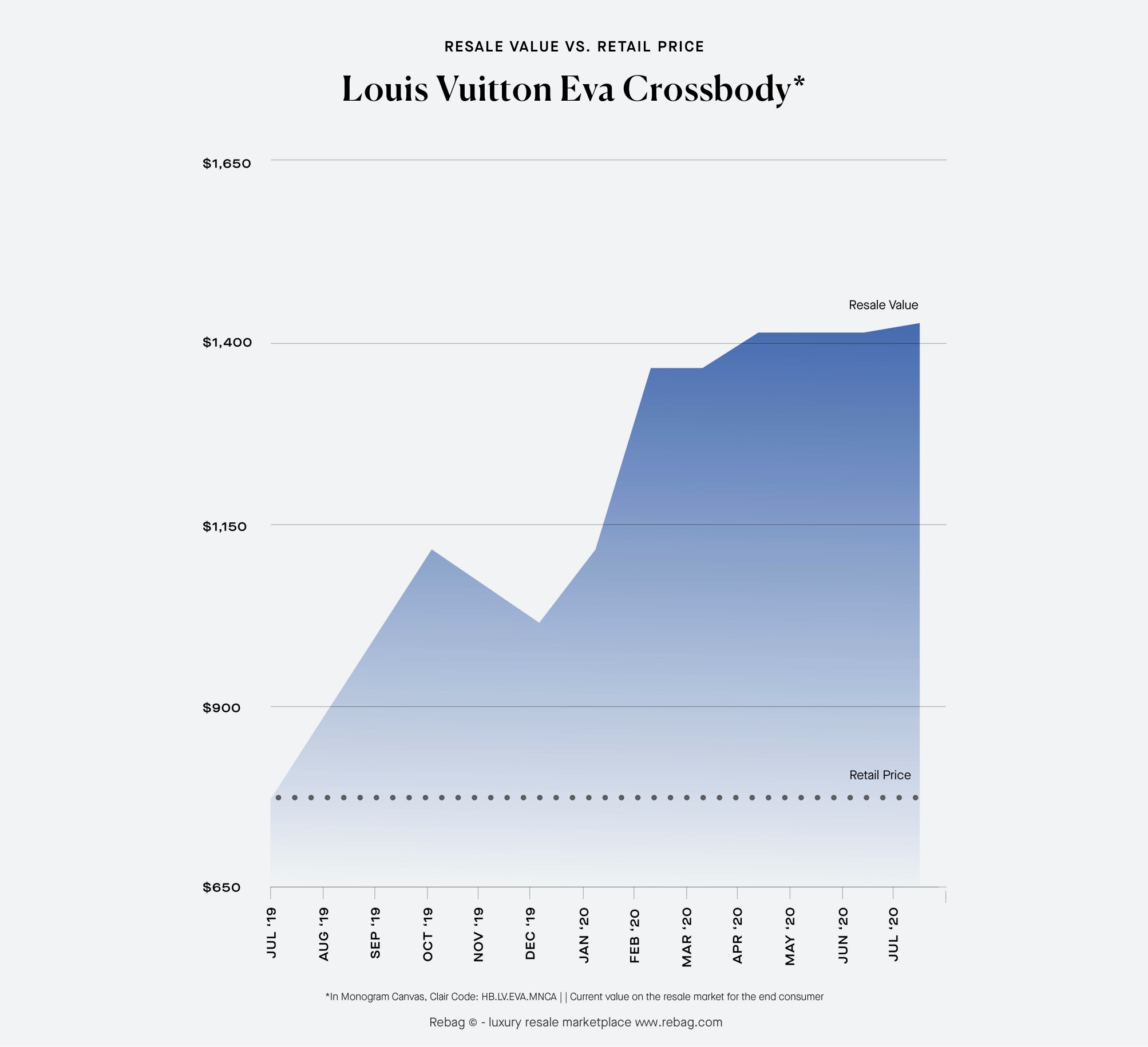 The pricing history of the
Eva Crossbody
is a lesson in scarcity driving demand. Overall, the Eva Crossbody has been a fan favorite since it was released in 2000 - and even more so when it was discontinued in 2014.
Thanks to the mini-bag trend, plus the bag's sleek design, recognizable print, and ability to transform from elegant shoulder bag to everyday crossbody, it's easy to see why and how the resale value of this style continues to inflate.
Louis Vuitton Eva Crossbody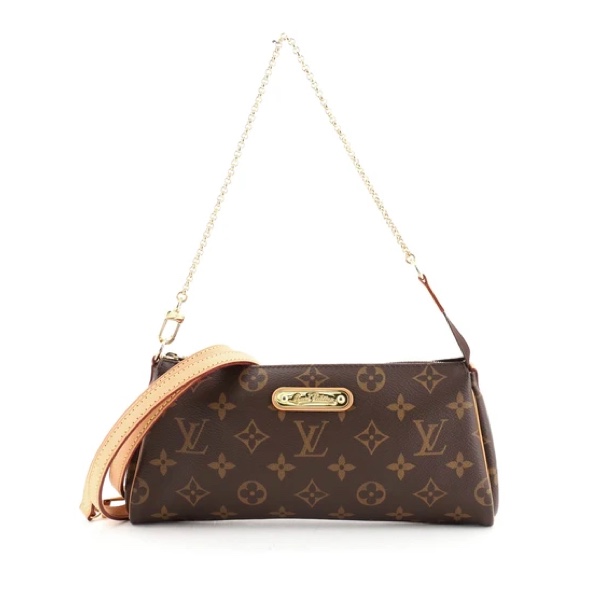 Louis Vuitton
Eva Crossbody In Monogram Canvas
Shop The Eva Crossbody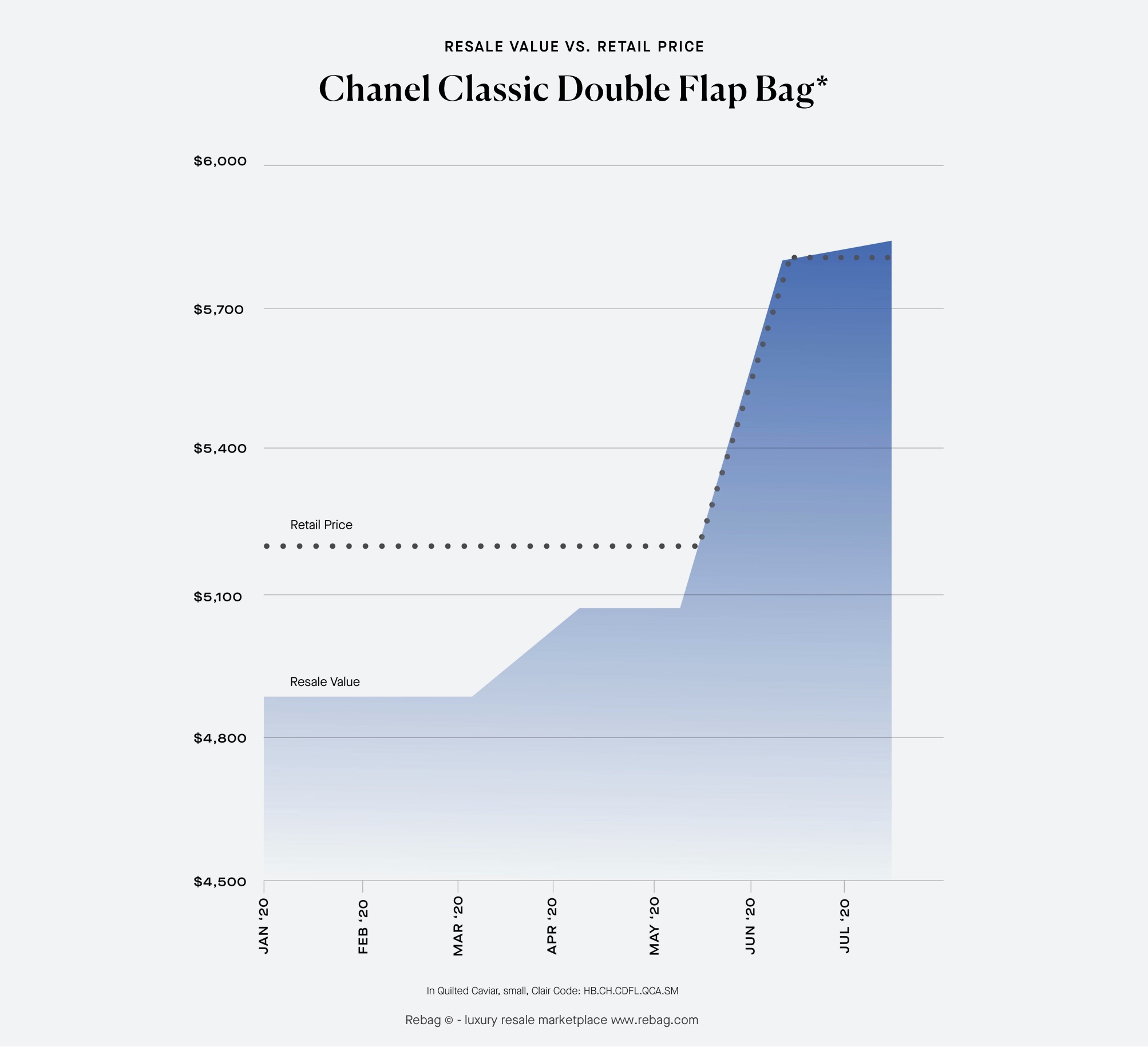 The
Classic Double Flap
needs no formal introduction - it's truly one of the most recognized, iconic styles in the luxury realm. The demand for this bag doesn't seem to dwindle, which is precisely why when prices increase at the retail level, then resale value is quick to follow.
Resale value quickly picked up early in 2020 when Chanel increased the European and US retail prices for their handbags. The Classic Flap in size Small was one of the hardest-hit syles, with an increase of more than 11% at the retail level and a significant surge in the resale market as well.
Chanel Classic Double Flap Bag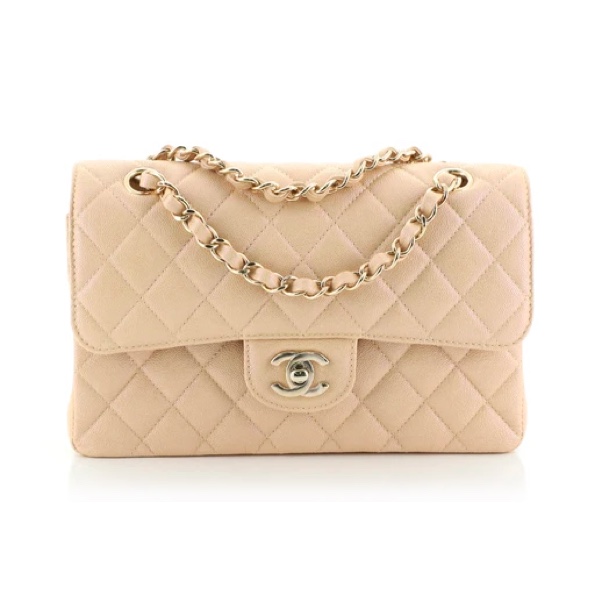 Chanel
Chanel Classic Double Flap Bag
In Quilted Caviar, Small
Shop The Classic Double Flap Bag
The Value Of Accessories
In the summer of 2020, Rebag began buying and selling some of the most coveted
luxury accessories
in addition to handbags, including sunglasses, belts, scarves, and small leather goods. With accessory purchases usually opening the gates to luxury loyalty, let's review this small but mighty category.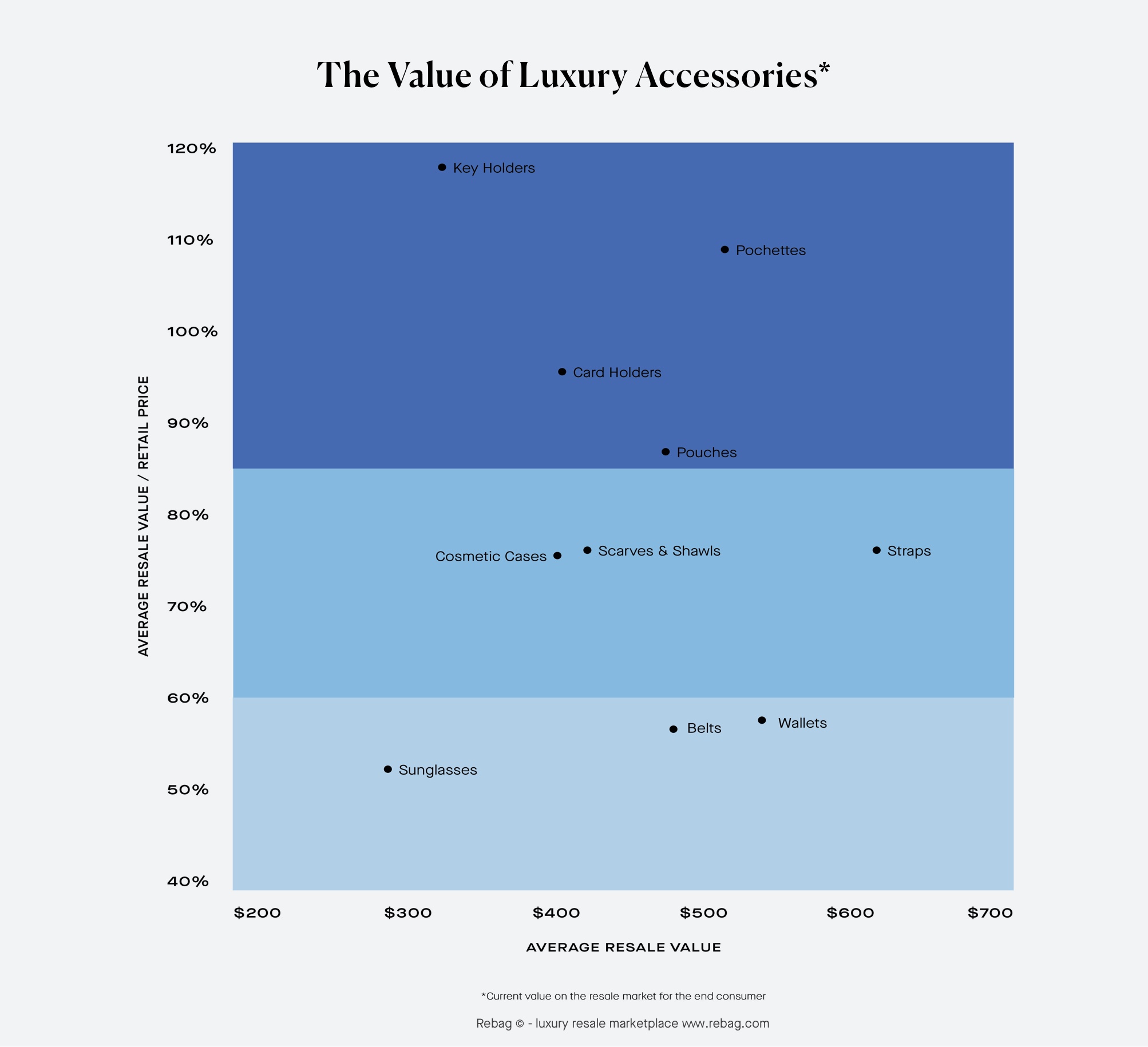 At a respective 119% and 109% average value retention, both Key Holders and Pochettes reign supreme, but categories like Card Holders (96%) and Pouches (87%) are very close behind. The attractiveness of these categories is likely thanks to their functionality, much like handbags themselves.
Shop Accessories
The Value Of Wallets
The value of a brand is determined by the sum of all its parts, which is why it's interesting to delve into brand strength from a different perspective: in this case, how some brands surprisingly hold more value than others in a little accessory category called "wallets."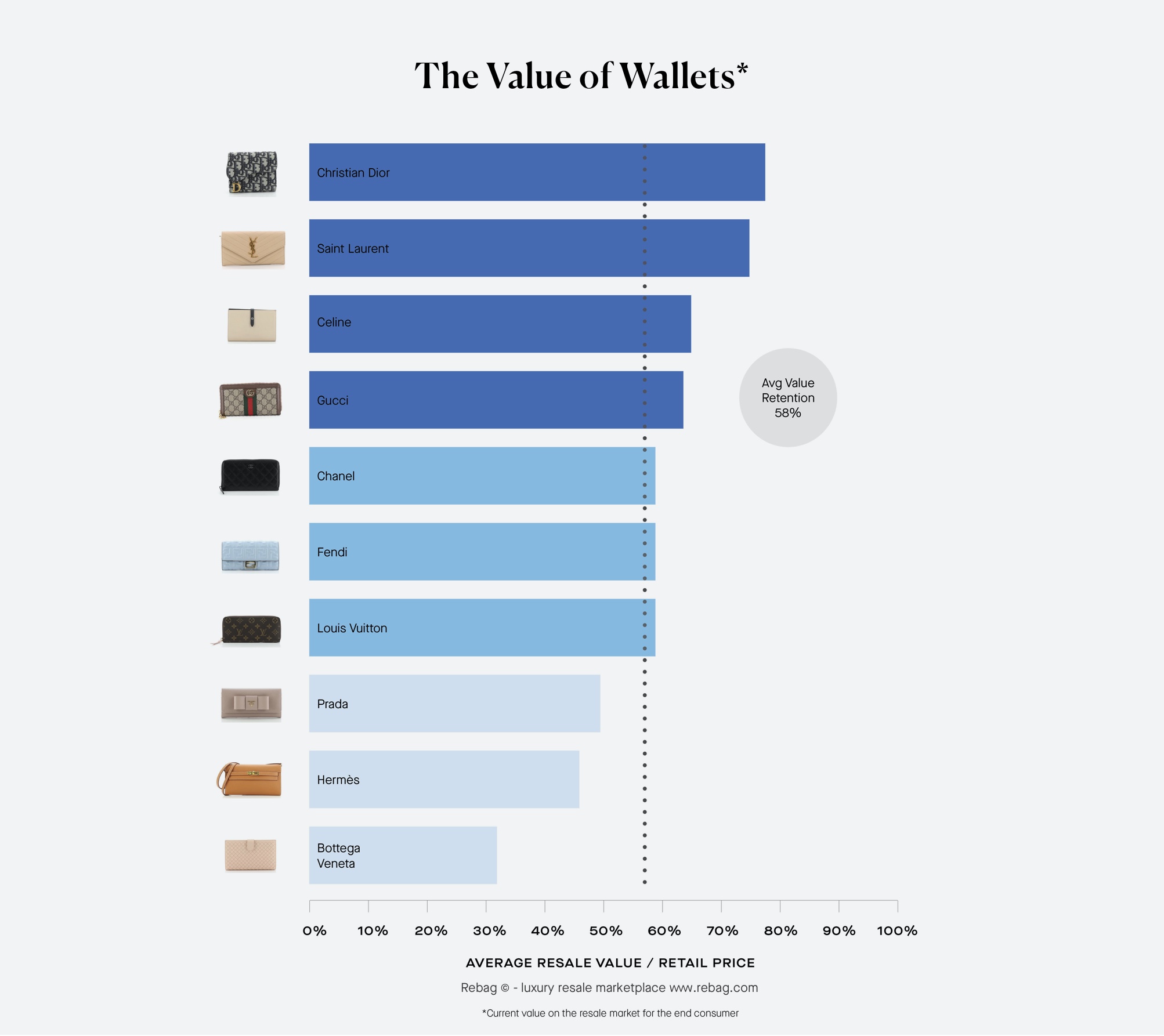 The leading brands of the wallet category include Christian Dior, Saint Laurent, Celine, and Gucci, which is quite the departure from the 'Big Three' we know as Chanel, Hermès, and Louis Vuitton. Dior is popular thanks to recent wallet collections that have a vintage touch to them, much like their most in-demand handbags.
Meanwhile,
Saint Laurent's wallets
boast a clean, classic look and an iconic monogram, popular with luxury shoppers. It goes to show that brands can spread their value across categories and subcategories far beyond large leather goods.
Shop Wallets
Clair's Picks
When it comes to investment-worthy luxury, we have the options to choose from right here. With data backing our every move, Clair by Rebag presents Clair's Picks, the blue-chips of the resale market.
Handbags
Accessories
Discussion With Founder Charles Gorra
Watch as the Founder and CEO of Rebag, Charles Gorra, talks us through the data unveiled in our first-ever Clair Report: