DESIGNER 101
Bottega Veneta 101:
A History
By Taylor M. Sep 1, 2020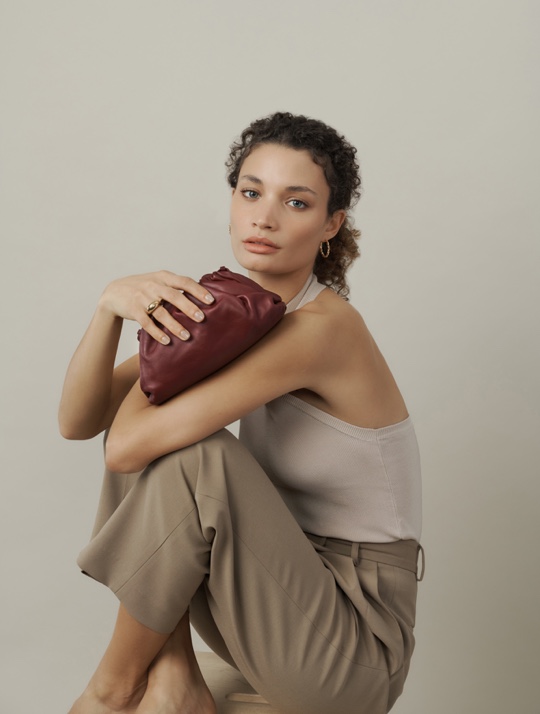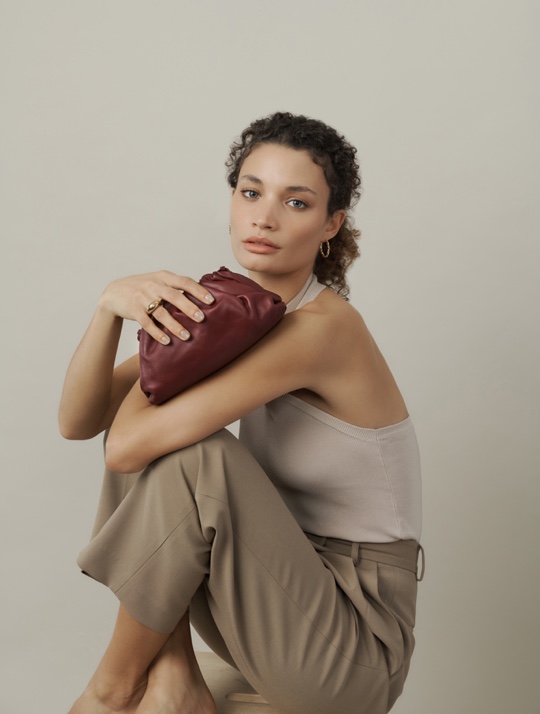 Bottega Veneta is a name often uttered by individuals who
stay consistently up-to-date on the very latest in high fashion and luxury, due to the label's esteemed reputation for artful design and fine craftsmanship. Since Bottega's amelioration – sparked by creative director Tomas Maier in 2001 – the brand continues to reflect on its initial, refined essence rather than playing into the widespread hype surrounding logomania and other trends.
The Italian leather goods company is a pinnacle of quality, and each piece is intended to meld into the buyer's lifestyle seamlessly. From the iconic Intrecciato woven leather accessories, to the sleekness of each ready-to-wear collection, Bottega guards the threshold of opulence and taste. The core ideals of Bottega still stand in 2020, which hold that its items should not only be durable in the face of wear for years to come, but must also remain relevant in style throughout the life of its loyal clientele.
History of Bottega Veneta
Bottega Veneta originated in 1966 in Vicenza, Italy. The brand was founded by Michele Taddei and Renzo Zengiaro and its primary product was leather goods. Bottega's roots tie it to a non-branded philosophy that gave its items a rarefied pith. Advertising with the slogan, "When your own initials are enough," the brand established itself as an understated treasure from an early start. In the late seventies Taddei and Zengiaro left control of the brand up to Taddei's former wife, Laura Moltedo.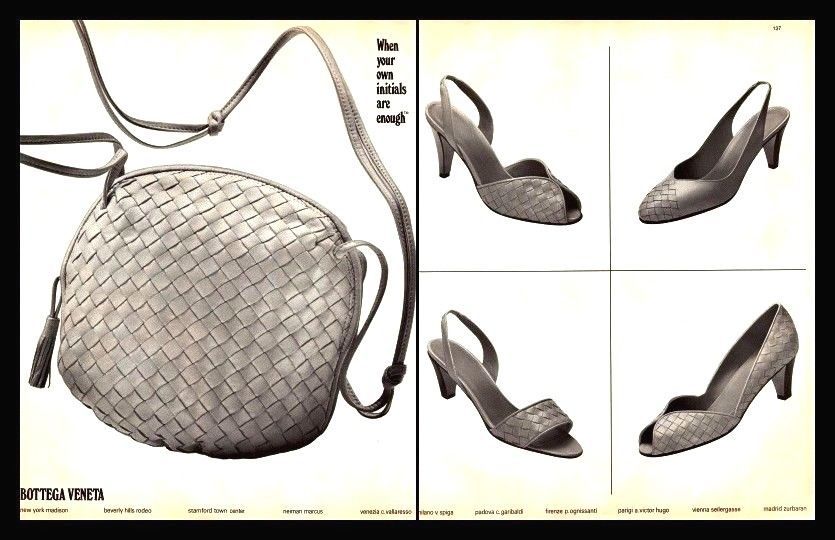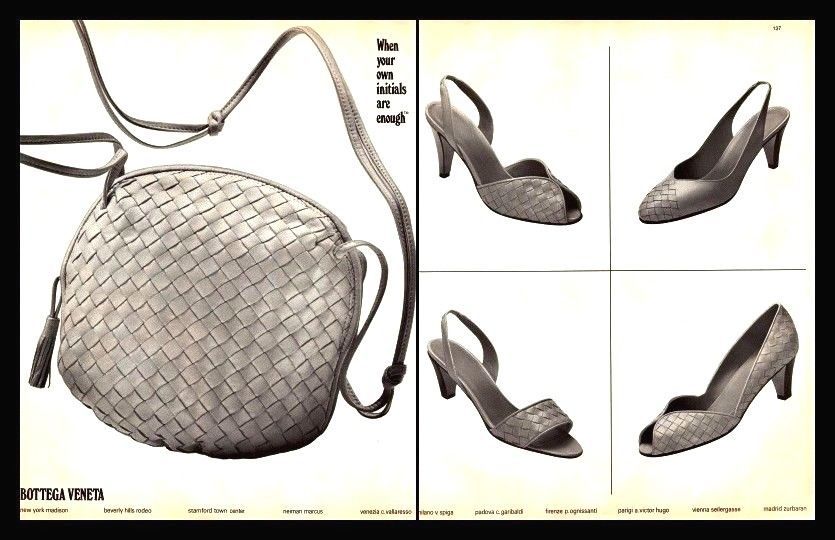 Vintage Bottega Veneta Ad – "When your own initials are enough"
Source Unknown
The eighties were when Bottega first gained a great deal of recognition by famous artists and celebrities alike. A regular patron, for example, was Andy Warhol. He often stopped into the New York boutique – and even went on to produce a short film for the brand.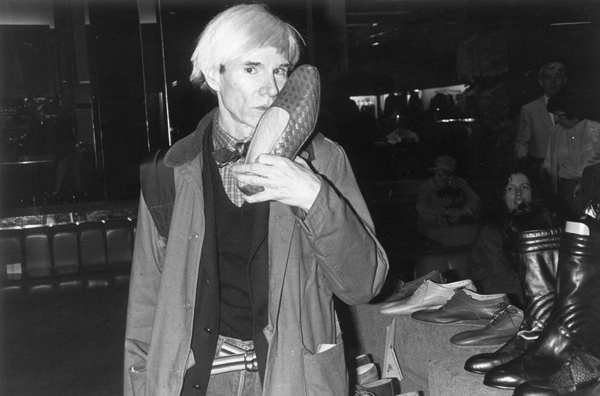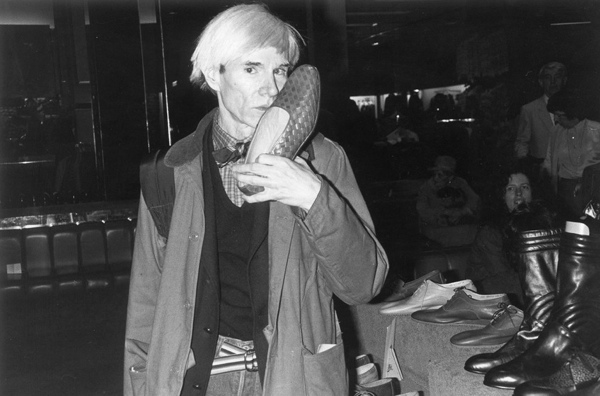 Andy Warhol kissing a Bottega Veneta loafer
Source Unknown
In the nineties, during the logo craze, Bottega adopted more trend-driven design elements and saw a decrease in popularity during the highly competitive decade. There was an attempt to reinvigorate the label with the appointment of head designer Giles Deacon, but it wasn't until the company was acquired by the Gucci Group in 2001 that Bottega regained some traction. At the time of the transition, new creative director Tomas Maier took over design and set out to implement the brand's early ideologies. Stepping away from logos, Maier highlighted the brand's famous Intrecciato weave and focused on more clarified design. Maier once said, "The Italian artisan was the starting point. Today, the collaboration between designer and artisan is at the heart of everything we do." In 2006, the company implemented a school to train leather artisans, Scuola della Pelletteria.


 Tomas Maier (Left) and Daniel Lee (Right)
Courtesy of L'Officiel
Modern-Day Bottega with Daniel Lee
Presently, Daniel Lee holds the position of creative director. He took the role halfway through June 2018, and at the time had little recognition as a young, British designer, though his track record was more than impressive. Previously, he had worked at Celine under Phoebe Philo as director of ready-to-wear, and before that held positions at Maison Margiela and Balenciaga. Since his joining Bottega Veneta, the company has been catapulted into the spotlight of must-have fashion. Just eighteen months into his new role, Daniel Lee received a number of Fashion Awards including Brand and Designer of the year. This was no surprise to the industry, as it had just seen his work develop a new fanbase for Bottega in the blink of an eye. This "New" Bottega, characterized by Lee as clean and back to the essential, came just in time for "Old" Celine fans to pick up, as Harper's Bazaar sharply pointed out in December 2019.
On November 10, 2021, Bottega Veneta and Daniel Lee announced the creative director's departure from the label after three years. "My time at Bottega Veneta has been an incredible experience. I am grateful to have worked with an exceptional and talented team and I am forever thankful to everyone who was part of creating our vision," said Lee in a statement. "Thank you to Francois-Henri Pinault for his support, and for the opportunity to be part of Bottega Veneta's story." Leo Rongone, CEO of Bottega Veneta, added: "I would like to thank Daniel for his dedication to the House over the past three years. He provided Bottega Veneta with a fresh perspective and a new sense of modernity, while remaining respectful of the brand's fifty-year heritage. The remarkable growth of the brand over the last three years bears testimony to the success of his creative work."
A New Chapter at Bottega Veneta
On November 15, 2021, Bottega Veneta named Matthieu Blazy as the new creative director of Bottega Veneta, effective immediately. "Matthieu Blazy is an extraordinarily talented individual, whom I am proud and excited to entrust with the creative helm of our luxury House. Bottega Veneta has always been equated with signature craftsmanship and distinctive creativity," said Bottega Veneta CEO Rongone in a statement. "Matthieu's appointment will further enhance the modern relevance of our brand and accelerate our growth, while preserving the values that are at the core of Bottega Veneta." He will present his first collection for the label in February 2022. 
History of the Intrecciato Weave
Josefine H J wears the Intrecciato Weave Hobo
Shortly after its birth, Bottega's machinery for production seemingly put it at a disadvantage from other manufacturers of leather goods. The sewing machines the young house was equipped with lacked the strength that those of other purveyors possessed, making it impossible to fuse more robust leathers. The solution to this problem was the primary innovation that set the label up for success in the early seventies: the Intrecciato Weave. In order to utilize delicate, supple leathers effectively, the brand opted for a woven pattern to supply its handbags with durability. Intrecciato was chosen because it is the Italian word for "braided." Past creative directors have adapted this technique, showcasing its versatility through different textures and colorways. To this day under Daniel Lee, the intrecciato weave is vastly recognizable and cherished in the fashion industry, and it appears across all categories of Bottega's accessory offerings.
Maria Von Behrens wears the Maxi Weave Padded Cassette Bag
The Intrecciato Weave at Rebag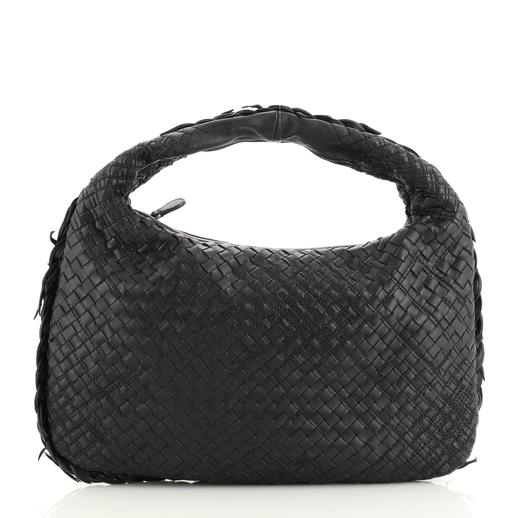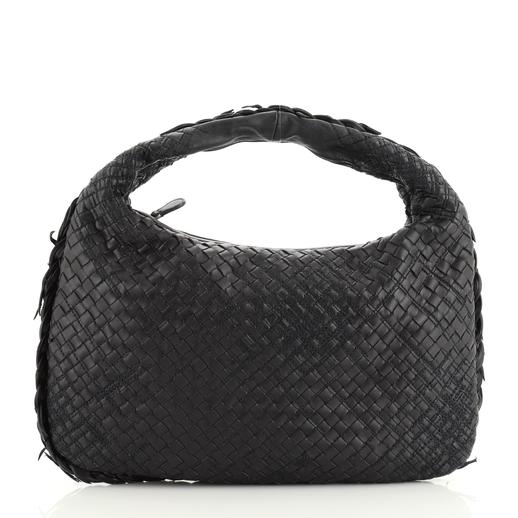 Veneta Hobo Stitched Intrecciato Nappa Large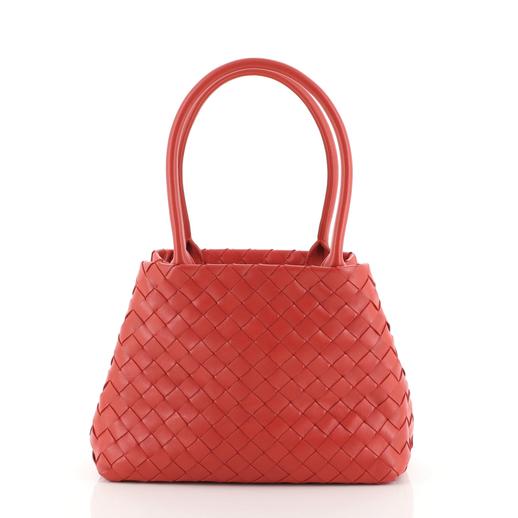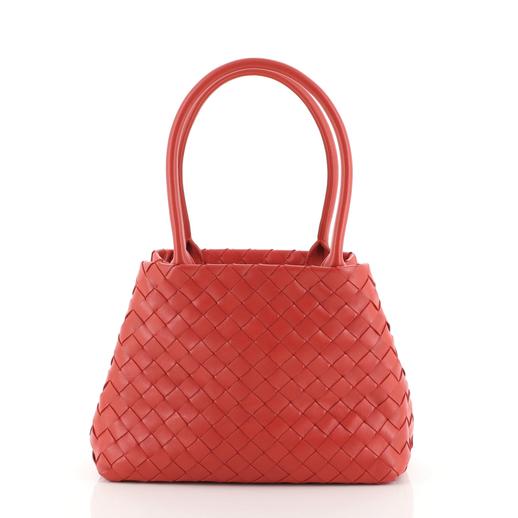 Shopper Tote Intrecciato Nappa Small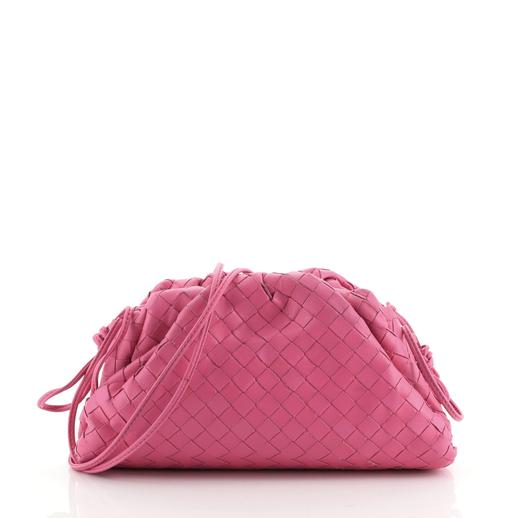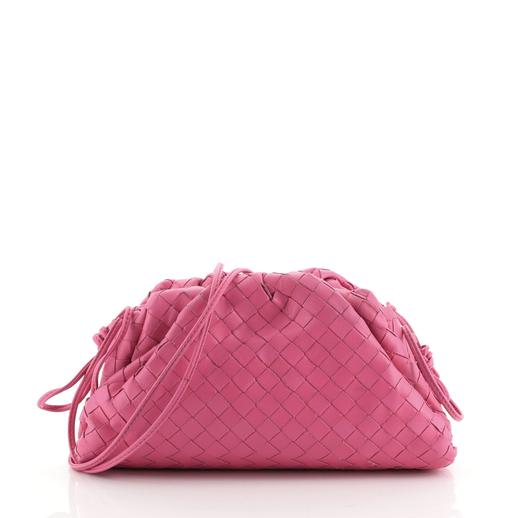 The Pouch Intrecciato Nappa 20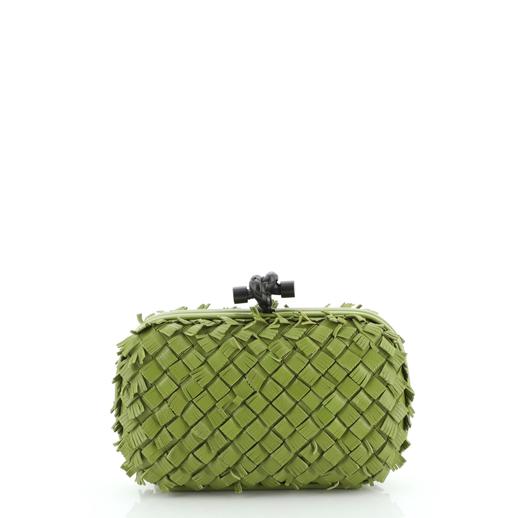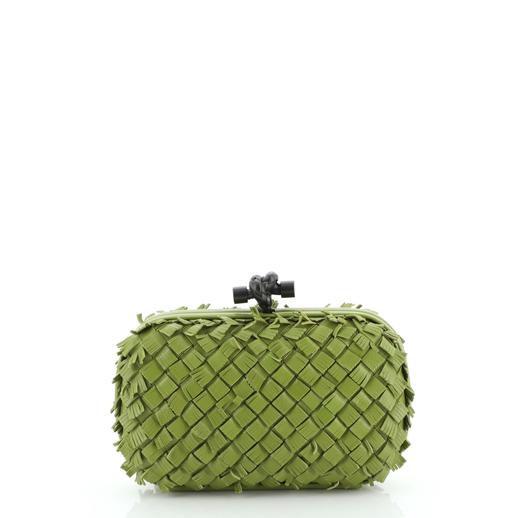 Box Knot Clutch Fringe Intrecciato Nappa Small
Perhaps the current success of Bottega Veneta is owed to the minimal, but precise approach that Lee brings to the table. In an interview with Vogue in 2018 he described the brand as "a heightened aspirational reality," stressing also the importance of teamwork within the company and a minimal approach to celebrities and branding. He displays a keen understanding of the label's core and the brand now has an air about it that feels both genuine and exalted, which is no doubt working for luxury consumers. One thing is for sure: we expect only great things at Bottega in the near future. In the meantime, we will continue to fawn after the iconic handbags made with the utmost detail and intention.