DESIGNER 101
Christian Dior 101:
The Lady Dior
By Ann B, Apr 22, 2022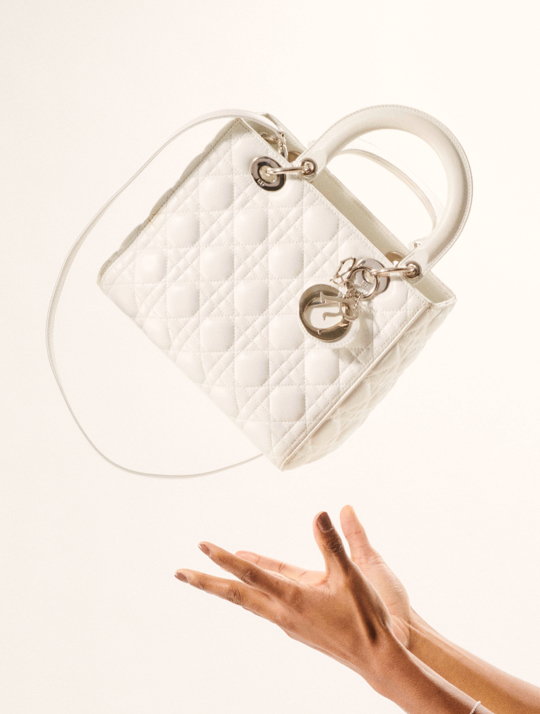 The Lady Dior is one of fashion's most famed handbags.
Defined by its rectangular shape, quilted Cannage motif, rounded top handle, and dangling charms, the Lady Dior made its debut in 1995. Princess Diana lent her name to the Dior handbag after it became one of her favorite handbags. It earned its icon status after a number of television appearances, celebrity fans, and even a tribute from her daughter-in-law Meghan Markle.
History
It's common knowledge that Princess Diana inspired the Lady Dior bag, but it wasn't always called that. Gianfranco Ferré, the Italian fashion designer who was the artistic director of Christian Dior from 1989 to 1996, first created the rectangular handbag covered with the house's Cannage pattern, accented with a top handle and adorned with charms in 1995. Its name wasn't the Lady Dior, but the Chouchou ("favorite" in French).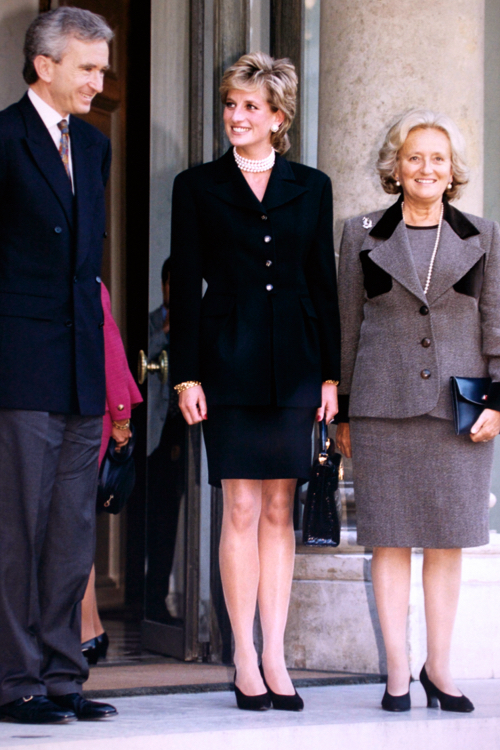 Bernard Arnault, Bernadette Chirac, and Princess Diana before visiting the Cézanne exhibition at the Grand Palais in September 1995. (Benainous/Stevens/Gamma-Rapho via Getty Images)
Bernadette Chirac, the then-first lady of France, presented a black version of the Christian Dior Chouchou bag to Princess Diana in Paris in September 1995, during the opening of a retrospective of Impressionist artist Paul Cézanne at the Grand Palais in Paris. At the time, the bag was so exclusive that it wasn't available at retail. After, Diana was regularly photographed with the bag — on a visit to Argentina, she paired it with a white Versace suit. Diana was so enamored with the bag that she commissioned one in navy blue to match her blue eyes, "​​because it suited [her] well," she said. 
The fashion house also thought it suited her well, and in 1996, the handbag was officially renamed the Lady Dior. 

The Lady Dior in Pop Culture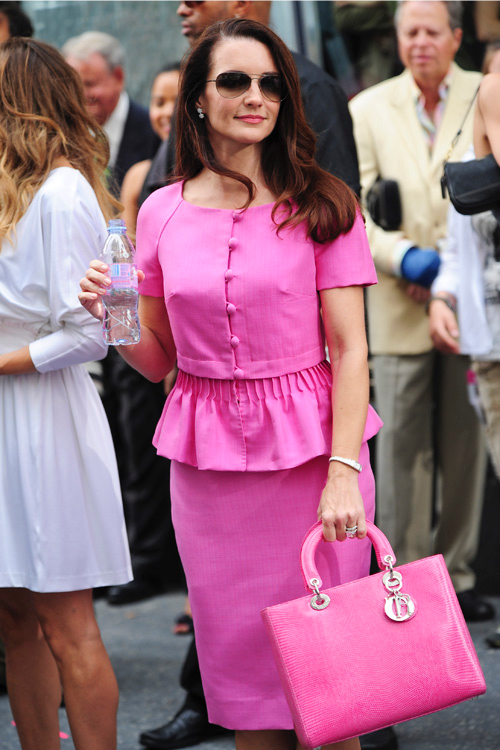 Kristin Davis on location for Sex and the City 2 in September 2009. (Ray Tamarra/Getty Images)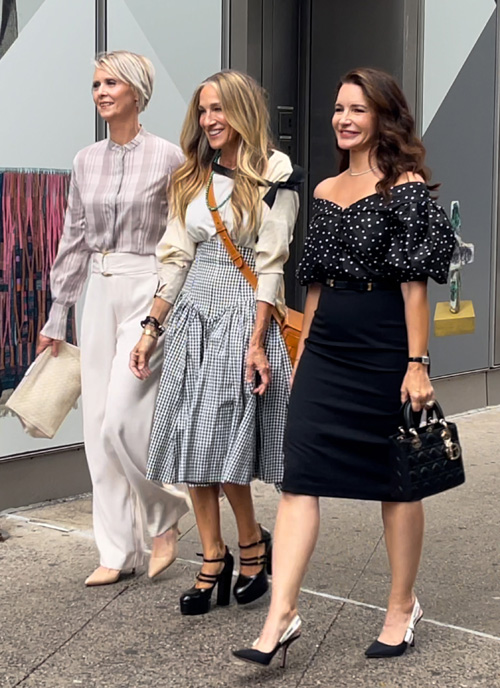 Cynthia Nixon, Sarah Jessica Parker and Kristin Davis n the set of  And Just Like That… in July 2021. (Jose Perez/Bauer-Griffin/GC Images)
The bag became depicted in pop culture numerous times during the aughts, Charlotte wore a bright pink one on Sex and the City 2, and a black one in the promo photos for And Just Like That… The Lady Dior was ubiquitous on the original Gossip Girl, a favorite of Blair Waldorf, who carried several iterations of it through the run of the show. 
As Seen On
Celebrities and influencers love the Lady Dior bag. It has been photographed with both Paris Hilton and Nicky Hilton, Sharon Stone, and Blake Lively, and in more recent years, Emma Roberts, Priyanka Chopra, and content creator Chriselle Lim.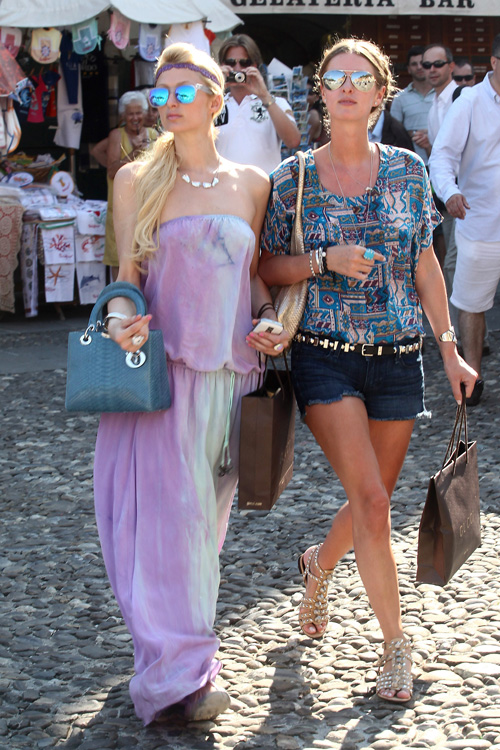 Paris and Nicky Hilton are seen on holiday on July 20, 2010 in Portofino, Italy. (Jacopo Raule/FilmMagic)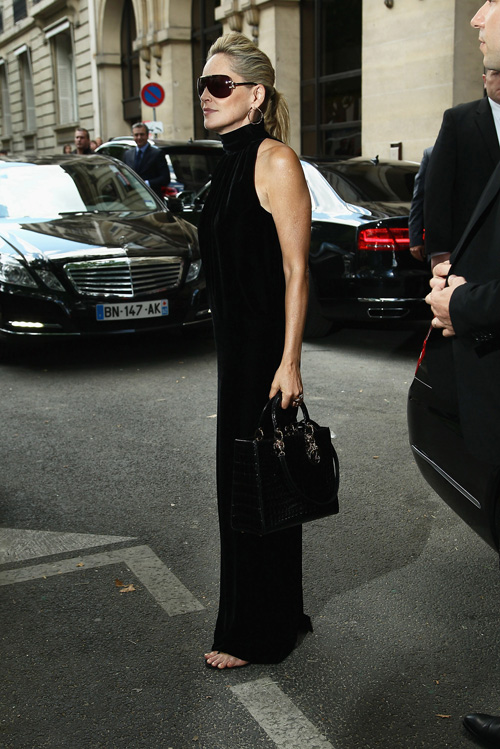 Sharon Stone attends the Christian Dior couture show as part on July 2, 2012 in Paris, France. (Julien M. Hekimian/Getty Images)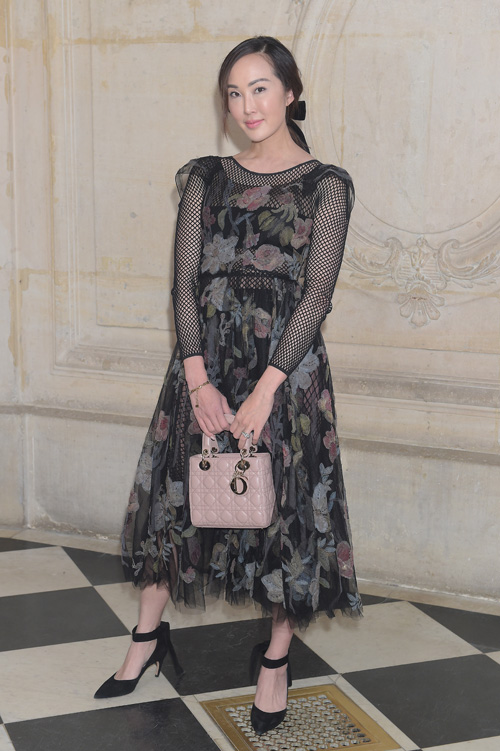 Chriselle Lim attends the Christian Dior show as part of the Paris Fashion Week Womenswear on February 26, 2019 in Paris. (Dominique Charriau/WireImage)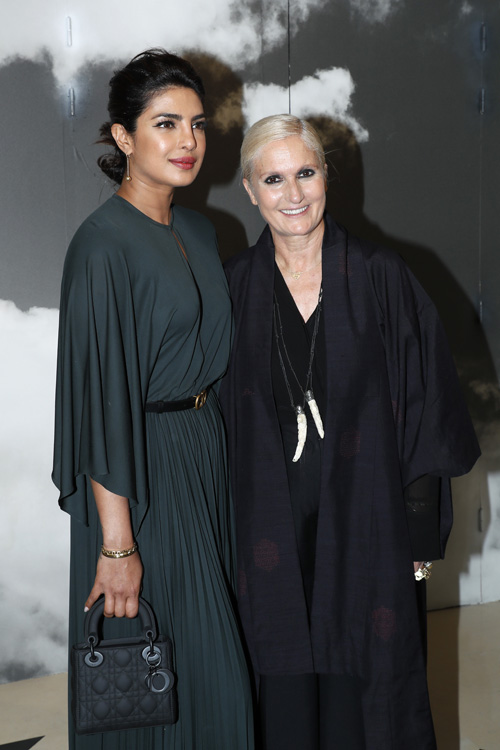 Priyanka Chopra and Christian Dior artistic director Maria Grazia Chiuri after the Dior Couture show on July 01, 2019 in Paris. (Rindoff/Charriau/Getty Images)
Meghan Markle Pays Homage to Her Late Mother-in-Law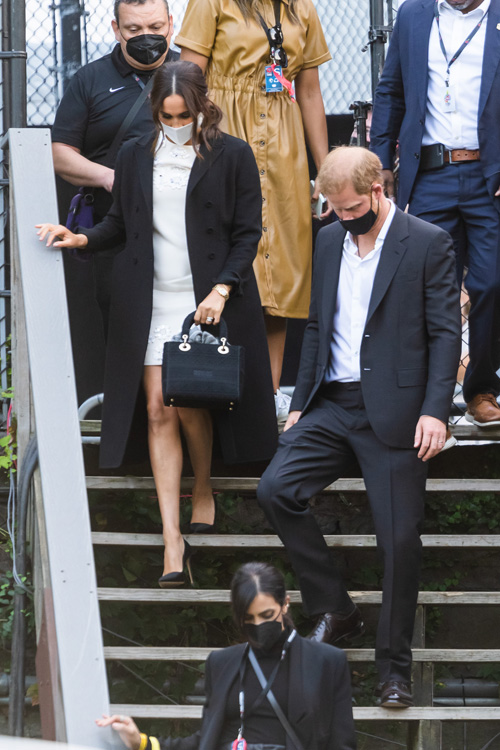 Meghan Markle, Duchess of Sussex, and Prince Harry, Duke of Sussex, leave the Global Citizen concert in Central Park on September 25, 2021. (Gotham/GC Images)
Meghan Markle paid homage to the handbag named after her late mother-in-law in September 2021 in New York when she carried a Dior LA​​DY D-LITE BAG for an appearance with Prince Harry at the Global Citizen concert in Central Park.
Lady Dior Special Editions and Range