NEWS
Givenchy Unveils the 4G,
a New Signature Handbag
By The Vault Team, May 6, 2021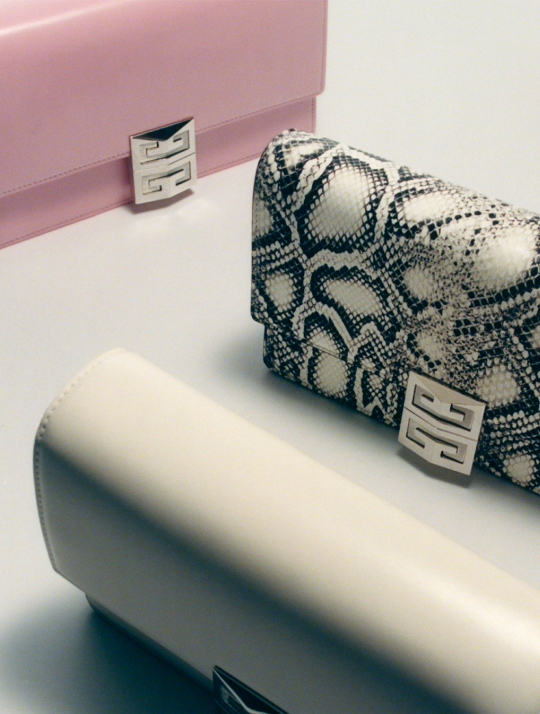 The Givenchy 4G combines heritage and innovation.
Givenchy creative director Matthew M. Williams uses his hardware expertise to refresh the classic rectangular handbag with the 4G, offering a new take on Givenchy's signature 4G logo.
Hubert de Givenchy founded his namesake Paris fashion house in 1952, but the current quadruple G logo as we know it didn't come into fruition until 2003, when graphic and type designer Paul Barnes formed four  Gs into a square-shaped symbol. This season, Williams brings the signature Givenchy emblem to an accessory that is as timeless as it is a contemporary fashion statement: The 4G handbag.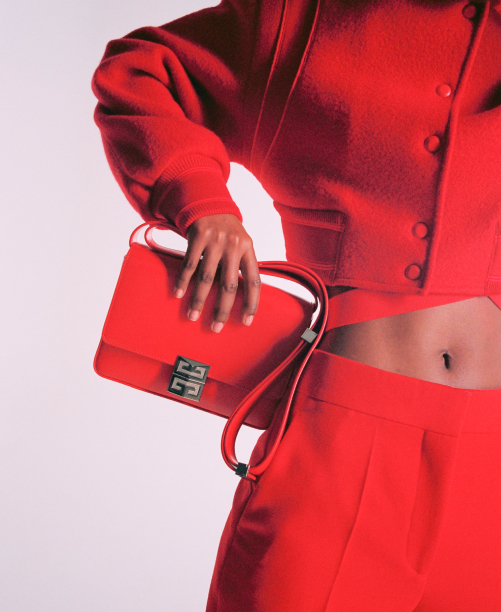 Williams introduced the first versions of the 4G in Givenchy's pre-fall 2021 collection last December. Models held the rectangular 4Gs in their hands, displaying several versions of the handbag, some with leather straps, and others embossed with the Givenchy logo. One style featured a heavy interlocking 4G chain. Williams worked with the house's craftsmen to source the finest full-grain box calfskin. 
The Givenchy 4G fuses Hubert de Givenchy's penchant for symmetry with Willliams's clean and  modern vision for the house, making it ideal for both day and evening looks. With two styles — a flap bag and a chain bag — and a multitude of colors, the Givenchy 4G is versatile enough to suit any personality or style, making it an ideal pairing for edgy ensembles or a more classic, feminine style. 
Williams learned the ins and outs of working with hardware with his 1017 Alyx RSM brand, which became known thanks to its signature roller-coaster buckle. Williams used it on everything from handbags to suiting, turning it into an identifying marker of the label. He took that experience with him when designing the new pieces for Givenchy, incorporating intricate mechanics into the metal clasps of the 4G's padlocks, which produce a smooth click sound when they open and close.   
"I love hardware and playing with finishes and shapes," Williams told Miles Socha in an interview for WWD. "Even just the satisfaction of opening and closing the 4G emblem clasp. It has this magnet that kind of finds itself when you open and close it. That's something we really spent a lot of time kind of obsessing over. Also the feeling of the chain in your hands. I think those little details and unseen features really set one bag apart from another. And we are trying to make these products super timeless and something that can live in the collection for many years."
The heavy use of the Givenchy logos throughout the various iterations of the 4G prove that logomania is a trend that isn't going anywhere quite yet. It looks like Williams has left his legacy in the 60-year-old French fashion house's latest chapter.