RESALE MUST-KNOWS
How to Track the Resale Value
of Your Favorite Items
By Rachelle B. Oct 15, 2020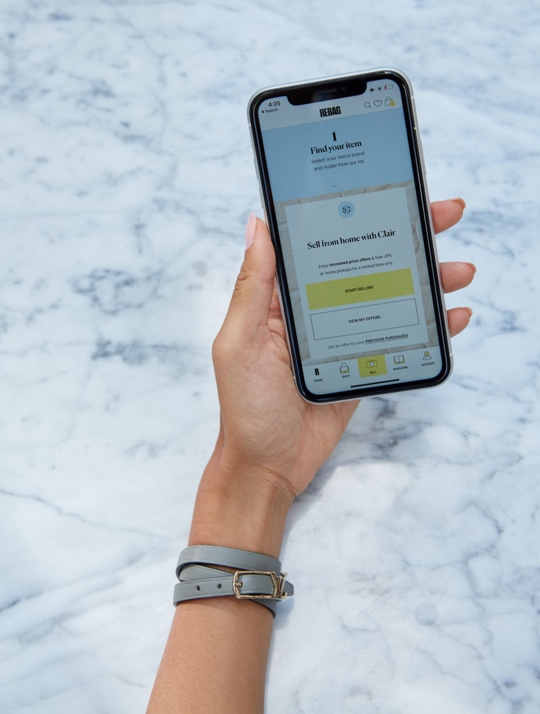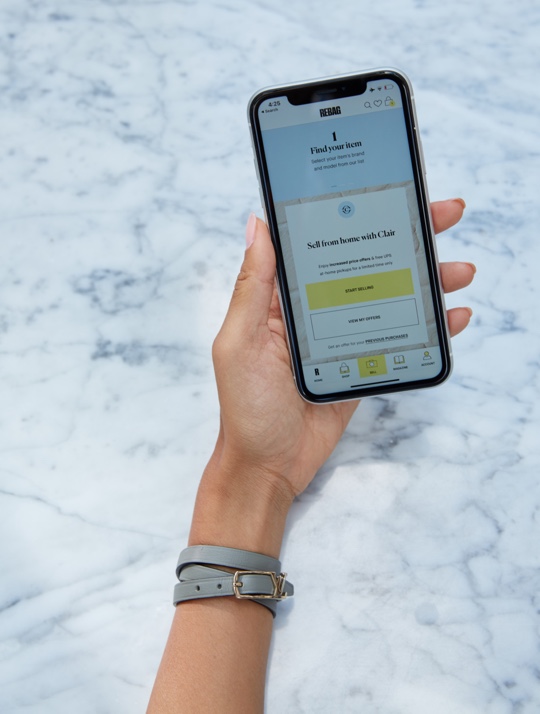 To bring more transparency to the mysterious resale
market, Rebag has added a feature called Historical Price Tracking. It allows luxury owners like yourself to trace the evolution of resale values for items in Clair by Rebag's database. You can "follow" Clair Codes you want to track and get updates on price changes so that you have up-to-date info about what your bags and accessories are worth.
How Clair by Rebag Works
Before we dive into how to track the values of your favorite items, we must answer the question: what is Clair by Rebag? Simply put, Clair is an easy-to-use luxury appraisal index that instantly generates the resale value of 10,000 handbags and accessories (and counting!) from 50+ designer brands. Luxury lovers can use Clair to reveal any item's current resale value so you can make an educated decision to sell it, consign it, hold onto it, or maybe even buy more. All you have to do is answer a few questions about that item, and you'll receive the offer that Rebag is willing to pay to acquire that item.
How Clair Codes Work
In addition to issuing instant price offers, Clair by Rebag also assigns every item a unique Clair Code. The reason for this Clair Code is because, generally speaking, the taxonomy across luxury brands is not standardized. Brands do not disclose their reference codes, unlike other markets such as the sneaker market. The Clair Code is our answer to the luxury owners' need for a universal taxonomy that applies across all the designer brands we carry. Our Clair Code allows consumers to identify any luxury item down to its designer, model, style, and size!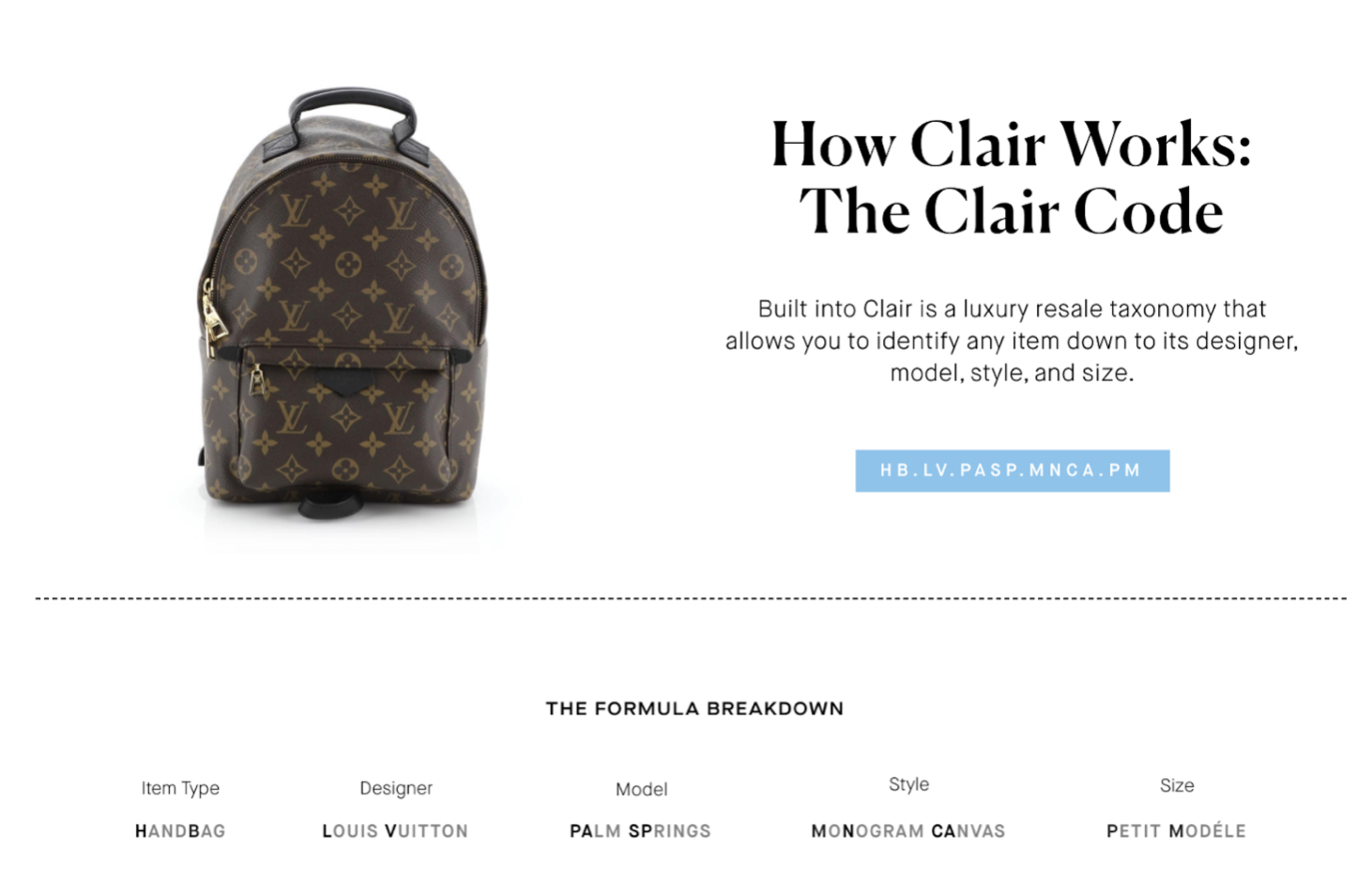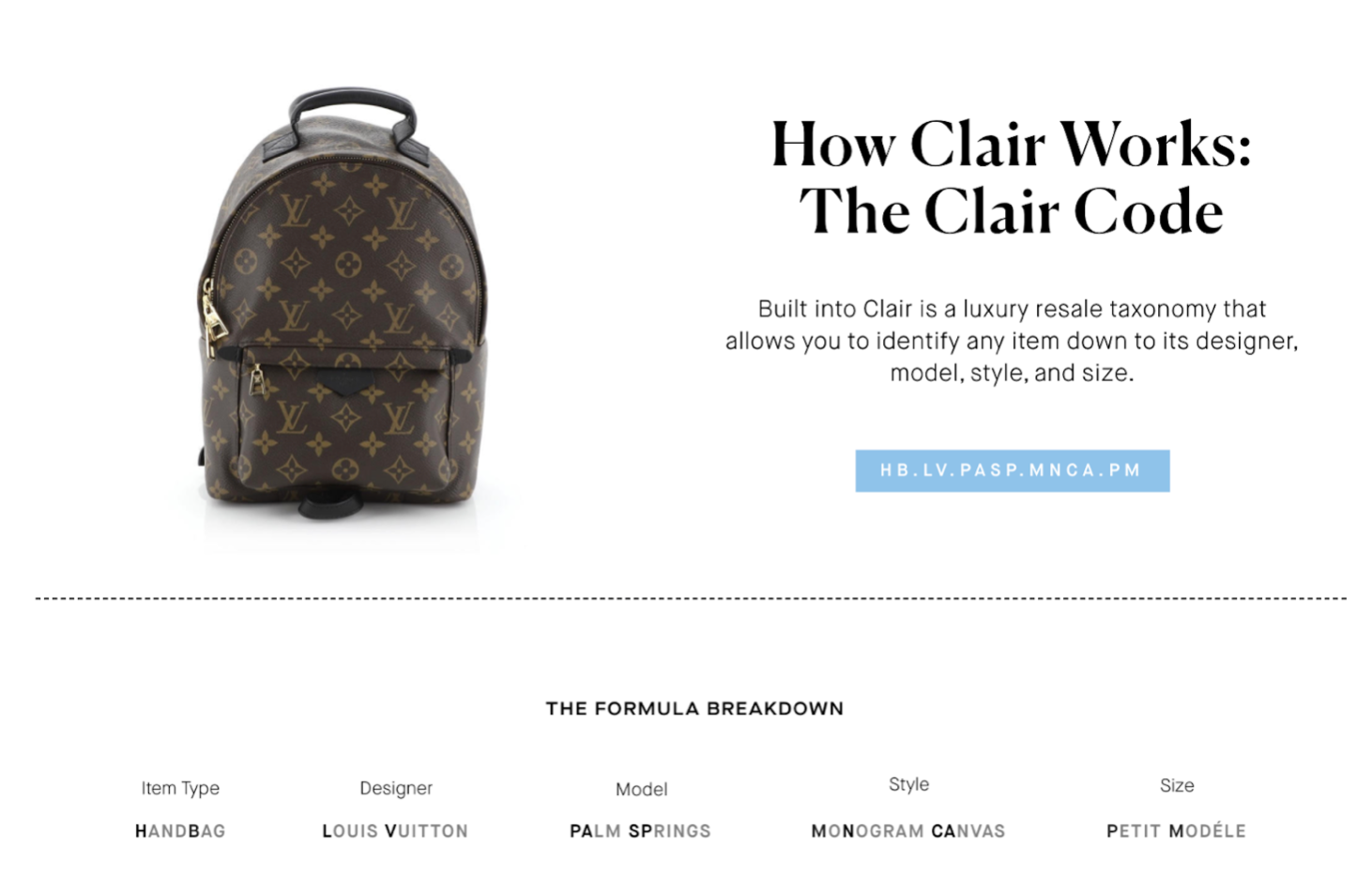 How Historical Price Tracking Works
Now that you have the context of Clair by Rebag and Clair Codes, now we get to the fun part: following the Clair Codes you want to track and seeing how their resale values have changed over time.
Step #1:
Find and follow Clair Codes from the Clair Database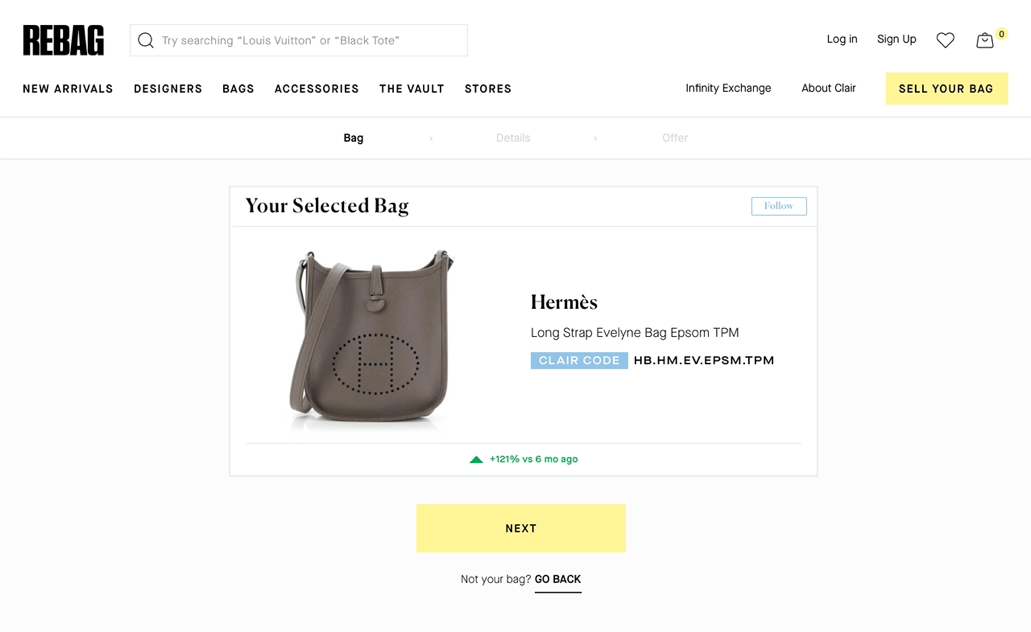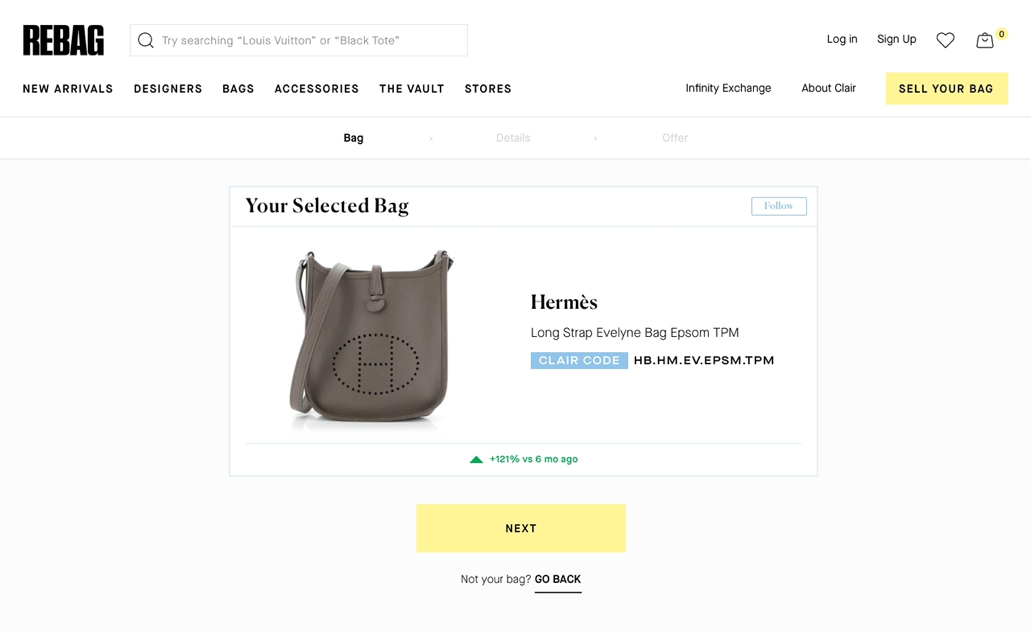 To find Clair Codes to follow, create an account on Rebag.com or with our mobile app, and go to the Clair Database, also known as our Sell Now page. Here, you can use the filters to find the Clair Codes you want to follow, or if you already know the model name, you can type it into the search box. Once you found the item, click the "Follow" button on the top right corner. Do this for as many Clair Codes as you'd like.
Step #2:
Manage your followed Clair Codes in your Account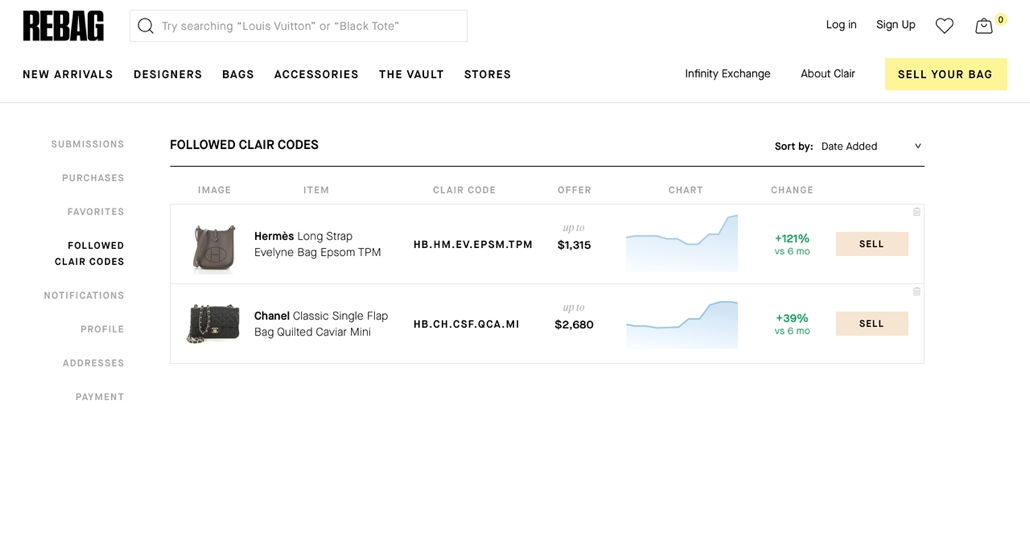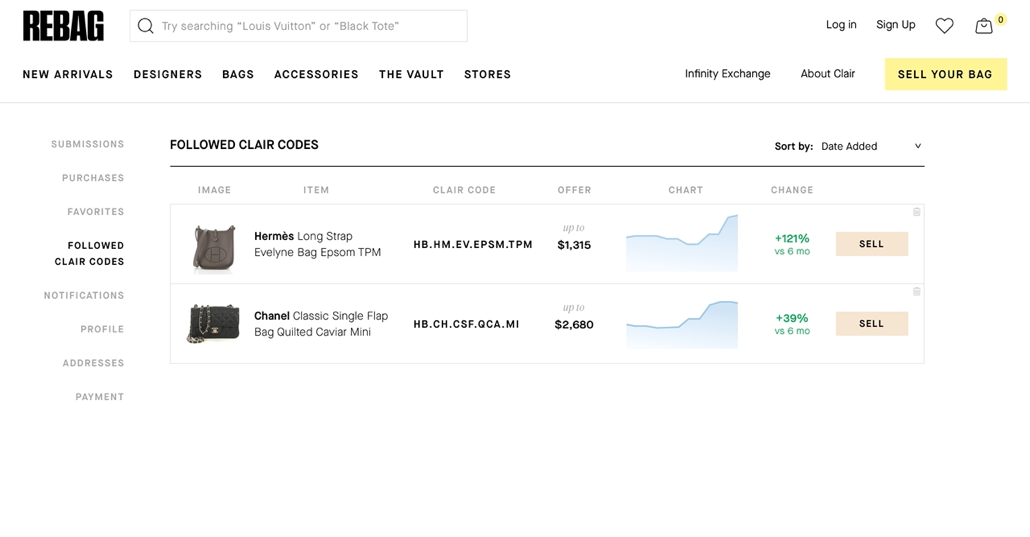 Now that you have followed a few Clair Codes, you can access them by going to your account, titled "My Account." Then, click on "Clair Codes," and you'll see your portfolio of followed Clair Codes. This section details the item's full name, it's Clair Code, the offer that Rebag is willing to pay for that item in real-time, and a chart that you can click on to expand it. There is also a "Change" column that allows you to see how its value increased or decreased over the past six months, and there is a "Sell" button in case you own the item, and you're ready to get some money back for it.
Step #3: Get updates on the worth of your followed styles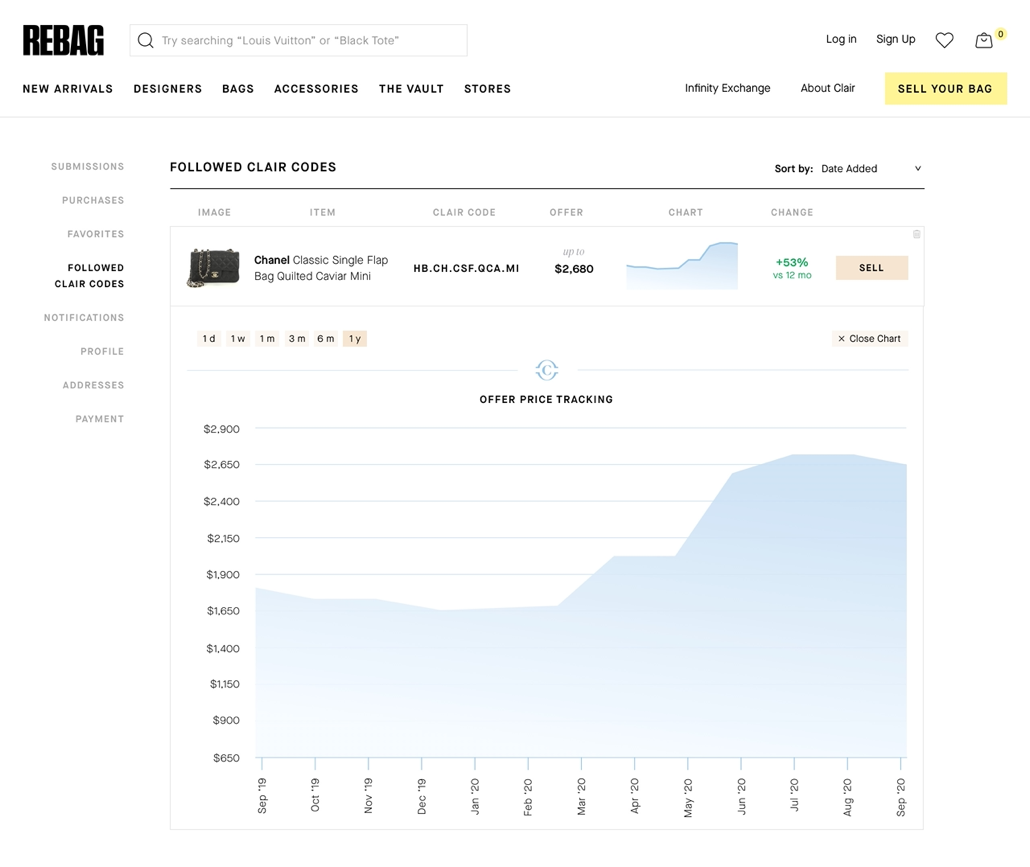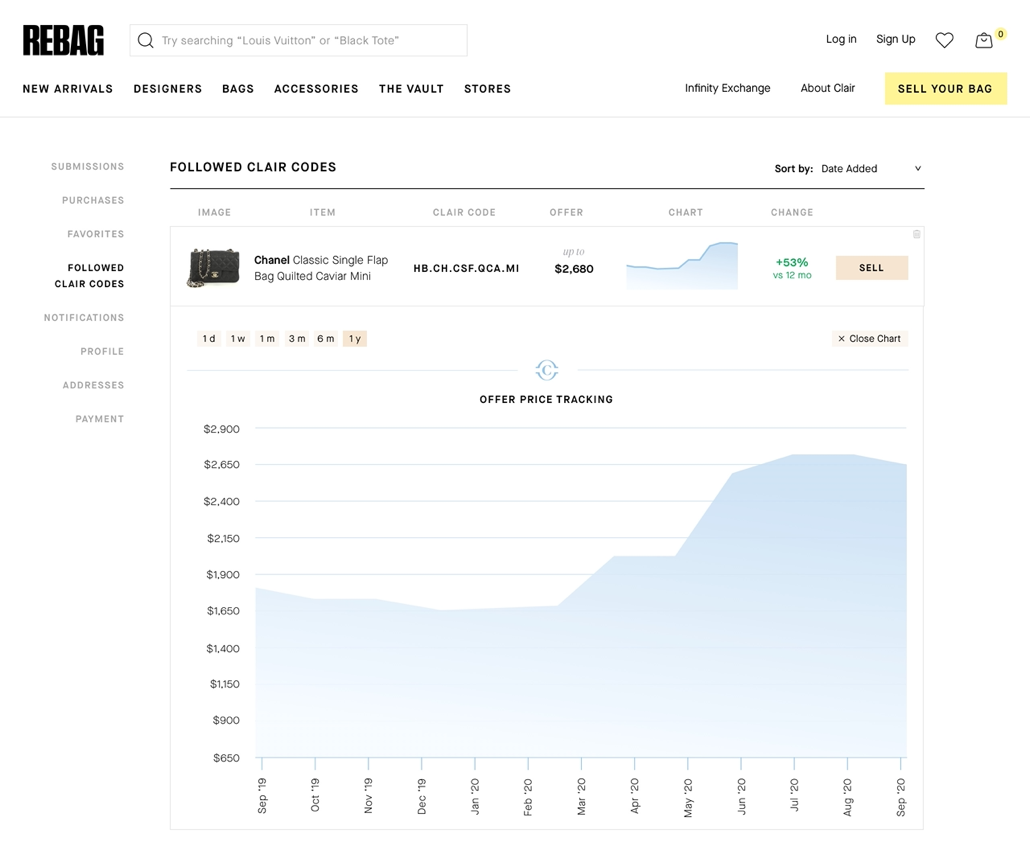 By clicking on the charts, you can see how the item's resale value has changed over a period of time, up to one year ago. With this, you can gain an understanding of how its price is trending, and decide if you want to buy now, sell now, or hold onto it. Soon, you'll also receive real-time alerts and notifications for any price changes. Make sure to curate and manage your portfolio of followed Clair Codes to make the most out of this feature and customize it for your personal goals.
And there you have it – our guide about how to best use Clair by Rebag's Historical Price Tracking feature. Now that you're equipped with all the knowledge you need to make informed buying and selling decisions go on and begin following the Clair Codes of items you want to track.