KNOWLEDGE
Is The Birkin Bag
Worth The Investment?
By The Rebag Team, Jul. 17, 2023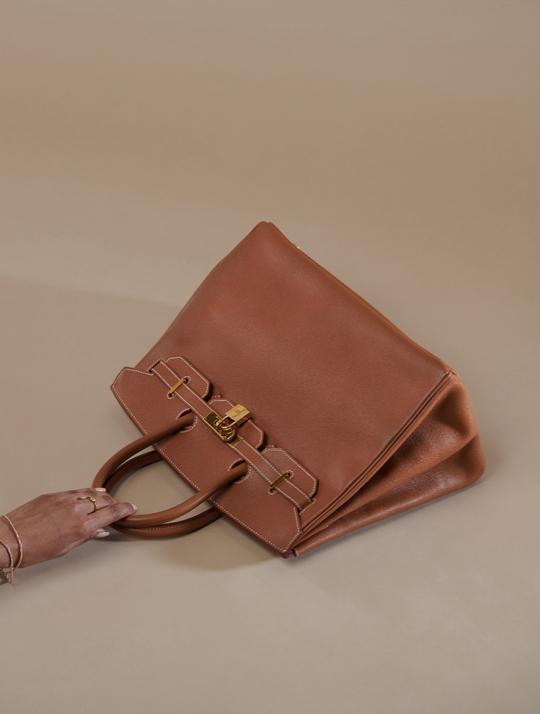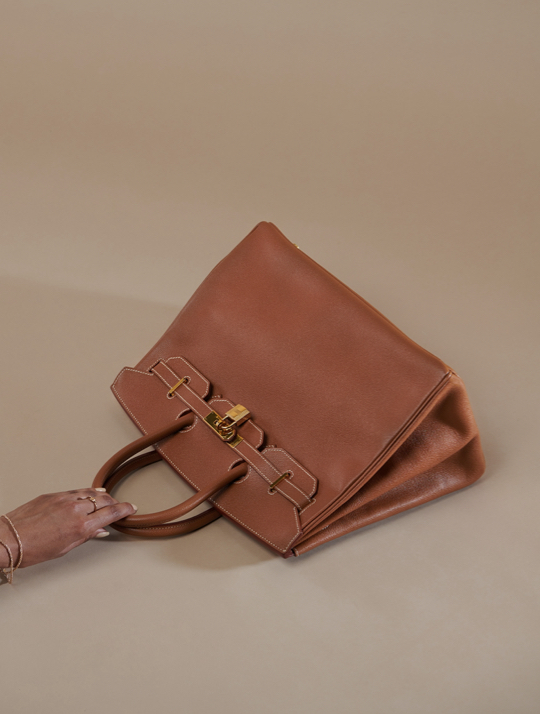 The Hermès Birkin bag is no stranger to the limelight.
This iconic style came to be after Jean-Louis Dumas, then head of Hermès, had a chance encounter on a flight from London to Paris with the beguiling Jane Birkin, British fashion icon, model, and singer. Birkin was carrying a straw purse, and lamented that she couldn't find a leather handbag that fit her style and needs. This launched a collaborative effort to imagine a design that would fit the bill — and the Birkin bag was born.
Many analytic pieces have been written about the Hermes Birkin and its resale value, often accompanied by overblown and inaccurate press statistics surrounding retail prices and resale values. 
This aside, the Hermes Birkin bag — one of the most coveted luxury bags in the world, and a true status symbol — does remain a consistently appreciating financial asset, in addition to a staple luxury accessory. While investing in the handbag market may seem totally foreign or even daunting to some, Rebag (with the help of Clair!) is here to help guide you through the weeds so you can be sure your next Birkin investment is both smart for your wallet, and fresh for the upcoming season. The information found in this article is driven by our carefully collected Clair data, leading to the most accurate representation of value for any given handbag, as it takes into account variables like pricing history, demand and market supply, as well as how these factors interact and trend over time.
If you would like to know more about the history and background of the Hermes Birkin bag, take a look at our Hermès 101: The Birkin Breakdown for a deeper look at the origins of the Hermes Birkin bag, and some of the special Hermes Birkin collections that have been created along the way.
THE HISTORY OF THE HERMES BIRKIN BAG
In the early 1980s, Hermes chief executive Jean-Louis Dumas was serendipitously seated next to the English actress Jane Birkin on a flight from Paris to London. They talked for a while and lamented that she could not find a handbag that would be able to securely carry all of her personal items and her daughter Lou Doillon's bottles after her basket fell out of the overhead compartment. Thinking quickly, Jean-Louis Dumas sketched on the back of a sickbag the first design for a bag that featured a spacious interior, two rolled handles for firm holding, a flap top for protecting contents, and a turn-lock closure for securely locking away possessions. In 1984, the Hermès Birkin bag was put into production, using the actress's name who inspired the design.
RETAIL PRICE VS. RESALE VALUE
One of the most misunderstood concepts in the handbag resale market is the difference and intersectionality of the "Retail Price" against the "Resale Value." If you have ever wondered why you bought a bag for an amount, but you are offered far more or far less than you originally paid, allow us to shed some light on this subject! What someone is willing to pay in the resale market is fluid over time, and is not necessarily exactly the Retail Price. More often than not, the Retail Price and the Resale Value numbers do not equate, which adds an extra layer of complexity for buyers and sellers in both markets. To define these concepts:
Retail Price

: The centralized value of an item determined solely by the manufacturer and/or retail venue. (i.e. Buying directly from Hermès)

Resale Value

: The non-centralized value of an item determined solely by the market and/or the individual resale venue. (i.e. Buying from Rebag)
There are various differences between the two values, however it is most important to keep in mind that the former tends to increase incrementally over time, whereas the latter fluctuates up and down with more frequency and can vary slightly venue-to-venue. While both values are important when considering purchasing or selling, recognize that these values are often not correlated in a statistically significant way outside of the current fashion trends (current season items typically sell for closer or slightly above the Retail Price). This is precisely the reason why Birkin bags historically sell with Resale Values above the original Retail Price, while other designers and models may not.
When deciding to make a purchase on either market, it literally pays to ensure the bag you are purchasing also has the current Resale Value and longevity to make it a financially sound purchase now and in the future.
| | |
| --- | --- |
| Retail Price Factors | Resale Value Factors |
| | |
| | |
| | |
| | |
| | |
|   | |
|   | |
|   | Exclusivity (Limited Editions) |
|   | |
Much like a stock exchange, these factors interact differently and shift based on these aforementioned market trends in luxury goods. A quite recent example of this concept is the size of the bag, that smaller sizes tend to value higher during mini-bag crazes, while larger sizes value lower during the same period. This would indicate that the size of the Hermes Birkin bag matters more during this craze than the color would, although the color does still hold some value in the pricing. Another prospective case could be that in the event pink becomes the color trend of the season, that color will rise in value on the resale market for that time period. In this way, the handbag acts as a fixed asset, wherein the value can fluctuate not in a vacuum, but rather within the broader movements of the handbag market at large. Hermes Birkin bags are also produced in limited quantities, which also affects their market. 
BIRKIN RETAIL PRICE TRENDS
Now that you know the factors involved in Birkin high finance, let's take a look at some of the trends noted in the retail market in the recent past.
25cm Togo Birkin Retail Price increased 46% from 2009-2019

30cm Togo Birkin Retail Price increased 32% from 2009-2019

35cm Togo Birkin Retail Price increased 33% from 2009-2019

40cm Togo Birkin Retail Price increased 34% from 2009-2019

Average Togo Birkin Retail Price increase of 36% from 2009-2019
As you may have noticed, the above figures were filtered by just the three Retail Price criteria mentioned above. This is entirely due to the fact that these three variables tend to affect retail prices for the following reasons:
Size

– different sizes use different amounts of material, which varies the manufacturing cost

Material/Leather

– different materials have different costs based on perceived value and scarcity of the material (canvas is not as luxurious/expensive as crocodile)

Model

– different bag models have different component costs to make, as well as differing customer demands when merchandising boutiques
You may also have noticed that the above trends are solely based on Togo leather specifically. This is because Togo leather is generally regarded as the "gold standard," as it is one of the most widely available leathers, and tends to correspond proportionally with many other materials' Retail Prices.
The generally accepted view is that as Birkin Retail Prices have increased and the scarcity has also increased due to Hermès's signature artificial scarcity marketing technique, so the perceived value of the Birkin has widely increased as well. This inevitably leads to increased demand and reduced supply. Voilá! Dynamic secondary market values are born. In this way, Retail Price can have an effect on the Resale Value in the abstract, however they are not often tied in lock-step fashion.
So what do we do with this, practically speaking? One way to interpret the data reflected above is to say that the customer demand on Hermès is higher for smaller sizes. Fashion industry trends like the mini-bag craze of the last few years exemplify one way that Retail Prices and Resale Values can correlate, as the fashion industry trends tend to trickle through both markets equally.
BIRKIN RESALE VALUE TRENDS
Retail Prices taken into consideration, the Resale Value tends to be exponentially more dynamic than the Retail Price, based primarily on all nine of the valuation factors mentioned earlier. As a general example, let's take a look at the Clair Quote trends for similar Birkin bags but within the past year (assuming A-Grade, or "excellent," condition by Rebag standards).
| | | | |
| --- | --- | --- | --- |
| Size | 2019 | 2020 | % Change |
| 25 Birkin Togo Palladium | $7,150  | $8,350 | +14% |
| 30 Birkin Togo Gold | $6,800 | $7,800 | +13% |
| 35 Birkin Togo Gold | $5,975 | $5,900 | -1% |
| 40 Birkin Togo Palladium | $6,075 | $5,850 | -4% |
*These values may not reflect current Clair Quote values, as Clair input data changes with relative frequency.
Compared to the Retail Prices, the Resale Prices have factored in the remaining six variables in Birkin valuation. Once accounted for, we can project that the mini-bag trend of the past few years can likely explain the variance between the larger and smaller sized Birkins. Since the market values can change with relative frequency, it is very difficult to determine exactly which criteria one should focus on when investing in Birkins, or which criteria will ensure return on investment. Our advice is twofold:
Invest in what you love. Birkin bags are an investment of passion and intrigue. This concept goes beyond bags though, and can easily apply to any number of investment categories such as Fine Art. If you aren't interested in it, there will be very little chance you will seek out the information to purchase, wait out the trends, and follow through to get a return.

Stay informed about the market trends. Knowing the value of your Birkin bags over time (and seeking expert consultation when needed) is crucial to ensure you are getting the best bang for your buck, and planning for the future.
If you are reading this page, you likely have the first point checked off. Staying on top of Resale Value has never been easier with Clair by Rebag here to keep track of value changes in the marketplace.
EIGHT BIRKIN CLAIR CODES TO WATCH RIGHT NOW
No matter what your investment strategy, there are a few Birkin models and special collections that seem to have piqued interest at Rebag. Some of them are less intuitive than others, but can illustrate just how diverse the handbag market demands are. Here are some of the top eight Clair Code highlights to watch right now:
| | |
| --- | --- |
| Clair Code | Translation |
| HB.HM.BIK.BEPH.30 | 30cm Black Epsom Leather Birkin with Palladium Hardware |
| HB.HM.BIK.GNGD.25 | 25cm Grey Novillo Leather Birkin with Gold Hardware |
| HB.HM.BIK.BBFP.30 | 30cm Brown Barénia Faubourg Leather Birkin with Palladium Hardware |
| HB.HM.BIK.BLNO.30 | 30cm Blue Novillo Leather Birkin with Gold Hardware |
| HB.HM.BIK.BTRG.25 | 25cm Black Togo Leather Birkin with Rose Gold Hardware |
| HB.HM.BIK.TRSM.35 | 35cm Red Swift Leather "Tressage de Cuir" Birkin with Palladium Hardware |
| HB.HM.OFFI.TGWS.30 | 30cm Togo and Swift Leather "Officier" Birkin |
| HB.HM.BIK.BIBR.30 | 30cm Bicolor Togo Leather Birkin with Brushed Gold Hardware |
INVESTMENT HIGHLIGHT REEL
Over the years that the handbag secondary market has bloomed, there have been several highlights where Birkin bags soar well above their original Retail Price. These prices tend to excite the market, fetching countless headlines touting prices that would make anyone's jaw drop. To name just a few key public highlights over the years (private sales are not often reported on, and usually cannot be publicly verified for privacy reasons):
Heritage Auctions (sold in the United States)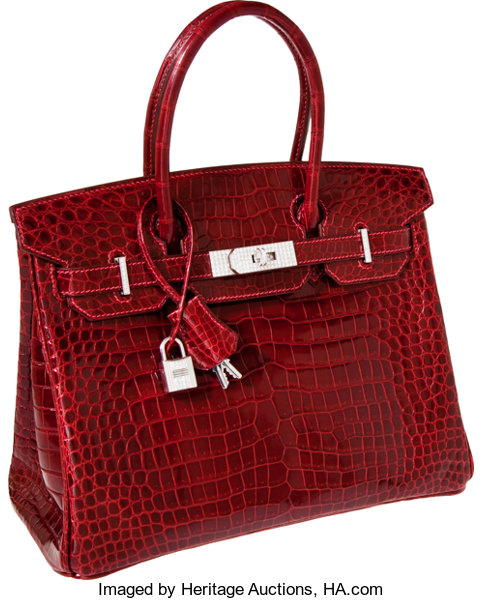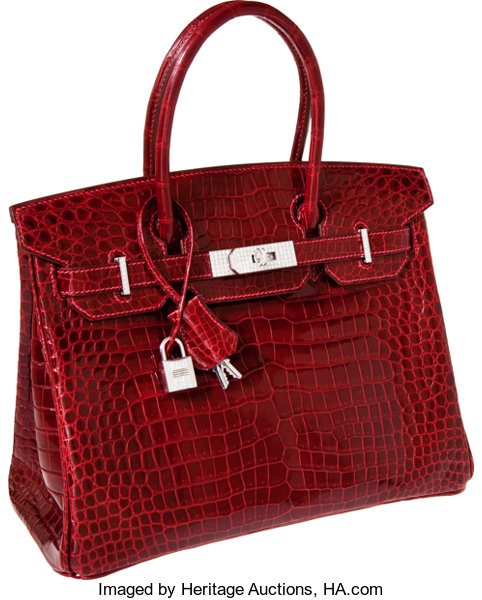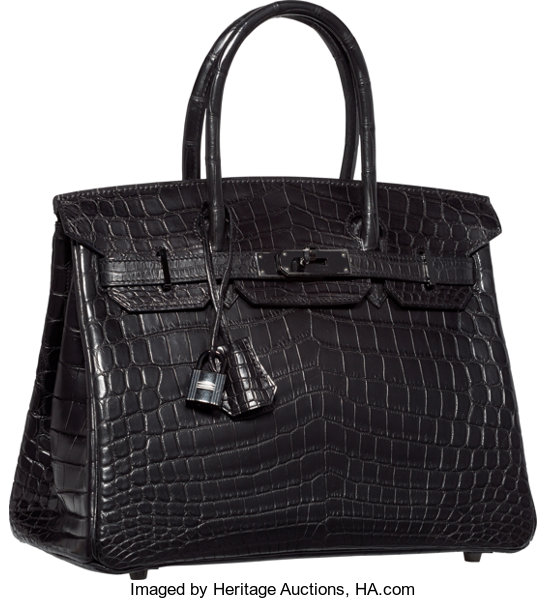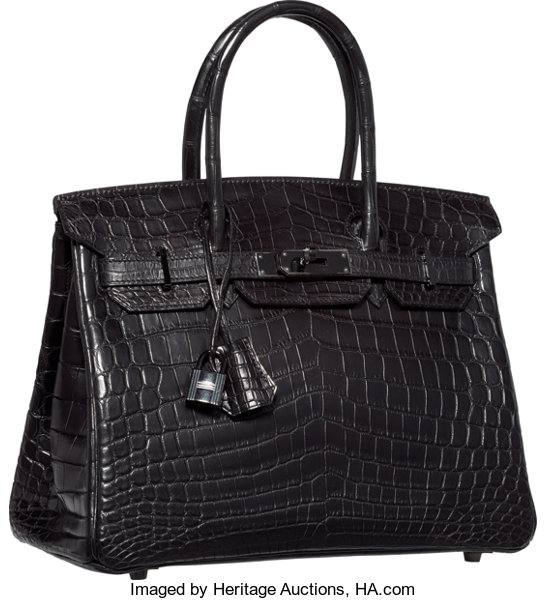 Christie's Auctions (sold in Hong Kong)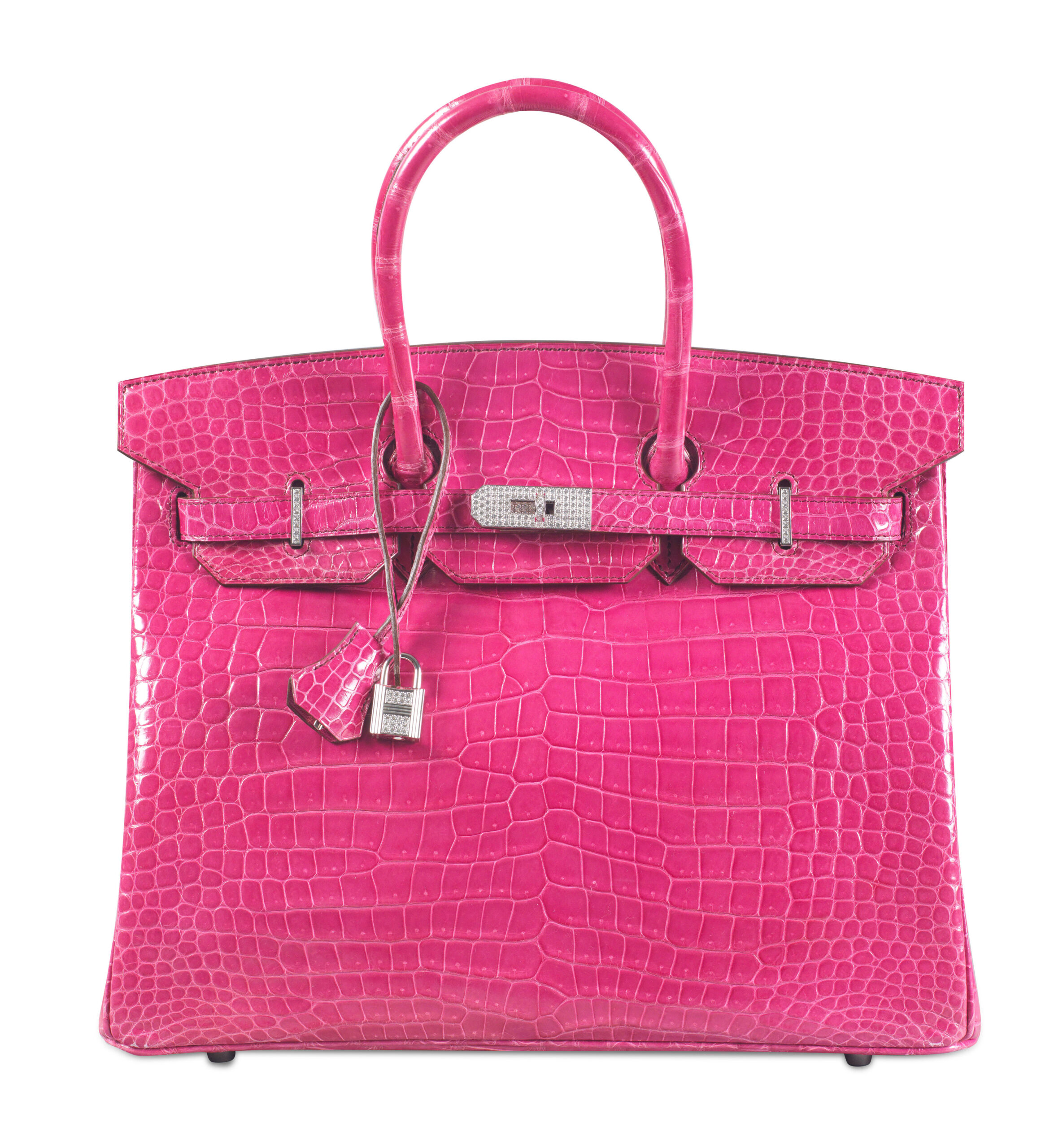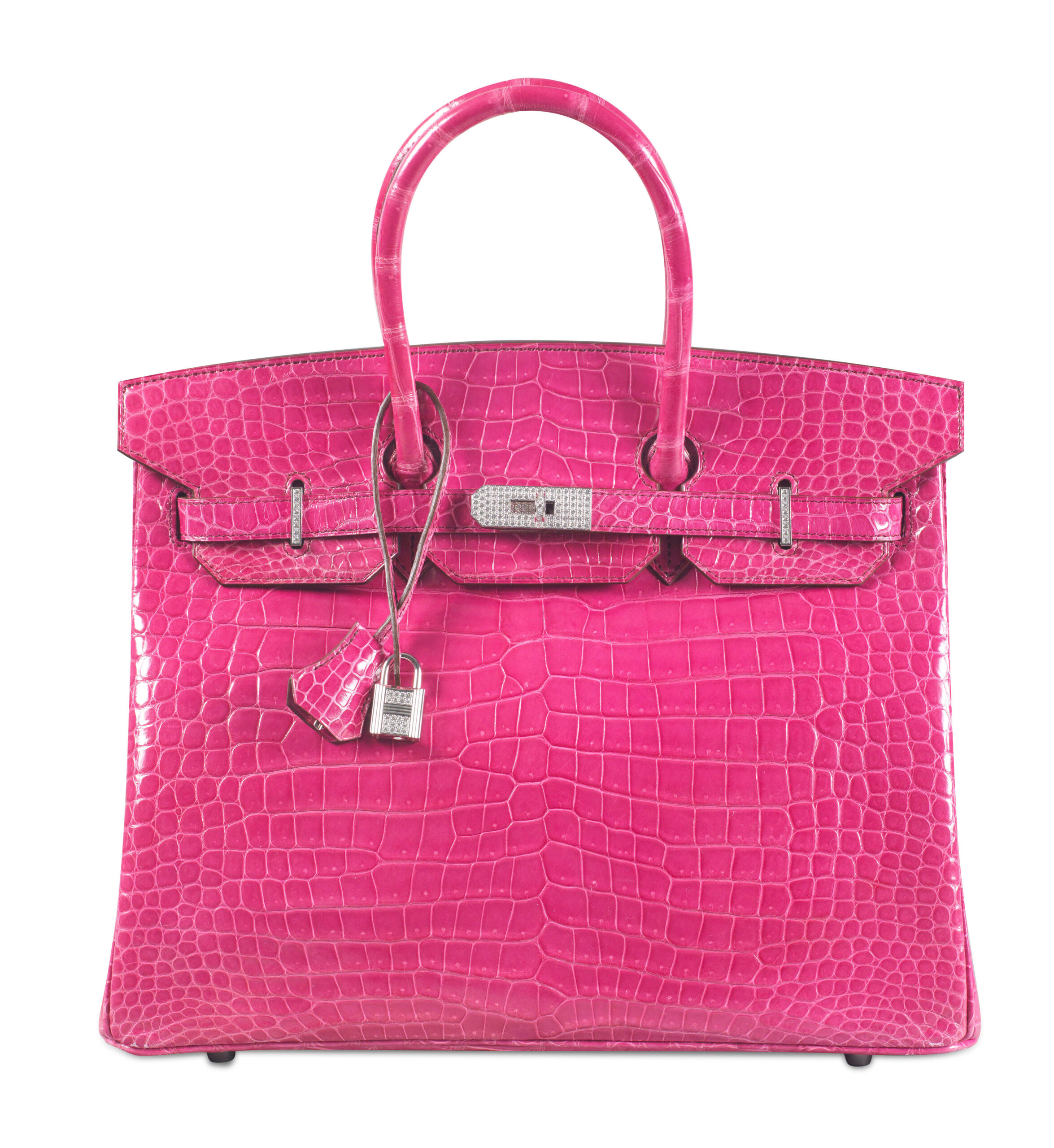 HKD $1,720,000
(USD $221,935 at the time)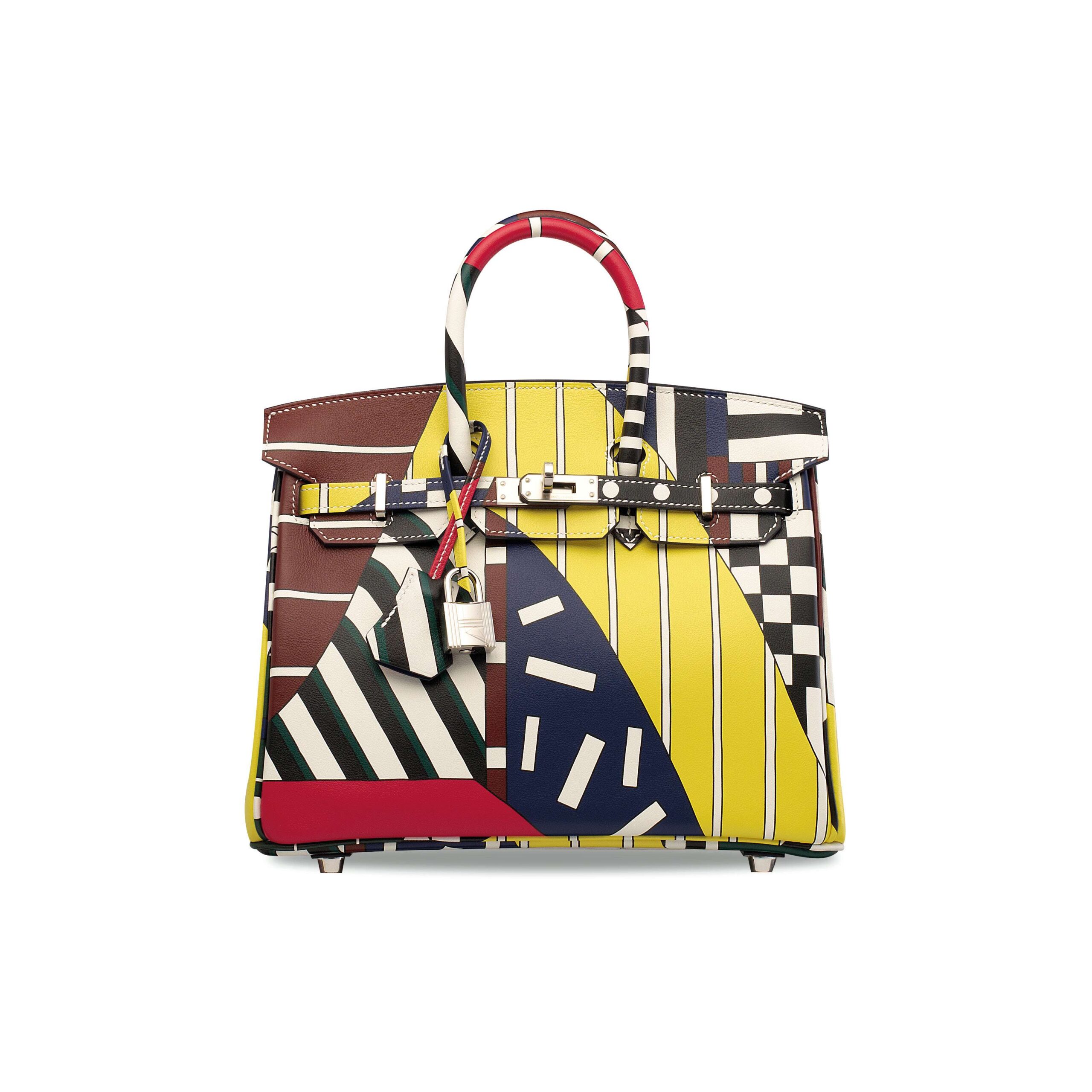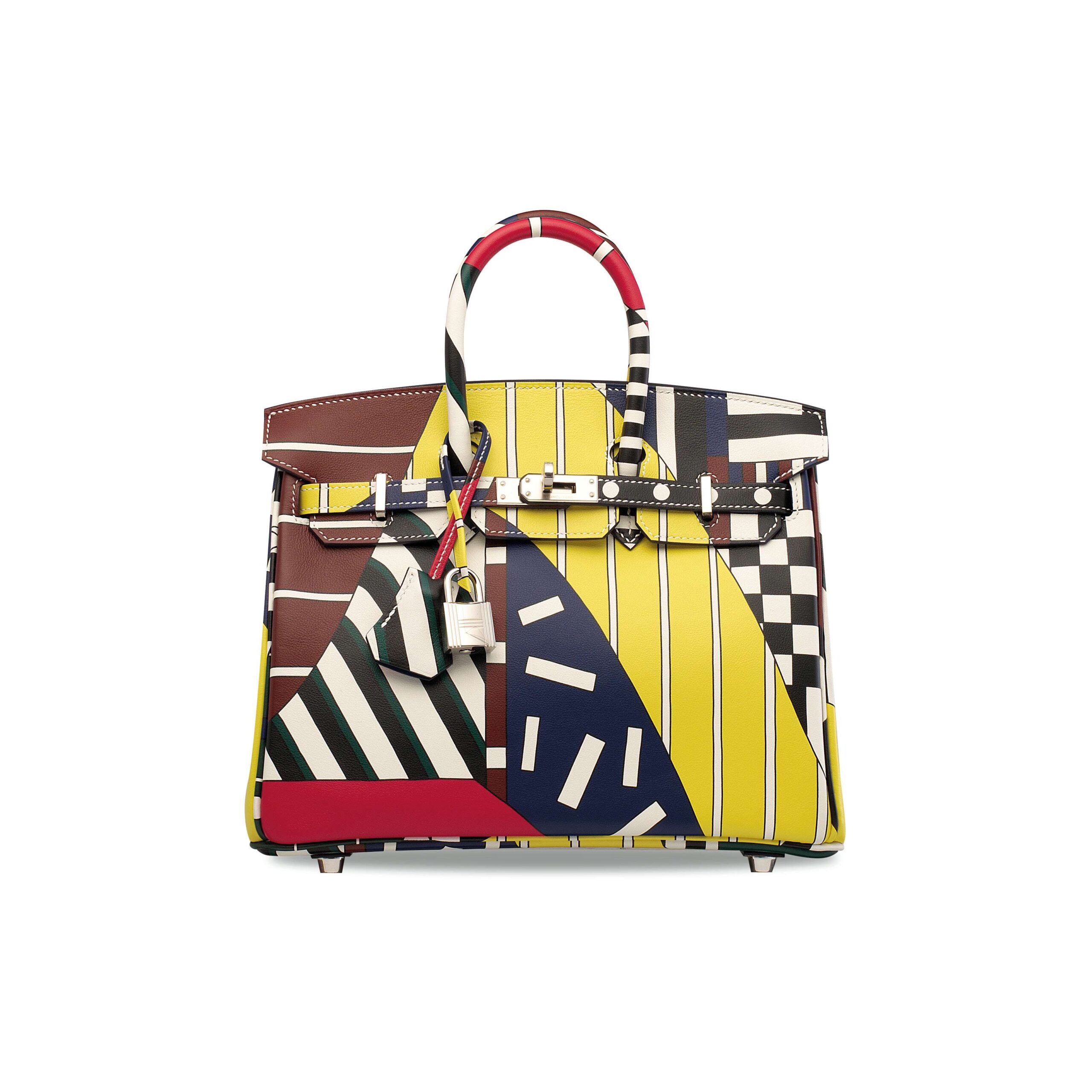 HKD $350,000
(USD $44,757 at the time)
Poly Auction (sold in Hong Kong)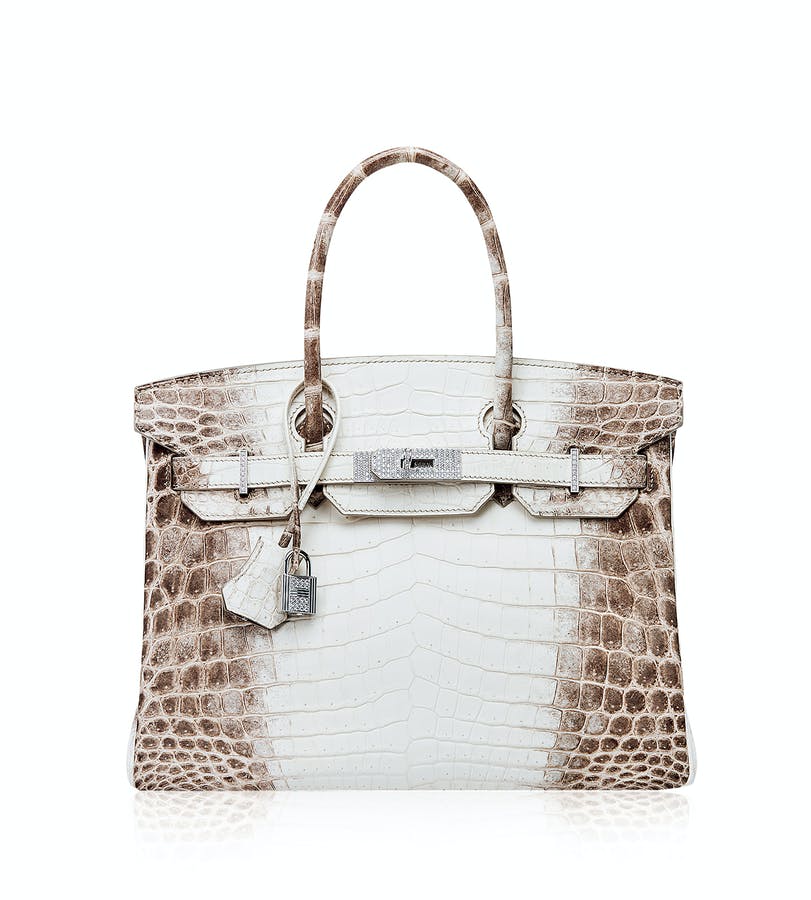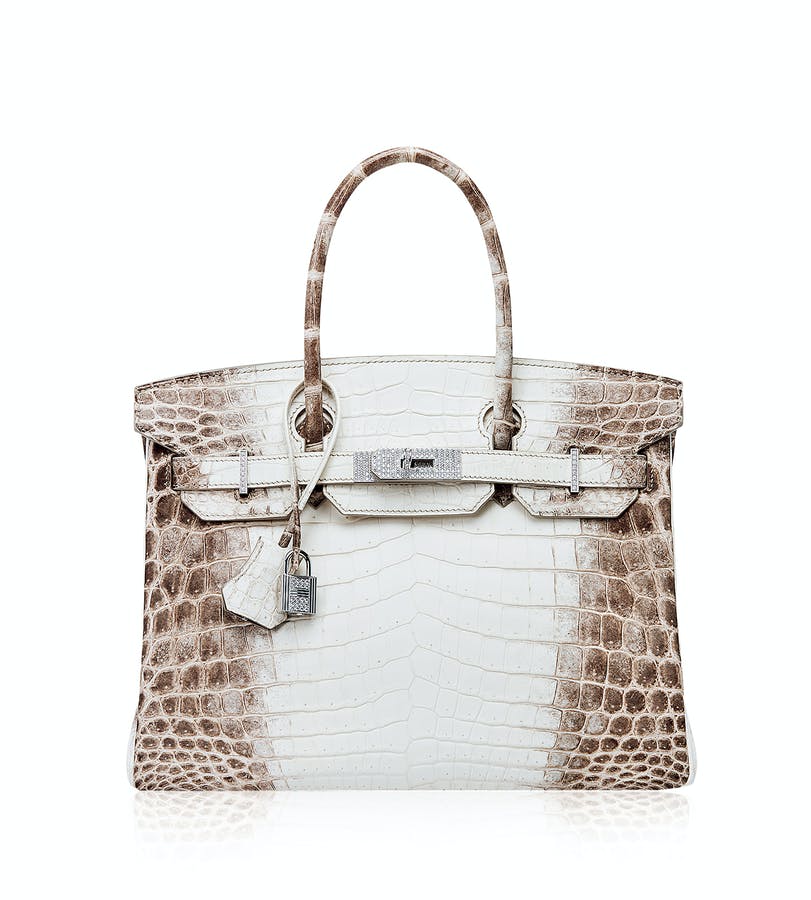 HKD $2,419,000
(USD $310,128 at the time)
What these prices show is that Limited Edition and highly exclusive collections fetch the top tier of prices, making these bags some of the most profitable Birkin bags in the market…  Assuming you can get your hands on one, that is. While more standard Birkins still do hold and appreciate value, it's typically the big ticket collectibles that get all the fanfare and represent the apex of the market.
MOST EXPENSIVE PUBLIC EXOTIC BIRKIN SALE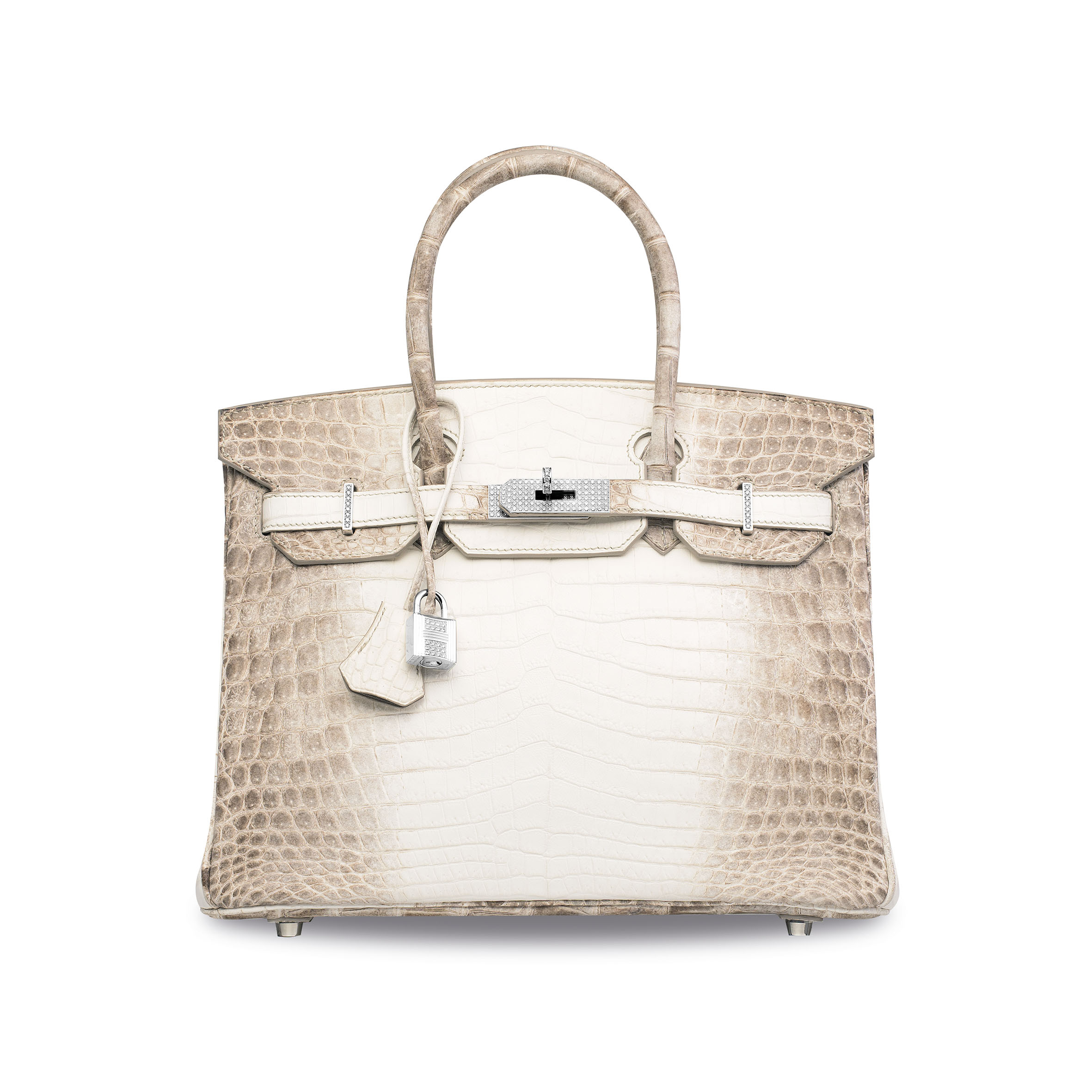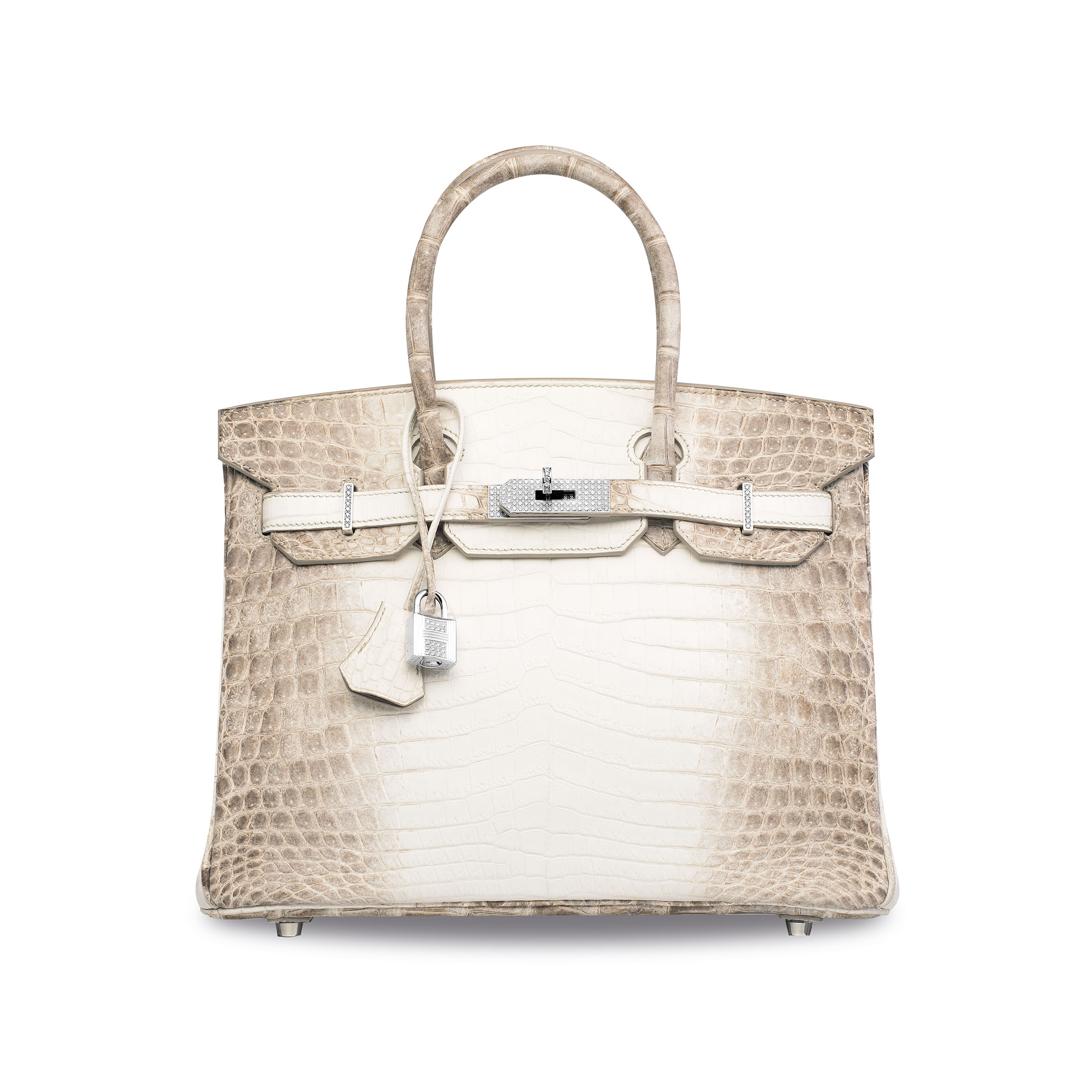 As of this article's publishing, the current record holder for the most expensive public sale of an exotic Birkin belongs to a 30cm White Himalayan Birkin with Diamond hardware at Christie's Auctions, fetching the Hong Kong dollar equivalent of $366,250 in 2017. This record broke the previous set by Christie's as well in another Hong Kong auction just one year prior for the equivalent of $300,168. The Himalayan Birkin has quite the history of its own, and continues to represent the crème de la crème of the entire market to date. If you would like to know more about the "top dog" of Birkin bags, look no further than our guide on the style: All About the Hermès Himalayan.
MOST EXPENSIVE PUBLIC LEATHER BIRKIN SALE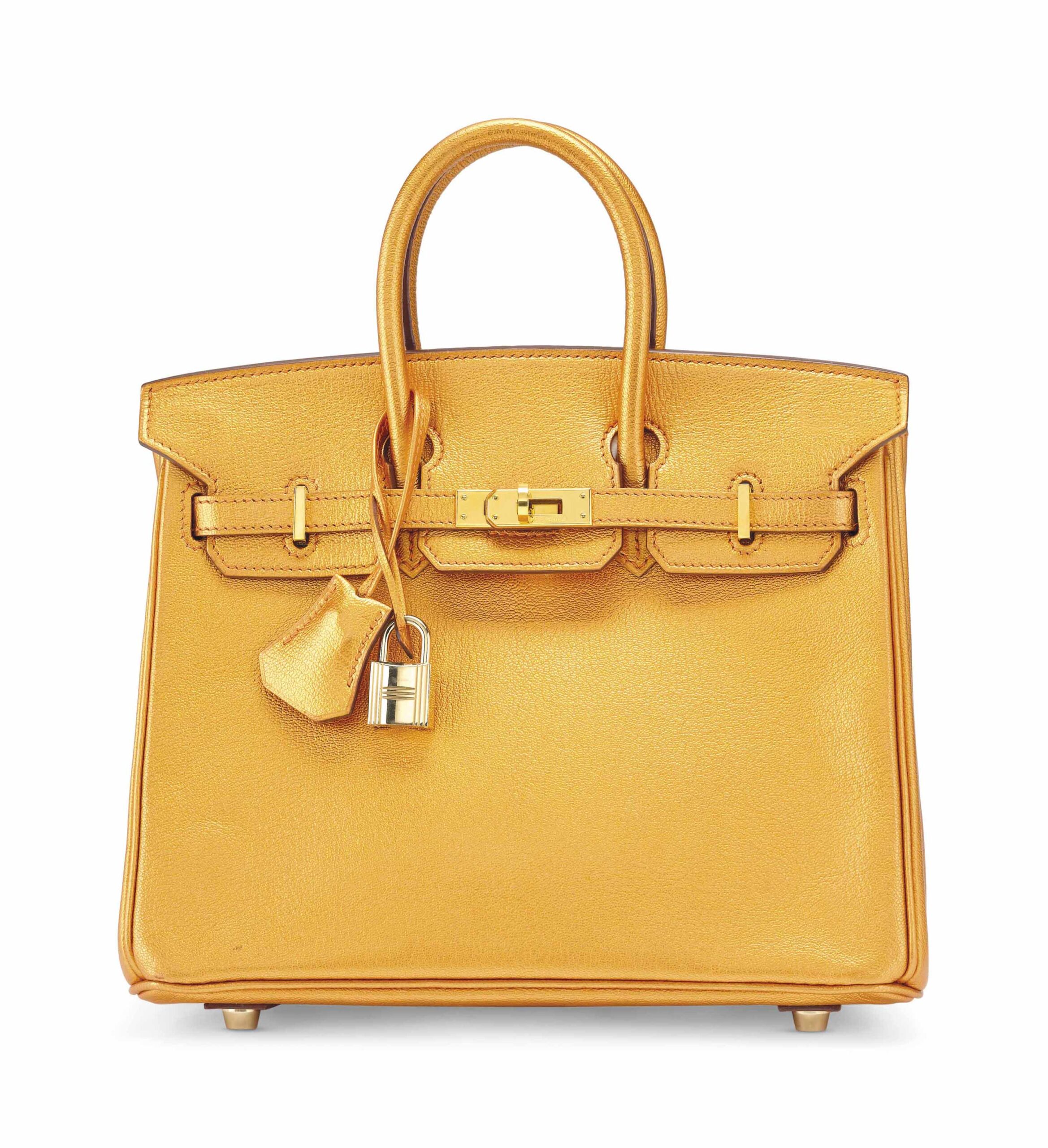 A prime example of the profitability in highly exclusive and collectable Birkins is the Metallic Bronze Chevre leather Birkin bag that sold at Christie's in 2017 for a whopping €100,000, or approximately USD $120,000 at the time. The Metallic Chèvre bags were exclusive to the mid-2000s, and very few were created to boot, nearly guaranteeing a Resale Value increase over time. To fully absorb the magnitude of this sale, the bag originally retailed for under USD $10,000 in 2005, the year it was made; this is a mind-boggling 1200% increase in value over 12 years.
Whether you are a first time buyer or a seasoned handbag trader, there is no more doubt that overall, the Birkin bag continues to be not just a status symbol, but also a solid financial investment across the handbag category. As careful observation of handbag resale can reveal, the market is constantly changing with trends, retail values, and seasons. Is your head spinning? Keeping up with the current market takes some deeper independent research across the resale market, in addition to the wealth of publicly accessible knowledge here at Rebag. Be sure to reassess your "bagfolio" to account for any changes in the market, and you are well on your way to mastering the market.