If anyone is an authority on style and luxury, it's the one and only Rachel Zoe. From dressing the stars to designing clothes to founding fashion media outlet The Zoe Report and subscription service CURATEUR, Zoe is an icon in the industry and the perfect person to kick off our panel of distinguished tastemakers that make up the 2022 Style Assembly.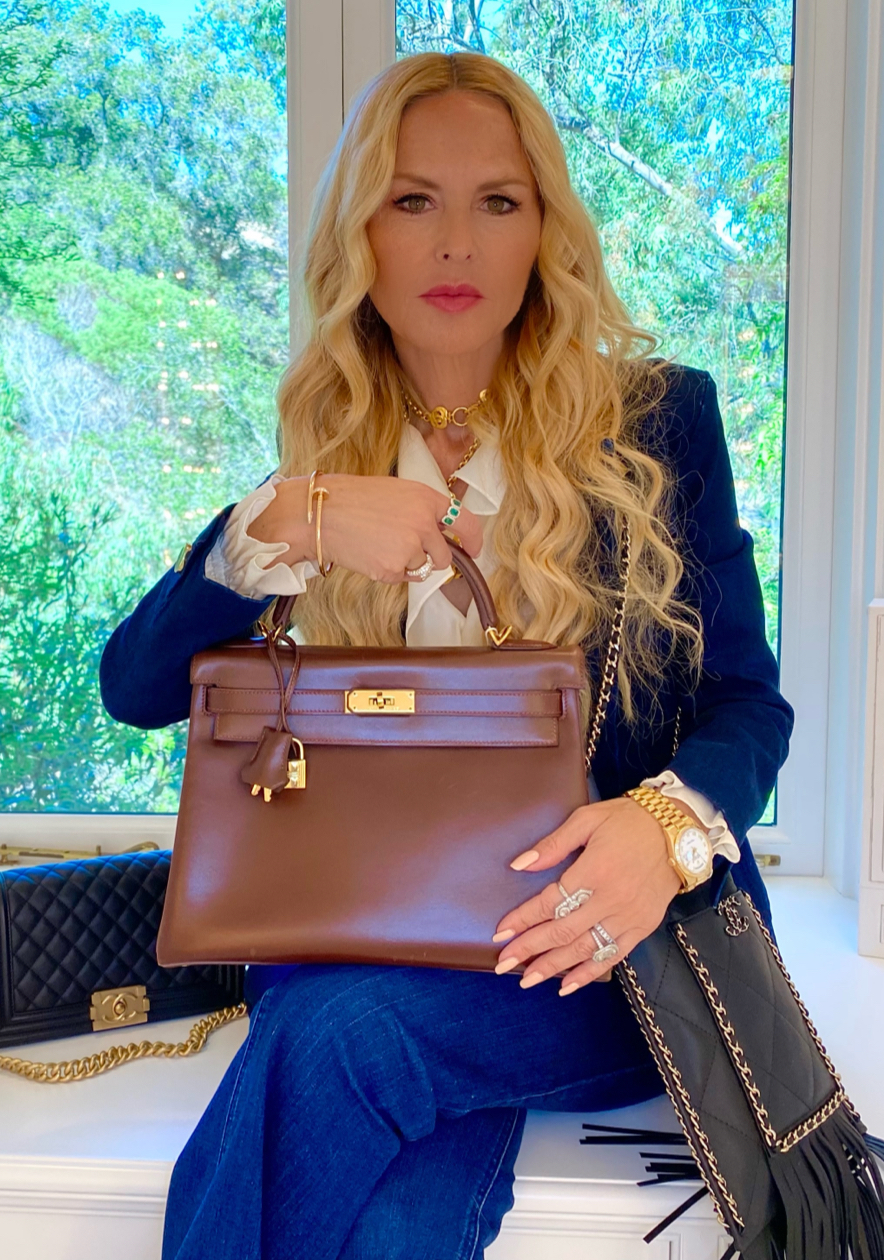 Rachel Zoe holds an Hermès Kelly bag,
Rachel Zoe is one of Hollywood's renowned stylists — known for her past A-lister clients such as Cameron Diaz, Jennifer Lawrence, and Anne Hathaway. After making her name on the red carpet, Zoe used her fashion expertise to launch an eponymous clothing line, a newsletter-turned-outlet The Zoe Report, and subscription service CURATEUR. Let's not forget she's also an author, and mother to two kids. The multihyphenate's aesthetic channels '60s- and '70s-era glamour, and with an array of inspiration from Woodstock to Andy Warhol to Studio 54, she consistently reinvents the meaning of style. As a member of Rebag's Style Assembly, Zoe shares the top Rebag items from her collection, the basics with which to build your wardrobe, and how to emulate her effortless style.
"The most important thing is to be able to create a uniform that can be your go-to for day and for night."
The collection that you curated for us is perfection. Can you share your top five favorite pieces and why you chose them?
Rachel:
Hermès Kelly — The better question is, Why wouldn't you choose an Hermès Kelly? It only appreciates in value if you treat it carefully and it's the best thing you can invest in your collection. My Hermès bags are the ones I go to most often. 
The Chanel Boy Bag — I have countless favorite styles of Chanel bags, but this one has been a favorite since its debut and I think it gives the perfect amount of edge to a classic.
Fringe Chanel — As an avid collector of all things Chanel, this was a very unique style that I have completely fallen in love with. I have a weakness for fringe anything especially when it's Chanel.
Cartier Juste Un Clou Bracelet — I'm a person that prefers to invest in timeless pieces that retain value. Cartier is a brand worth collecting and the Juste Un Clou is a classic that my husband and I both wear that are engraved with our children's birthdays and initials.
Rolex — There are a few things I covet more than a gold Rolex. It is most definitely an investment piece, but it retains its value over time. I believe collectible watches are amazing things to hand down to your children and grandchildren.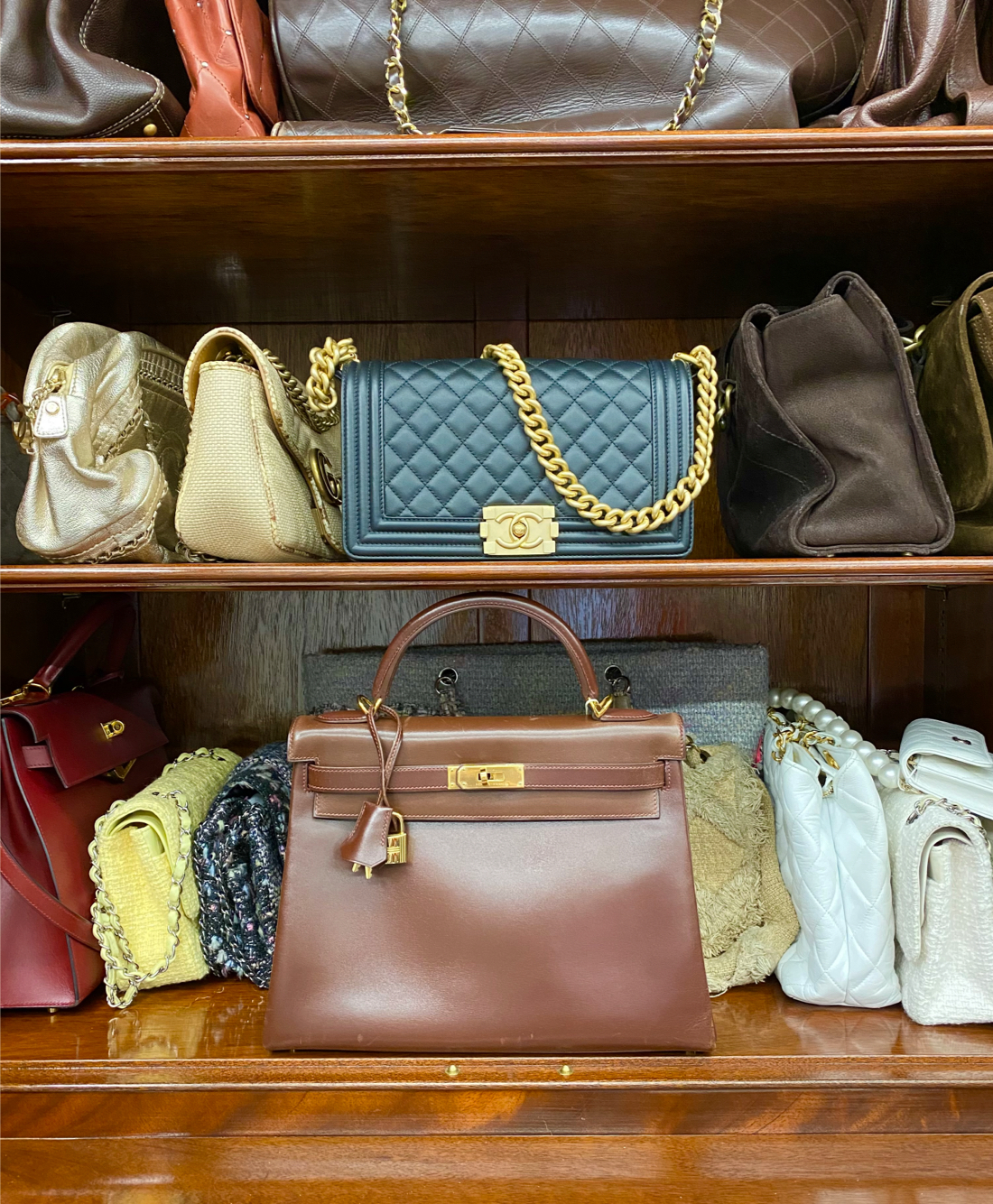 Zoe's handbag collection features the Chanel Boy bag (above) and Hermès Kelly (below).
"The ultimate secret is how you live your life and having your wardrobe be based on what works best in your everyday."
What's your secret to curating the ultimate wardrobe?
Rachel: The most important thing is to be able to create a uniform that can be your go-to for day and for night. Investing in key pieces that you can mix and match, style in a myriad of ways, and accessorize differently is the best approach to creating your own style and make the getting ready process much less stressful. For example, a classic suit in black or camel that you can wear separately or together with flats or heels, t-shirt or blouse, denim or a blazer, it goes on. Classic footwear like pumps, a great ankle boot or a chic pair of flats that you can rotate based on your lifestyle is also an essential. It very much depends on your profession, if your lifestyle is more casual or formal, you gear it towards that. The ultimate secret is how you live your life and having your wardrobe be based on what works best in your everyday life.
How has fashion evolved — for better and for worse — since you started in the industry?
Rachel: To that I could go on for several days about how it has changed. I think fashion has become more commercial; more about what is sellable rather than what is unique and artistic. That said, without making a collection that is attainable or desirable you don't actually have a business. The internet has created an all-access view of every facet of the fashion world, whereas when I began it was very insider, unknown and pretty much a mystery to anyone about what went on in the world of being a stylist or designer. With the explosion of ecommerce, the overall landscape of retail has changed, but I think the future of fashion is still very exciting. It is just a willingness to change for the customers, designers, and brands. A completely different industry year round.
What are your biggest sources of style inspiration?
Rachel: I subconsciously draw everything I do from the '60s/'70s era — Woodstock, The Beatles, The Rolling Stones, Studio 54 the Warhol era. It's the bohemian aspect as well as the effortless glamour of the '70s that subconsciously inspires everything I do. The music I listen to, my travels, my surroundings, the beauty of hotels I stay in, and architecture all play a role. Where I travel to evokes an overall feeling that inspires my creativity, from France, Italy, St. Barths, to the Aspen mountains, you just start to get excited about things.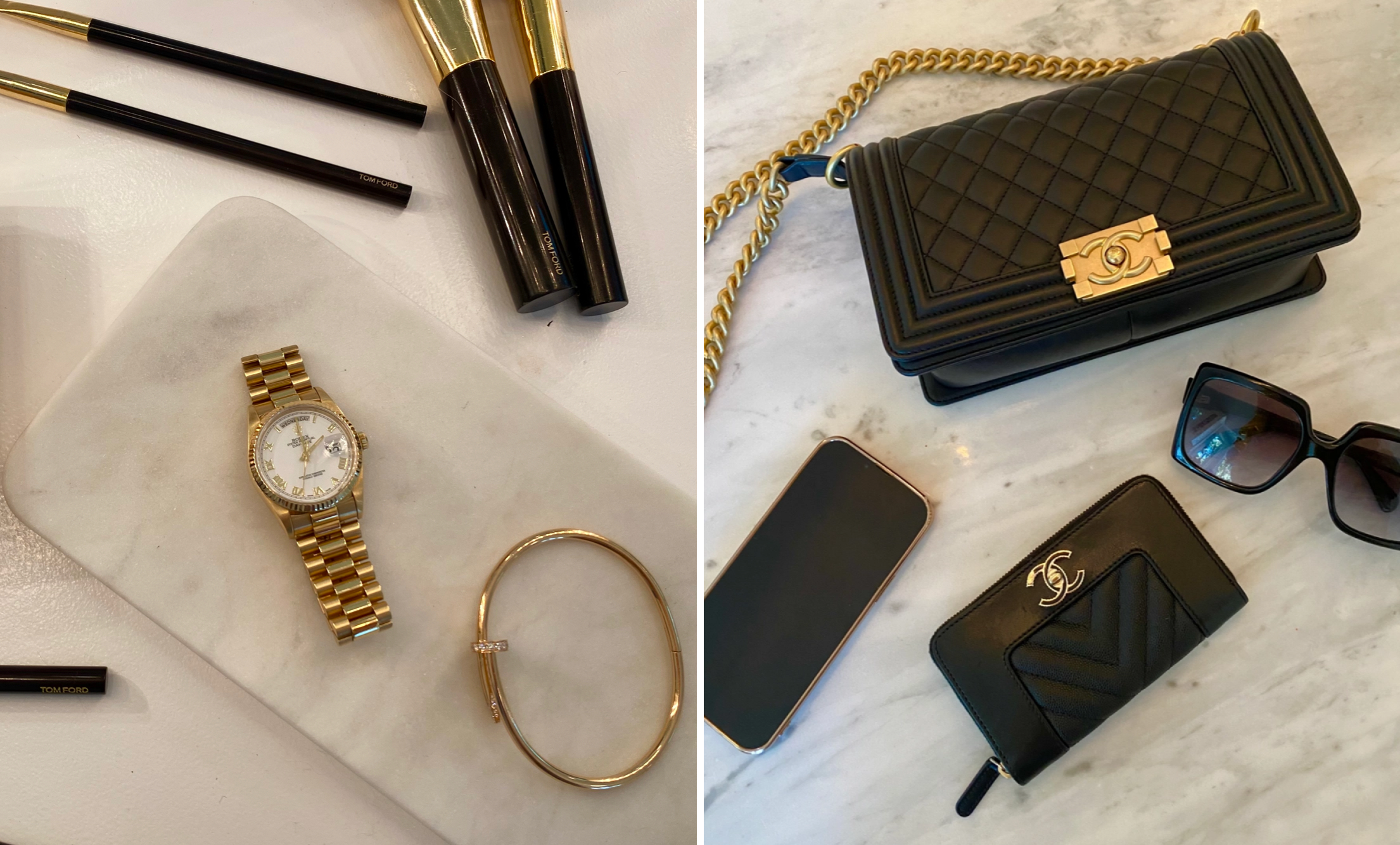 Left: Zoe's Rolex watch and Juste un Clou bracelet. Right: Zoe's Chanel Boy bag and wallet.
What advice do you have for someone who is just starting their accessories collection; what are the first three items in which you would recommend investing?
Rachel: 
1. A midsize handbag with a handle that can be worn on the arm or crossbody, a size that can go from day to night.
2. A classic clutch in a black or metallic that can be matched to almost anything.
3. A good statement pair of earrings or a necklace- something that can add instant drama or style to whatever you're wearing.
What does glamour mean to you? How would you suggest that others incorporate it into their everyday life?
Rachel: I always say that glamour is a state of mind, or an overall feeling that you exude when you go out into the world everyday. It could mean a pair of polished denim with a crisp white shirt and a chic bag, whatever is in your budget. It is always about how you accessorize. A very basic t-shirt and jeans can be made more glamorous with a dramatic necklace, pair of heels, a clutch, and a red lip.
You and your husband Rodger have been married for 24 years. What is the most special piece he's gifted you over the years?
Rachel: There have been quite a few.. I have been very fortunate that he puts a lot of love and time into everything he buys me. To name a few, my very first Hermès bag that he got me was an orange Birkin that he led me to with a trail of rose petals. To this day it is still my favorite. More recently he gifted me a diamond and emerald necklace that he designed with Anita Ko and surprised me with for my birthday.
How has your style changed in the last two years? What accessories do you find yourself gravitating towards now more than ever?
Rachel: My style has changed in the work from home world, I found I was constantly going to black cashmere dresses as my go to uniform that I can be comfortable in around my kids. My accessories go-to has been layering a lot of statement necklaces because in the zoom world it is all you see. Creating drama there is ideal.
What do you predict the top accessories trends for 2022 will be?
Rachel: I think necklaces are here to stay and, with Zoom and work from home, they can still be very prominent statement pieces that can make all the difference in your outfit. I also think lots of big cocktail rings will continue to trend.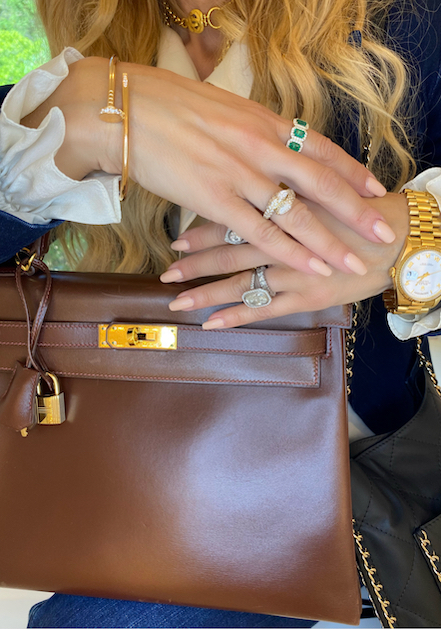 "The better question is, Why wouldn't you choose an Hermès Kelly?"