News
Tiffany & Co. and Patek Philippe
Revive the Nautilus
By The Rebag Team, Dec 6, 2021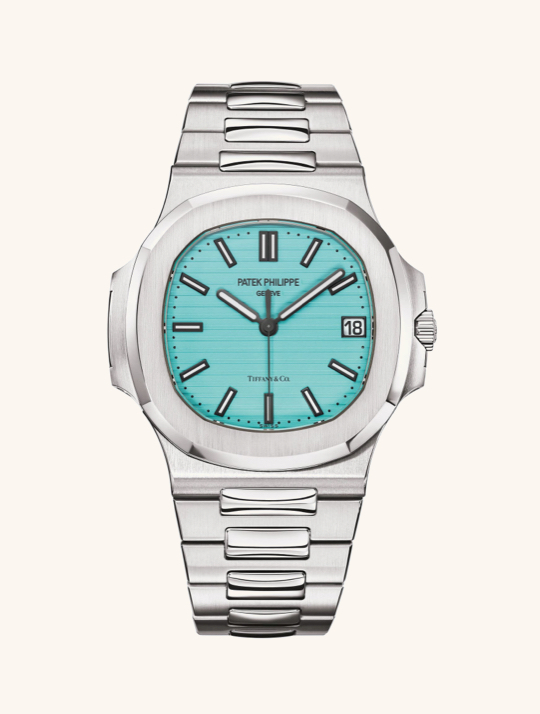 Tiffany & Co. and Patek Philippe Make a New Nautilus.
One-hundered-and-seventy years ago, Tiffany & Co. became the first American retailer for Swiss watchmaker Patek Philippe. They're celebrating the anniversary with a limited edition version of the discontinued Nautilus that features both brand names on the watch's face.
For any watch collector, a Patek Philippe Nautilus is a prized timepiece, especially the Nautilus or Ref. 5711, which was discontinued earlier this year. Prices shot up on resale sites and the only way to find it was on the secondary market — until now.
To celebrate the 170th anniversary of their partnership, Patek Philippe created a Nautilus with Tiffany & Co. that features both the Tiffany & Co. logo and the label's signature Robin's Egg Blue on the watch's face. 
Named the Ref. 5711/1A-018, the edition is limited to just 170 pieces — the same number of years the two brands have been working together. They will be available later this month at Tiffany & Co. locations in New York, and in California in Beverly Hills and San Francisco.  
One of the pieces will be available at Phillips's watch auction on December 11, with proceeds going to the environmental organization The Nature Conservancy. 
The two brands first partnered in 1851, when Tiffany & Co. became Patek Philippe's first authorized dealer in the United States. It has continued to outlast the numerous times Tiffany & Co. has been acquired by different owners, most recently LVMH at the beginning of 2021. 
The Tiffany & Co. x Patek Philippe Nautilus, or Ref. 5711/1A-018, will be priced at $52,635. Whether you can get your hands on one or not, now that's another story.