CELEBRITY STYLE
Timothée Chalamet,
the Fashion Influencer
By The Rebag Team, Nov. 10, 2022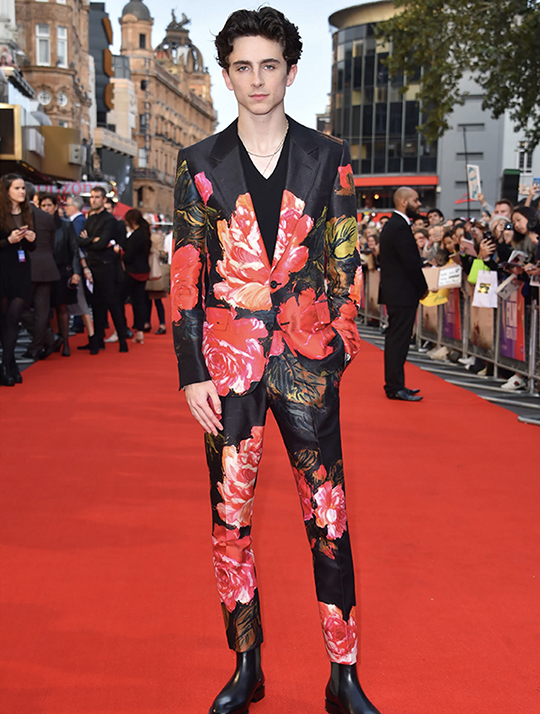 Timothée Chalamet knows how to raise eyebrows.
Timothée Chalamet has carved a name for himself in films like
Call Me by Your Name
,
Dune
, and
Little Women
, but his daring sense of fashion earned him a reputation as one of the most stylish actors on the red carpet. Rebag takes a look at his most memorable looks.
Haider Ackermann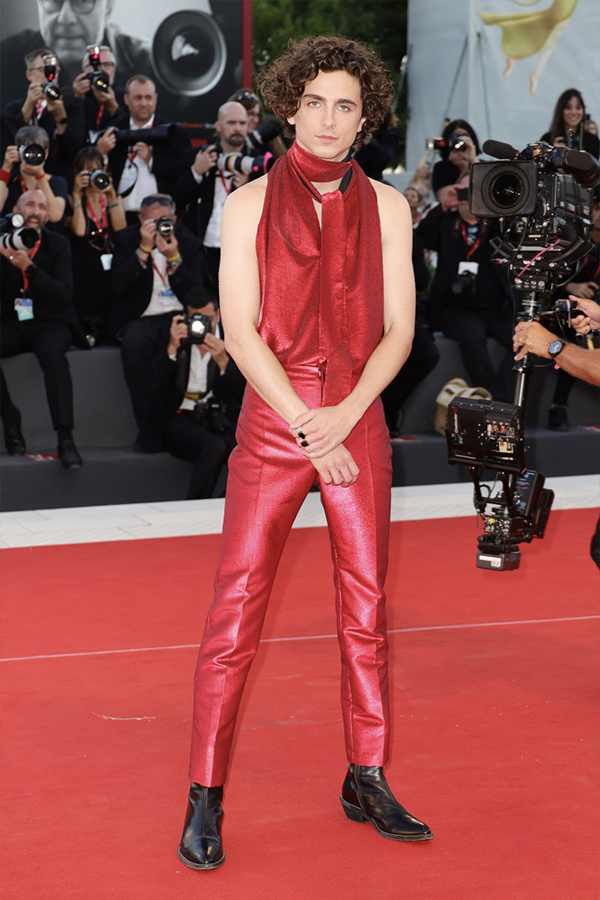 Timothée Chalamet turned heads in a red Haider Ackermann jumpsuit during the Bones and All screening at the 2022 Venice Film Festival. (Fashionista)
Stella McCartney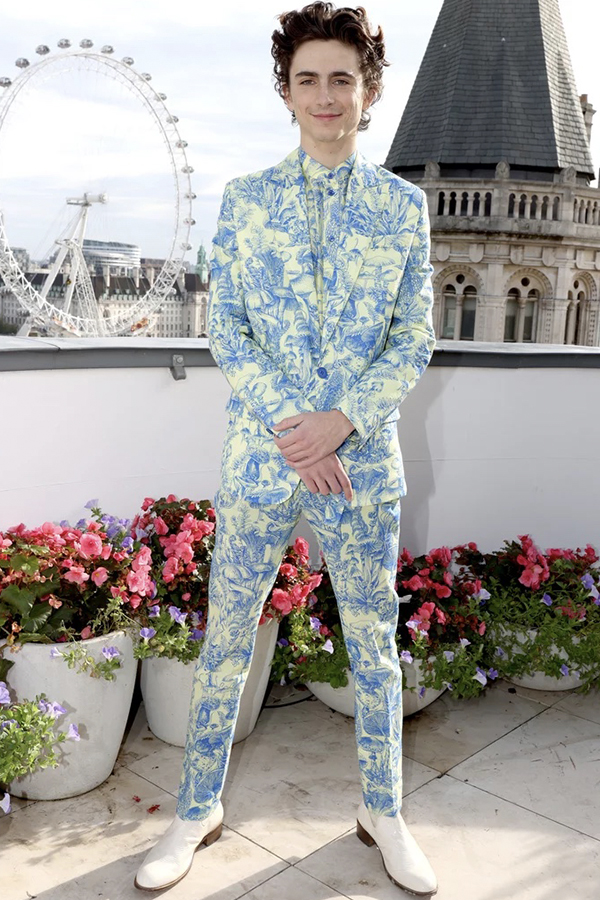 Timothée Chalamet went for a soft mushroom flora print Stella McCartney suit at the 2021 Dune photocall in London. (PopSugar)
Haider Ackermann and Rick Owens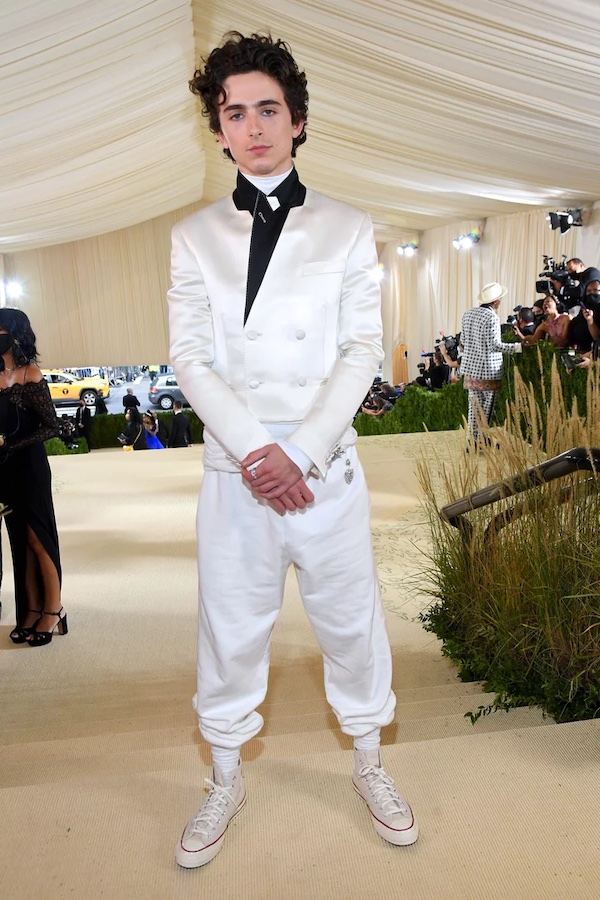 2021 Met Gala co-chair Timothée Chalamet opted for high-meets-low ensemble for the star-studded event, putting together a Haider Ackermann jacket, Rick Owens sweatpants, Cartier jewelry, and white Converse Chuck Taylor All-Stars.
Prada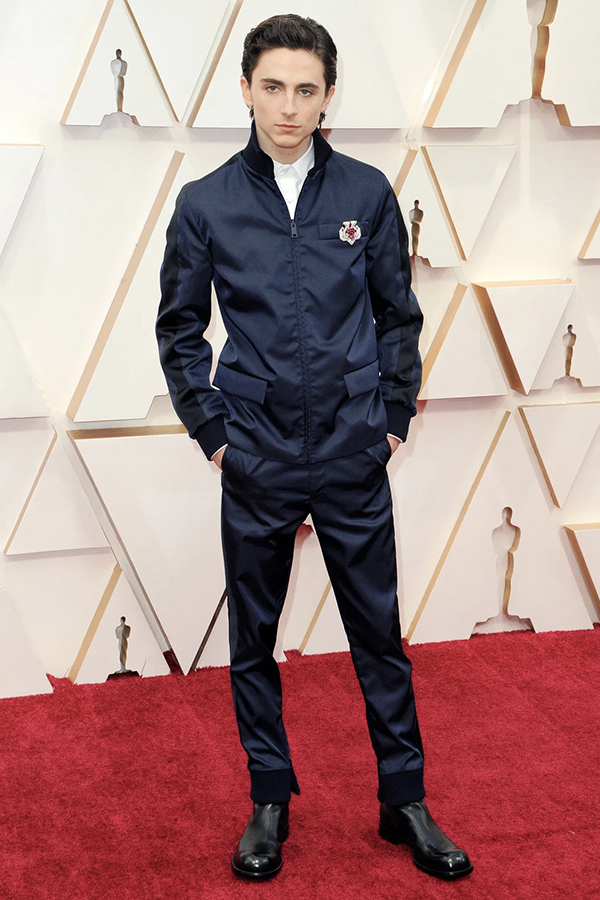 Timothée Chalamet in a full Prada look with Cartier jewelry at the 2020 Oscars. (Refiner29)
Stella McCartney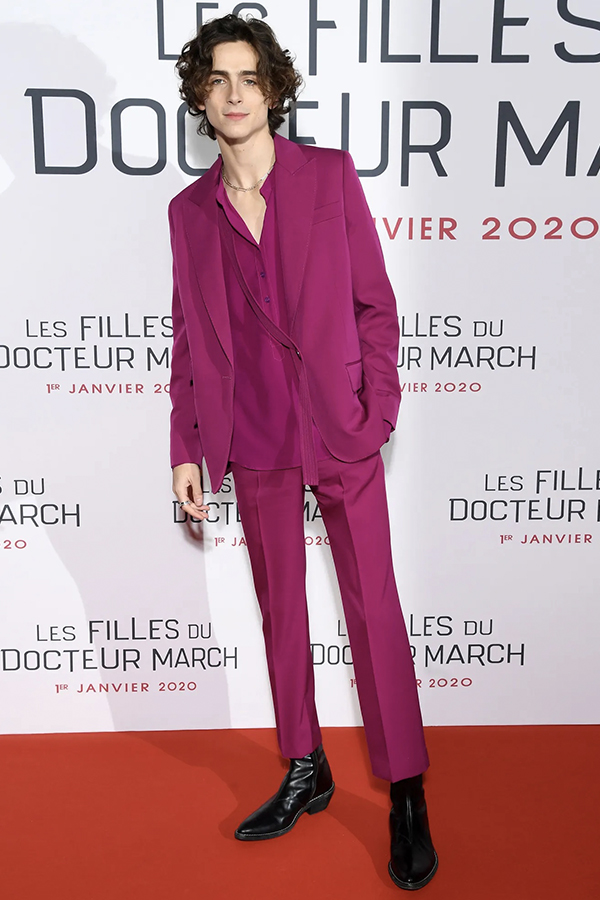 Timothée Chalamet dressed in a purple Stella McCartney suit at the 2020 Paris premiere of Little Women, or Les Filles du Docteur March en Français. (GQ)
Saint Laurent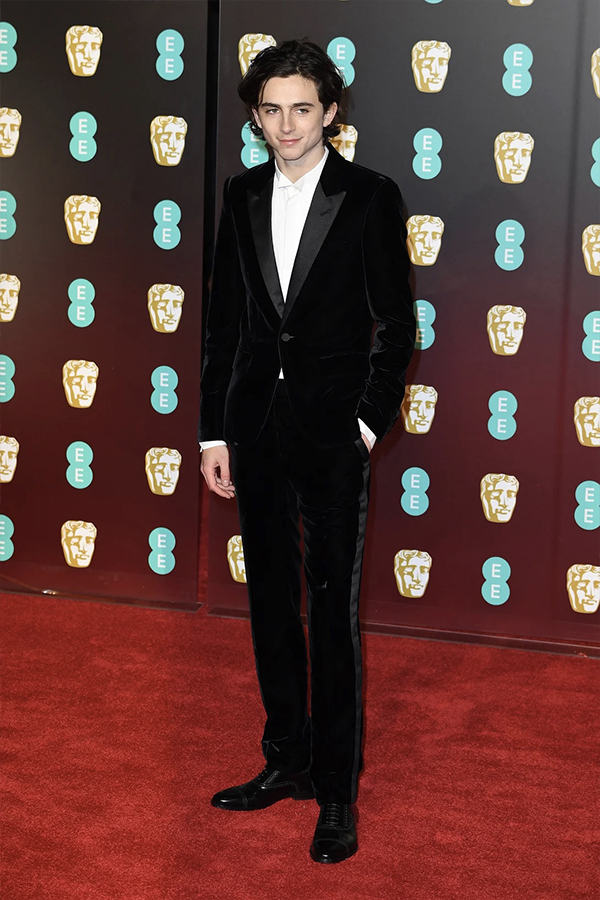 Timothée Chalamet goes full black in this Saint Laurent tuxedo. (Refinery29)
Alexander McQueen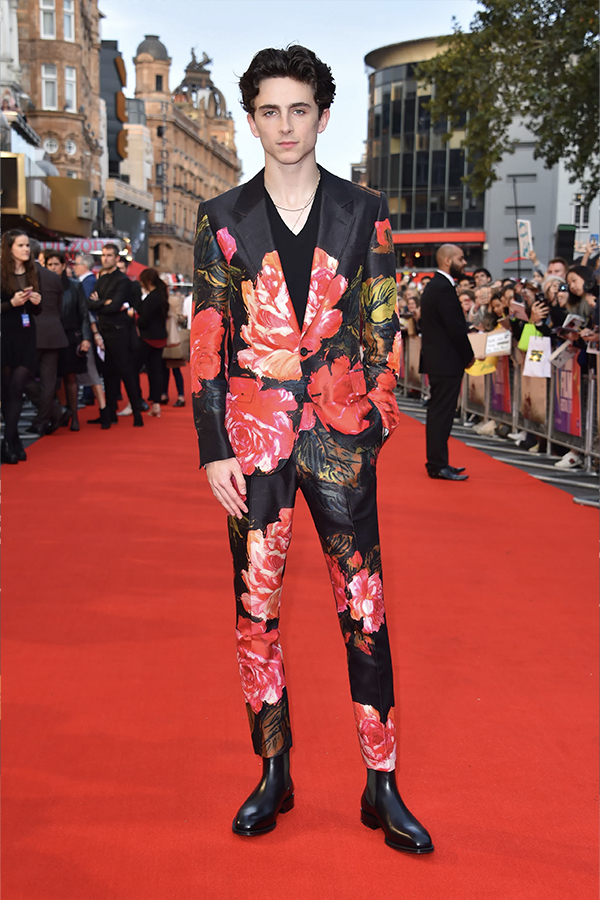 Timothée Chalamet know how to make a statement in this bold
Alexander McQueen floral suit at the 2018 premiere Beautiful Boy in London.
Haider Ackermann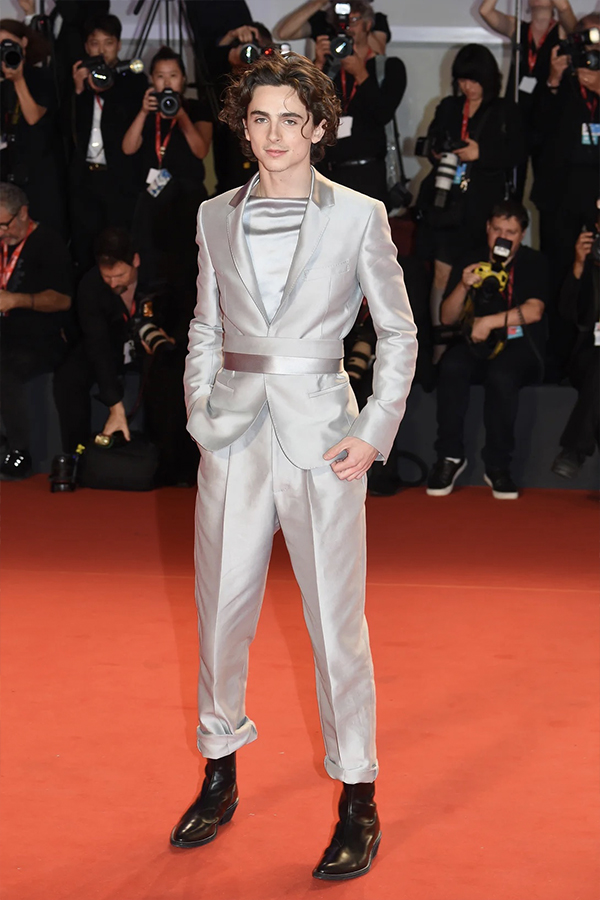 Timothée Chalamet reinvents the suit with this silver Haider Ackermann number at the 2019 Venice Film Festival premiere of The King. (Refinery29)
Louis Vuitton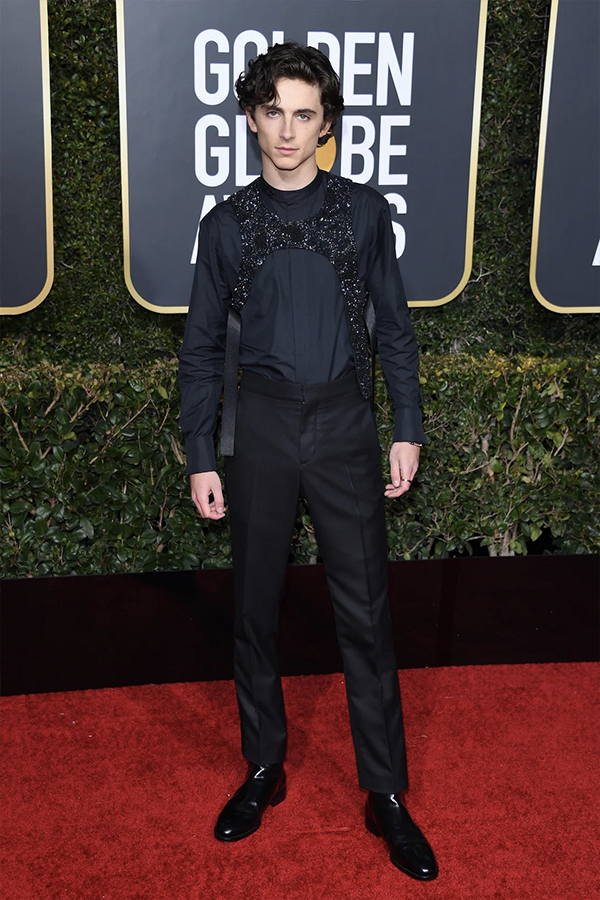 At the 2019 Golden Globes, Timothée Chalamet opted for a sparkly tactical harness and an all-black ensemble by Virgil Abloh for Louis Vuitton. (Getty)
Haider Ackermann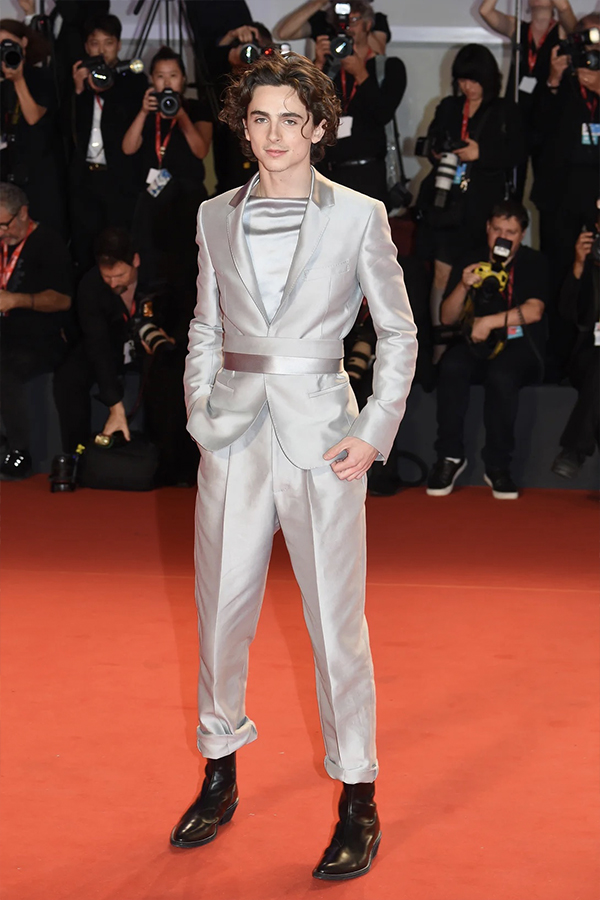 Timothée Chalamet reinvents the suit with this silver Haider Ackermann number at the 2019 Venice Film Festival premiere of The King. (Refinery29)