DESIGNER 101
Van Cleef & Arpels 101:
The Enduring Luck of The Alhambra
By Ann B, May 12, 2021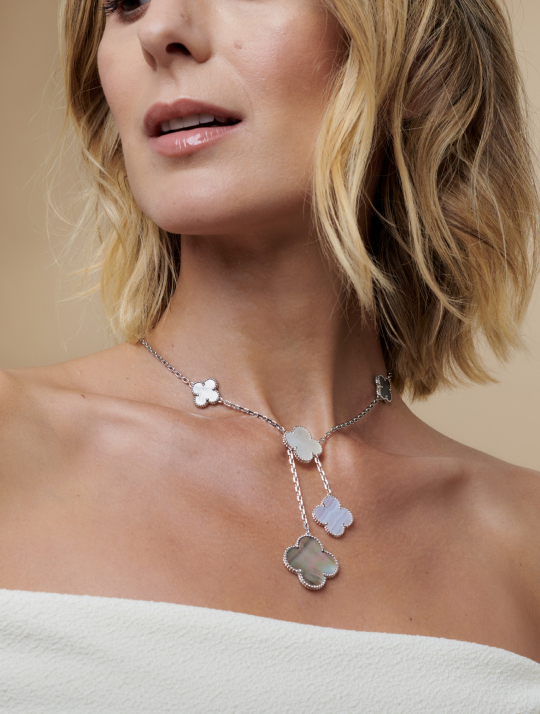 The Alhambra collection brings good fortune in many
forms. Inspired by the four-leaf clover and the quatrefoils within The Alhambra palace in Gran
ada, Spain — the iconic Van Cleef & Arpels Alhambra features one of the house's design pillars.
"To be lucky, you must believe in luck," Jacques Arpels liked to say. The nephew of Estelle Arpels — whose father Salomon Arpels founded the famed French jewelry house with her husband Alfred Van Cleef in 1896 — joined the family business in the 1930s. That was three decades after the Maison of Van Cleef & Arpels opened its doors in 1906 at 22 Place Vendôme in Paris to sell Van Cleef and Arpels jewelry to chic Parisians. A firm believer of luck, Jacques liked to pick four-leaf clovers from his backyard in Germigny-l'Évêque, a village some 39 miles northeast of Paris. He would give the clovers as a gesture of luck to employees, along with a copy of the poem "Don't Quit" by American Quaker poet and abolitionist John Greenleaf Whittier, which reminded them to persevere through times of difficulty.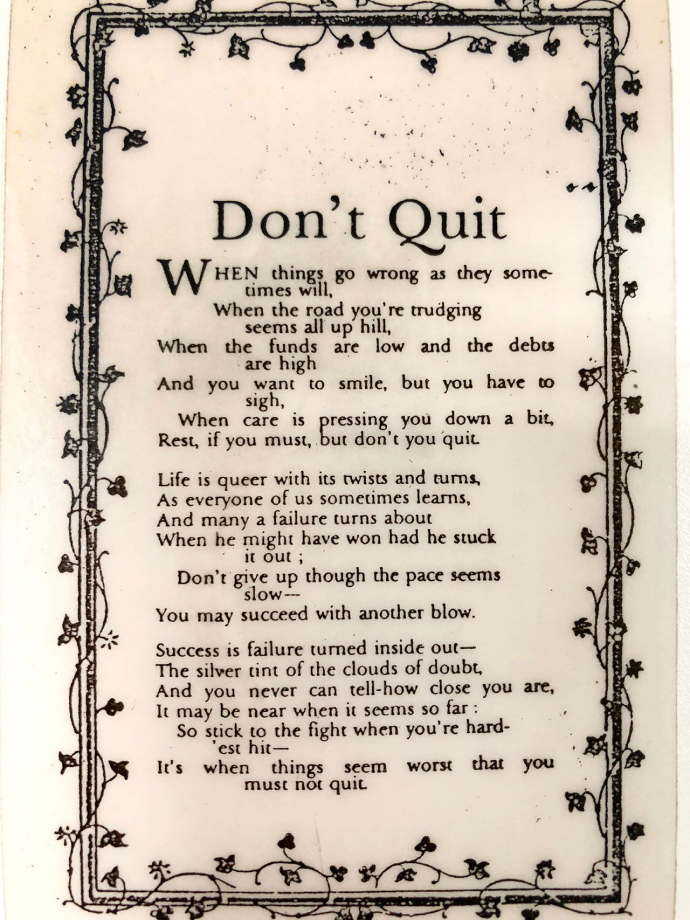 "Don't Quit" by John Greenleaf Whittier
The four-leaf clovers would become one of the design pillars of the legendary French jewelry house, along with other magical symbols of good fortune, including fairies and wooden talismans. The four-leaf clover appeared in Van Cleef & Arpel collections as early as 1928, according to its archives. The good luck charm would serve as the starting point for one of the brand's most enduring and iconic designs: The Alhambra.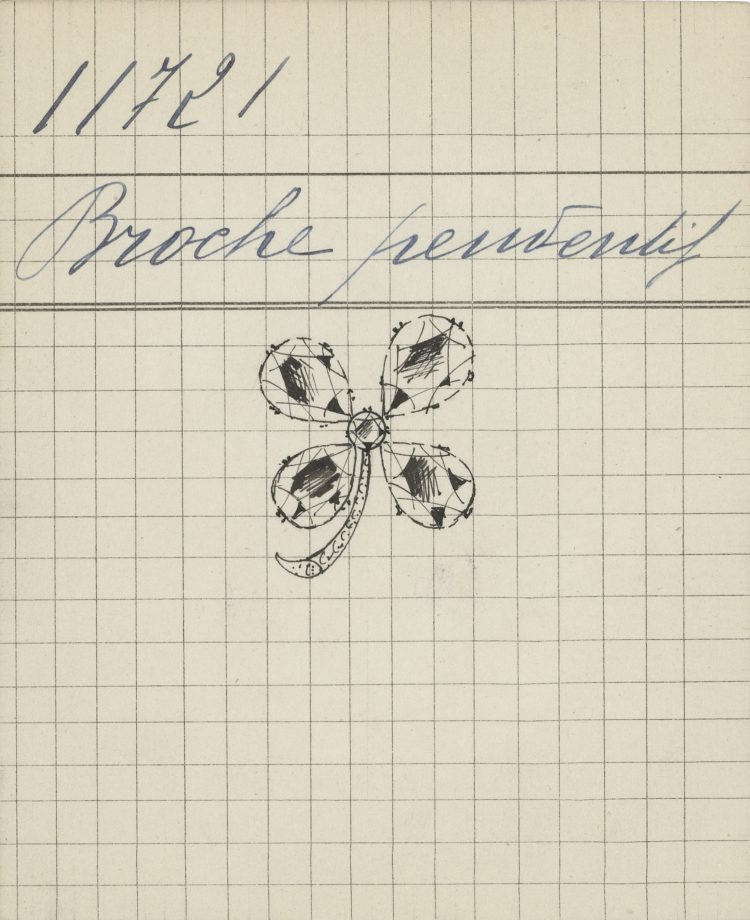 Product card of a Clover pendant brooch, 1919 (Van Cleef & Arpels)
Origin
Jaques's love of the four-leaf clover sparked him to debut The Alhambra in 1968 in the form of a gold sautoir, a long Van Cleef & Arpels necklace embellished with 20 equidistant quatrefoil-shaped motifs, each one encased in creased yellow gold and surrounded by gold beads.
Etymology
The Van Cleef & Arpels Alhambra takes its name from the famed 8th-century Moorish palace, fortress, and citadel located in Granada, Spain. That Alhambra, the only surviving royal territorial center of the Islamic Golden Age, earned its name from the red-hued walls and towers that line the compound; The Arabic term for "red fort or castle" is al-qal'a al-hamra. For the Van Cleef & Arpels Alhambra, Jacques fused together his favorite symbol of luck: the four-leafed clover, with the architectural element of the countless quatrefoil — a Byzantine-era form meaning "four leaf," inspired by his preferred good luck token — shapes that were intricately carved into the The Alhambra's walls.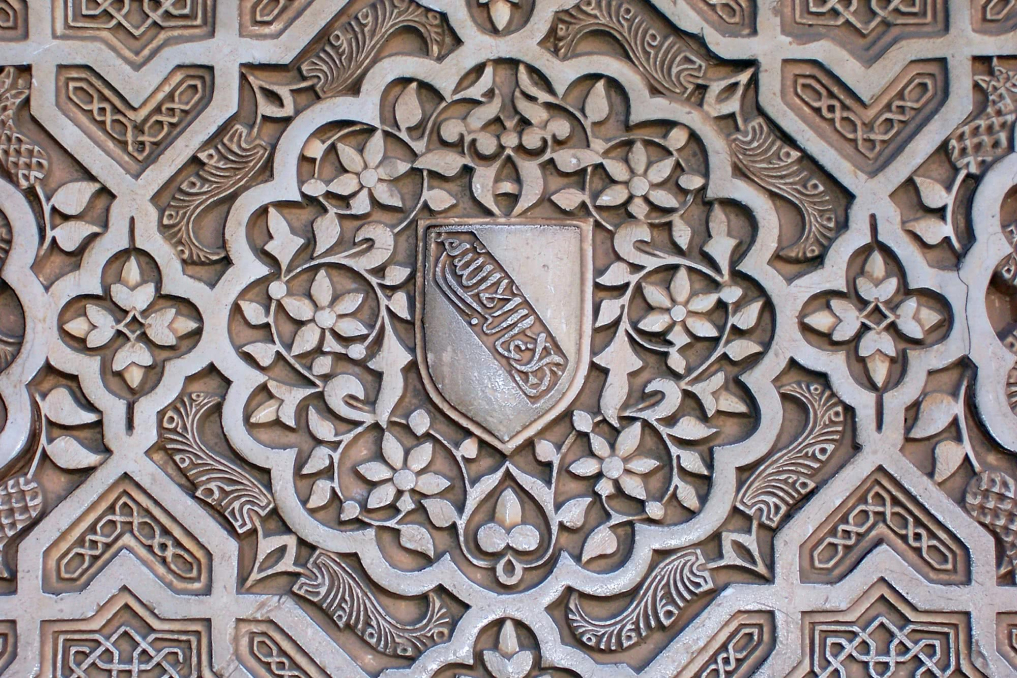 Courtesy Alhambra de Granada
The Design
The craftsmanship behind The Alhambra is a result of the painstaking efforts of different areas of expertise, that begins with the lapidary — a person who cuts, polishes, and engraves gems — to the jeweler, who puts the pieces together, setting the stones and then polishing the finished pieces. Over the years, the collection has expanded from the original sautoir into rings, earrings, bracelets, watches, and more, decorated with a wide array of precious and rare stones, like lapis lazuli, tiger's eye, grey mother of pearl, malachite, onyx, blue agate, among others.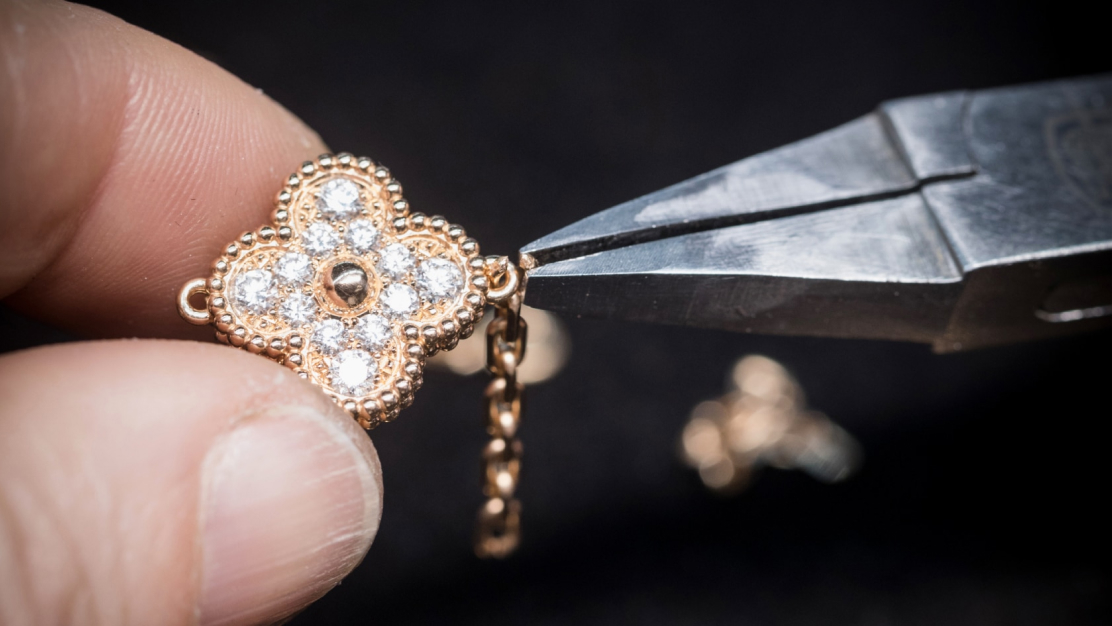 T
he making of a Van Cleef & Arpels Alhambra piece
(Van Cleef & Arpels)
The Era in Which The Alhambra Was Born
The Alhambra was unveiled as Paris was in the midst of a cultural revolution in 1968. The student protests and demonstrations that fought against capitalism, consumerism, and the government — which was led by then-president Charles de Gaulle allowed the French capital to shed its staid ways. The period would eventually become known as May 68. It halted the French economy for a period of seven weeks. Yves Saint Laurent popularized a revolutionary new concept of clothing meant to be bought off the racks called prêt-à-porter — ready-to-wear — with the opening of his Rive Gauche boutique just two years before, giving way to a more casual and relaxed fashion sense. Designers like Pierre Cardin, Paco Rabanne, and Mary Quant unleashed a look that reflected a post-war feminist attitude that carried a liberated sense of fashion through short mini skirts and masculine suits.  Tired, uptight traditions, such as that fine jewelry was only supposed to be worn for special evening occasions, eventually led to a more laid-back tone. Jacques wanted to capture the sentiment through a piece of jewelry that was meant to be worn as a more casual, everyday accessory. The long, loose Van Cleef and Arpels necklace evoked the hippie and mod aesthetics that were popular at the time.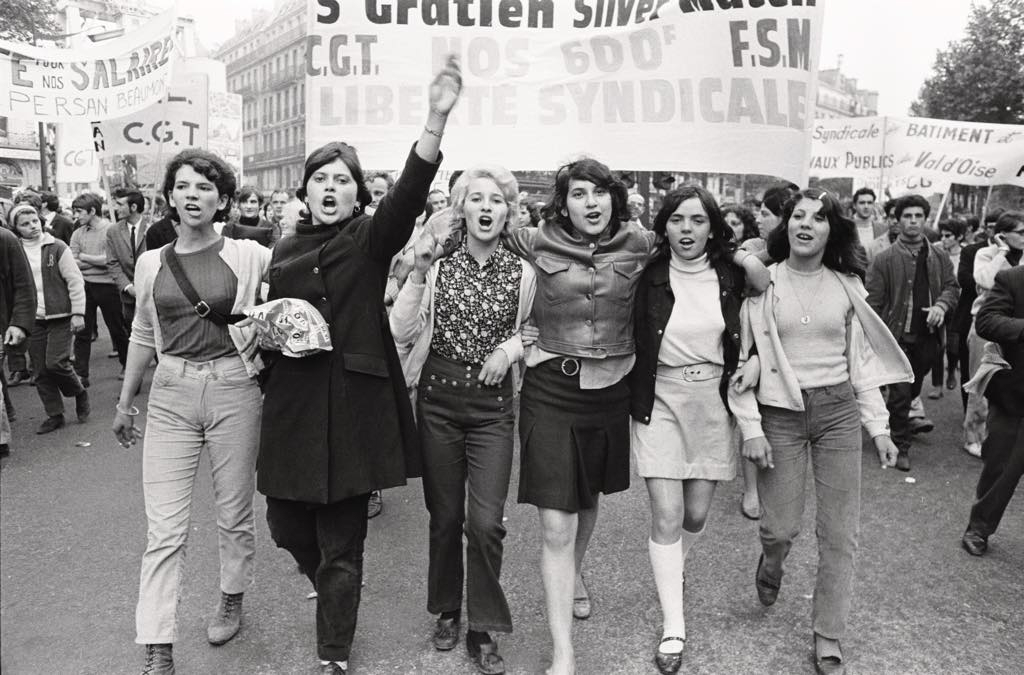 © Fondation Gilles Caron. Courtesy School Gallery/Olivier Castaing
Celebrity Status
Countless film stars, singers, and performers from 1968 to now, including Elizabeth Taylor, Blake Lively, and Reese Witherspoon would go on to embrace the timeless allure and fortune of the Van Cleef & Arpels Alhambra.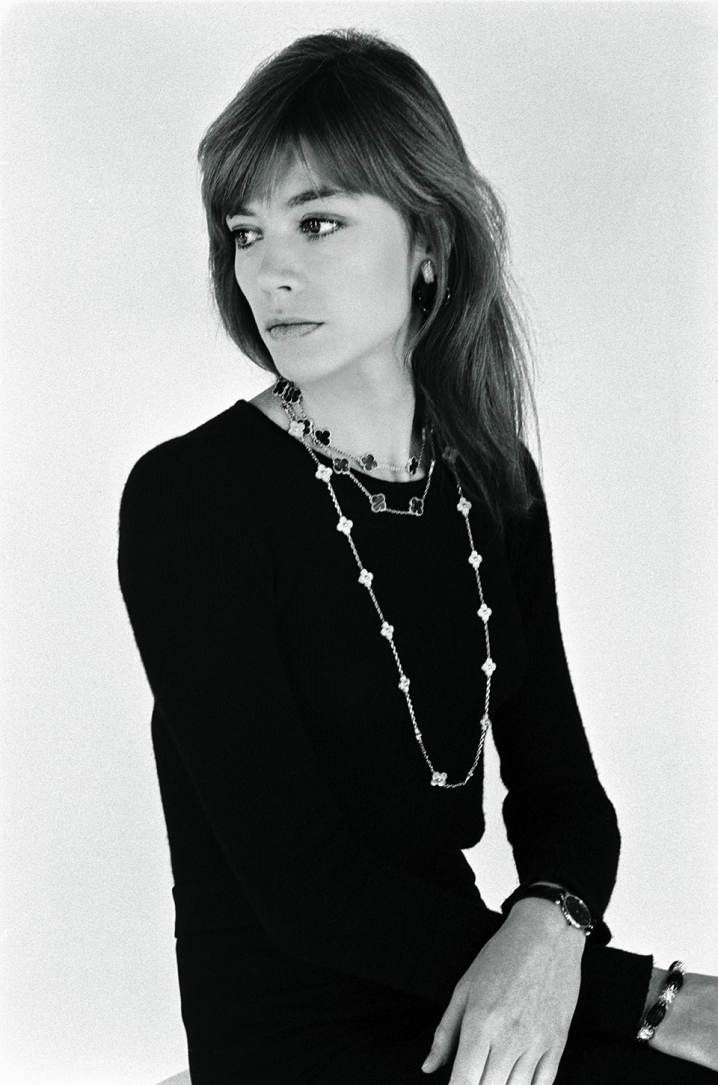 French singer/songwriter Françoise Hardy in a Van Cleef & Arpels Sautoir in 1973. Courtesy Vanity Fair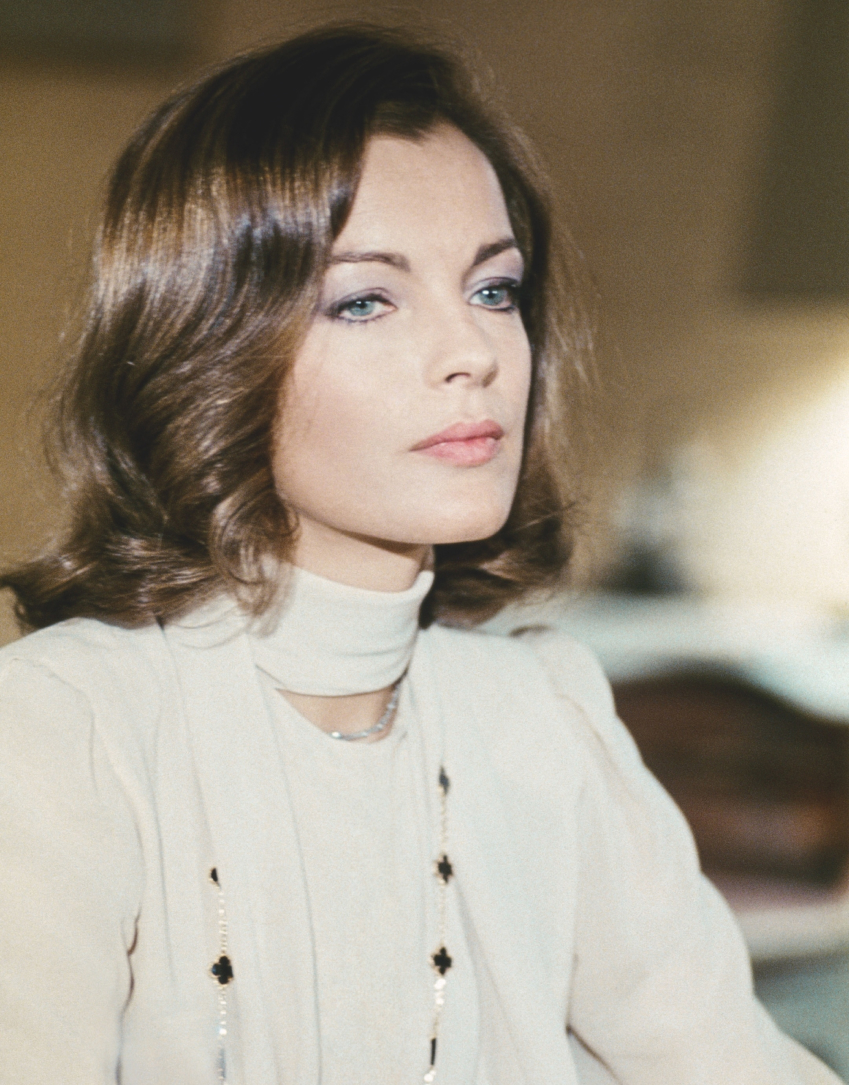 French actress Romy Schneider wearing a Van Cleef & Arpels Alhambra necklace in the 1974 comedy Love at the Top. Courtesy Van Cleef & Arpels
A Royal Staple
Princess Grace of Monaco embraced the Alhambra long before it was considered a timeless classic. Today, the House of Windsor favors the classic lucky charm.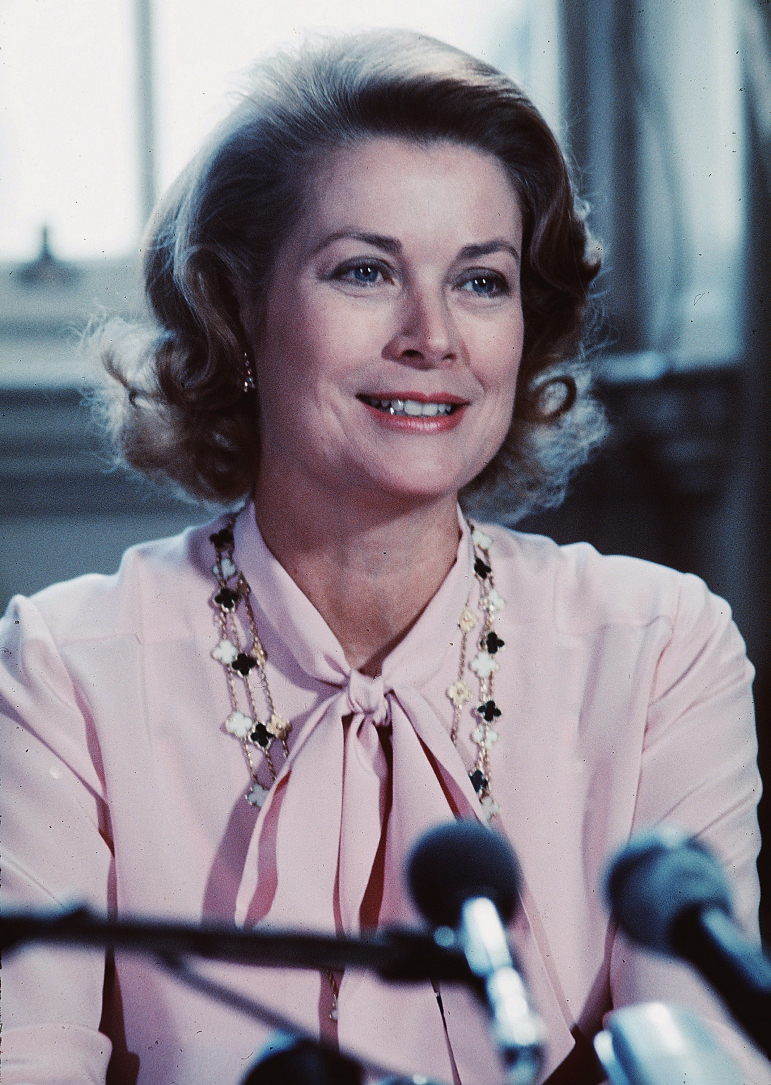 Princess Grace of Monaco in 1979 in several strands of the Van Cleef & Arpels Alhambra Sautoir. Courtesy Vogue.co.uk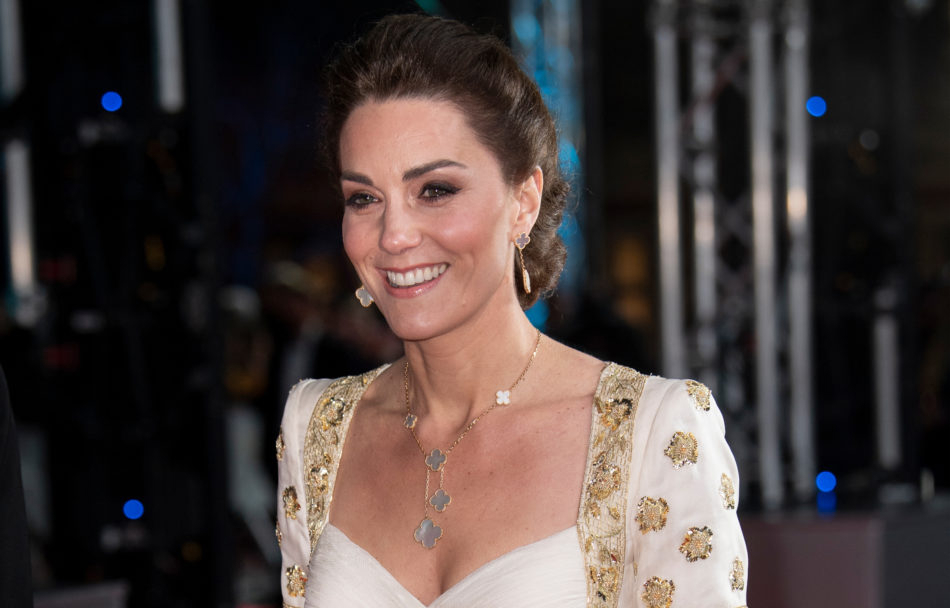 Kate Middleton in a Van Cleef & Arpels Alhambra lariat and earrings at the 2020 BAFTA Awards. Courtesy 1stDibs
Market Value
The Alhambra collection is the most classic and popular design from Van Cleef & Arpels, and in the jewelry resale market, Alhambra is one of the most sought after collections, especially necklaces and bracelets, reports Rebag's buying team. There are lots of stone types, design variations, and limited editions within the Alhambra collection, and in general they retain investment value pretty well, with the resale price retaining an average of 85 percent to 100 percent of retail value. Some styles, usually limited editions or discontinued styles, can even sell higher than retail value. 
At Rebag, the most sold styles include Vintage Alhambra Pendant Necklace, Sweet Alhambra Pendant Necklace (smaller than Vintage Alhambra), Vintage Alhambra 10 Motifs Necklace, and Sweet Alhambra Bracelet. Regarding stone types, Mother of Pearl and Onyx are the most sold so far. 
Van Cleef & Arpels itself performed very well despite the pandemic taking the hold of the world in early 2020. Vogue Business reported on July 3, 2020, that jewelry spending is still promising despite sales being down. "There are going to be probably less visible fireworks, fewer beautiful events, but the true and long-term relationship with clients and collectors remains and is probably even stronger than before," said Van Cleef & Arpels CEO Nicolas Bos during a Richemont earnings call on March 31, 2020, according to Vogue Business. Later last year, in a December 2020 New York Times article with the headline "Even in a Pandemic, Fine Jewelry Is Selling," Compagnie Financière Richemont, the Swiss luxury group that owns Cartier and Van Cleef & Arpels, stated that the results for the six months ended September 30, 2020 Jewelry sales in the second quarter grew by 4 percent at actual exchange rates compared with the prior year. The article also reported that Johann Rupert, Richemont's chairman said "successful digital initiatives and the continued appeal of iconic collections," are why jewelry managed to survive Covid-19. On January 20, 2021, Yahoo Finance! reported that Richemont stated a 5 percent increase in quarterly sales led by strong growth at its jewelry brands in Asia and the Middle East.
The resale market looks just as promising. Clair, Rebag's appraisal system, reports that there is "no offer price change vs 6 months" for a number of Van Cleef & Arpels jewelry pieces, including the Vintage Alhambra 20 Motif Necklace 18K yellow gold and onyx, the Vintage Alhambra 20 Motifs Necklace in 18K white gold and mother of pearl, the Vintage Alhambra 5 Motifs Van Cleef and Arpels Bracelet in 18K yellow gold and onyx, the Magic Alhambra 2 Motifs Van Cleef and Arpels Earrings in 18K yellow gold and mother of pearl, a Vintage Van Cleef & Arpels Alhambra Ring in 18K yellow gold with coral and diamond, and an Alhambra 100th Anniversary Pendant Necklace in 18K yellow gold and mother of pearl magic. 
One 2017 New York Times article stated that a woman purchased a limited edition malachite Van Cleef & Arpels Alhambra necklace — only 100 were produced — a decade before and that she sold it for more than $12,000 — twice as much as what she initially paid for it. According to Andrew Brown in a report on The Coveteur, CEO of WP Diamonds and Gemma by WP Diamonds, if in near-perfect condition, "Most Van Cleef & Arpels bracelets and necklaces and Cartier Love bracelets are the best and fastest sellers and typically resell for 75 percent or more of retail." 
Van Cleef & Arpels Alhambra Timeline
1968: The first Alhambra long necklace is created in yellow gold. The quatrefoil motifs are lined with gold beads.
1971: Maison Van Cleef & Arpels incorporates hard stones like Malachite and lapis lazuli into the Alhambra collection.
1972: Onyx and coral are used in the Alhambra collection.
1973: Tiger's Eye becomes a part of the Alhambra collection
1974: The bold blue of turquoise finds its way into the Alhambra.
1981: The Alhambra features mother-of-pearl.
1983: Following the debut of mother-of-pearl into the Alhambra collection, Maison Van Cleef & Arpels adds grey Mother-of-Pearl.
1985: Two new stones are introduced in the Alhambra collection — carnelian and diamonds on yellow gold. 
1989: Blue agate is highlighted in the latest Alhambra pieces.
1994: Rock crystal is introduced to the Alhambra.
1998: Van Cleef & Arpels launches Alhambra watches.
2001: Pure Alhambra creations makes its debut; The original style is with the beaded border is reintroduced as Alhambra Vintage.
2006: Lucky Alhambra, which features several charms, and Magic Alhambra — which combines different sized quatrefoils in one piece — join the family. The milky chalcedony gemstone is featured in the Alhambra.
2007: Van Cleef and Arpels Sweet Alhambra creations, cute miniature versions of signature Alhambra motifs, debuts.
2012: Sèvres porcelain and Letterwood join the Alhambra family.
2018: Maison Van Cleef & Arpels celebrates the 50th anniversary of the Alhambra with new combinations of materials.


Alhambra Sizing Reference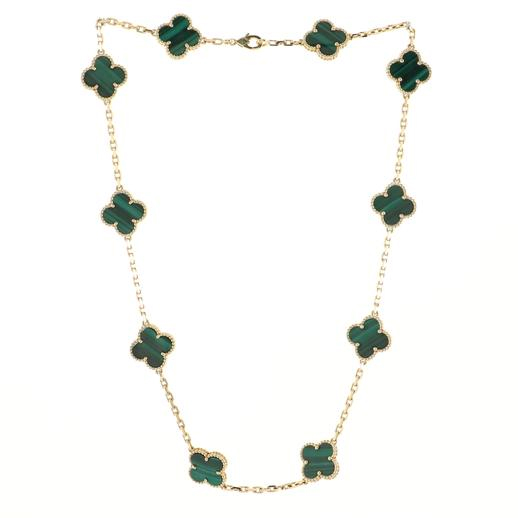 Alhambra 10 Motifs Necklace
18K Yellow Gold
 – Length: 16.75″; 
Pendant: 14.95 x 14.95
Vintage Alhambra Ring 18K Yellow Gold and Onyx with Diamond
6.25 – 53 1 Tablet Onyx, 1 Round Brilliant Cut Diamond 0.06ct.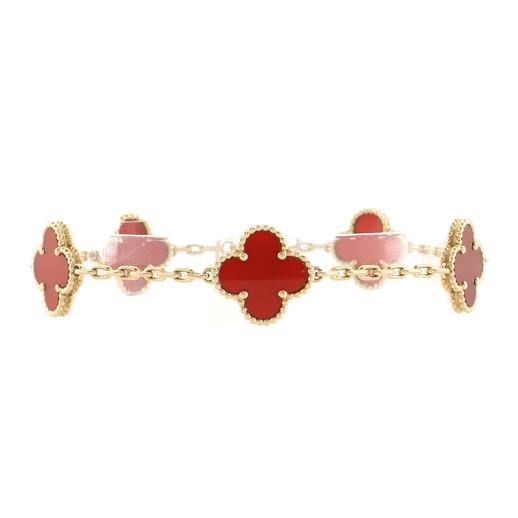 Vintage Alhambra 5 Motifs Bracelet 18K Yellow Gold and Carnelian
Height/Length: Circumference: 7.5″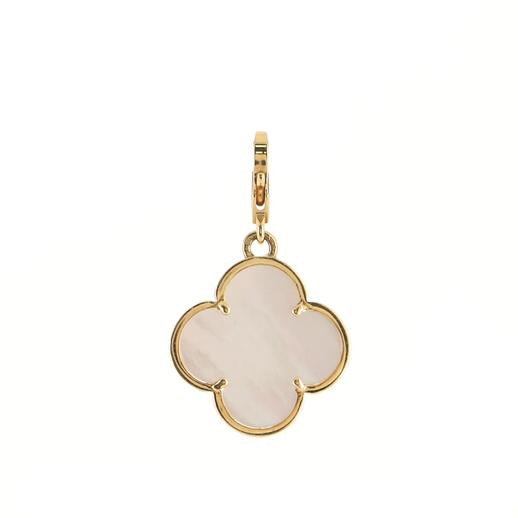 Magic Alhambra Pendant Charm Pendant & Charms
18K Yellow Gold and Mother of Pearl Height
Length: 1.5″ Width: 0.9″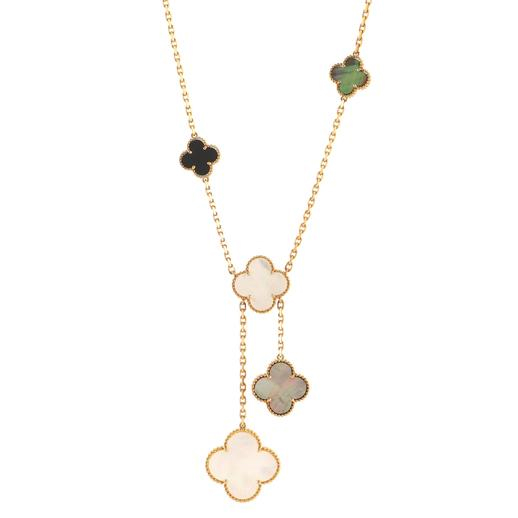 Vintage Alhambra Ring 18K Yellow Gold and Onyx with Diamond
6.25 – 53 1 Tablet Onyx, 1 Round Brilliant Cut Diamond 0.06ct.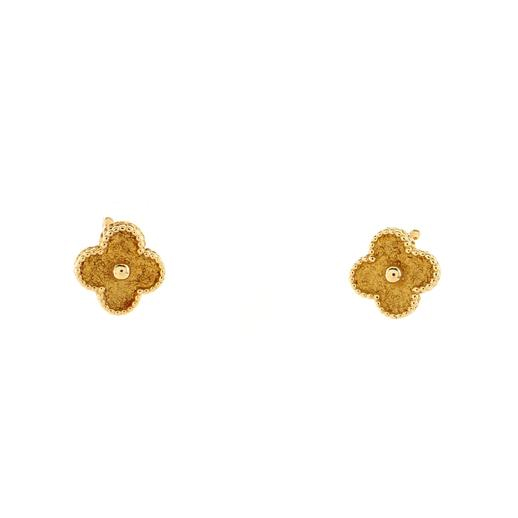 Vintage Alhambra Earrings 18K Yellow Gold Height/Length: 14.5″, Width: 14.5″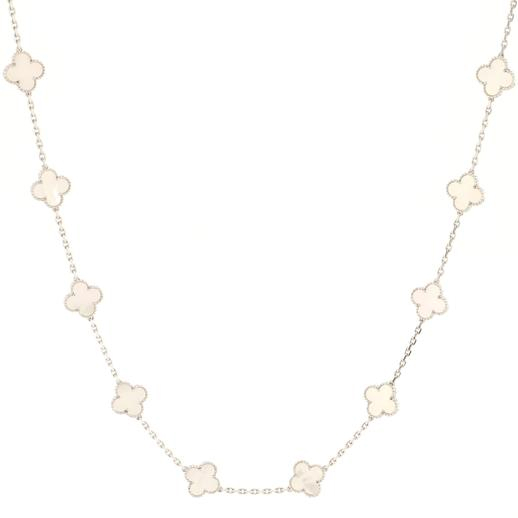 Vintage Alhambra 20 Motifs Necklace 18K White Gold and Mother of Pearl Length: 32.5″ Pendant: 14.65 x 14.65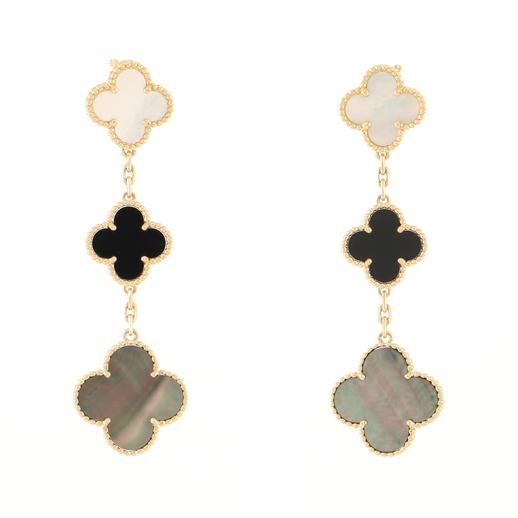 Magic Alhambra 3 Motifs Earrings 18K Yellow Gold with Mother of Pearl
and Onyx Height/Length: 2.5″, Width: 0.8″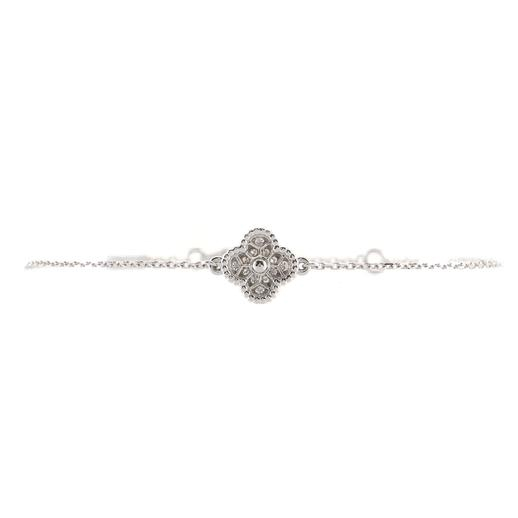 Sweet Alhambra Bracelet 18K White Gold and Diamonds
Circumference: 6.35″
Alhambra Special Editions
Van Cleef & Arpels Limited Edition Holiday 2018 Alhambra Necklace
In 2018, Van Cleef & Arpels created a special gold mother-of-pearl Vintage Alhambra pendant encased in yellow gold, with a lone round diamond set in the middle of the quatrefoil.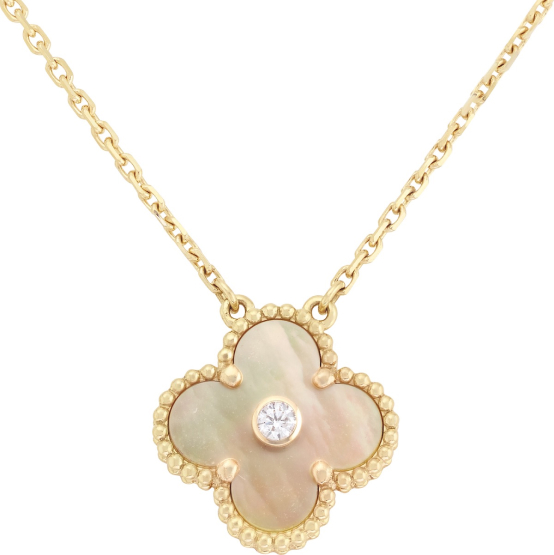 Van Cleef & Arpels Holiday Season 2020 Limited Edition Alhambra Pendant
F.or holiday 2020, the Alhambra was made with a white gold guilloché – a watch dial engraving technique that features lines reminiscent of the sun's rays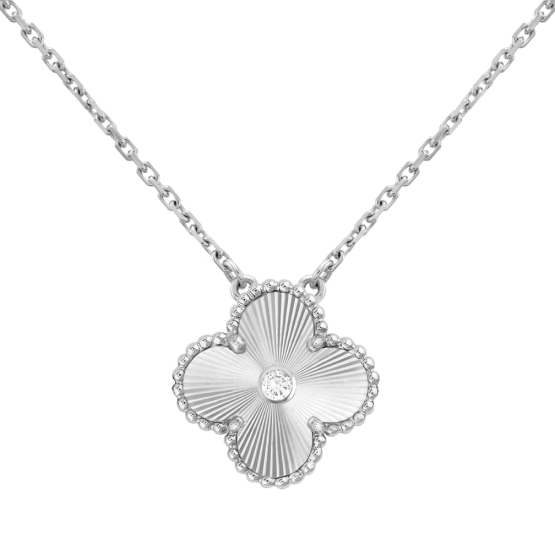 Courtesy Van Cleef & Arpels
Van Cleef & Arpels 50th anniversary Vintage Alhambra Necklace
This 50th Anniversary Limited Edition Van Cleef & Arpels Alhambra Vintage necklace is imbued with the spirit of the original Alhambra sautoir features beaded edges and grey mother-of-pearl and diamond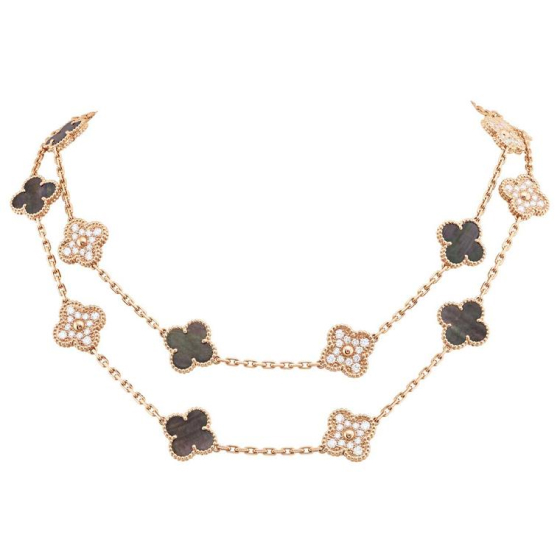 Courtesy The Jewelry Editor
The Limited Edition Van Cleef & Arpels Malachite Vintage Alhambra Necklace
Produced around 2007, this rare limited edition was one of 100 pieces made in this style. The Alhambra quatrefoil motifs are double-sided and crafted in both 18kt yellow gold and malachite. They are linked by an 18kt link chain.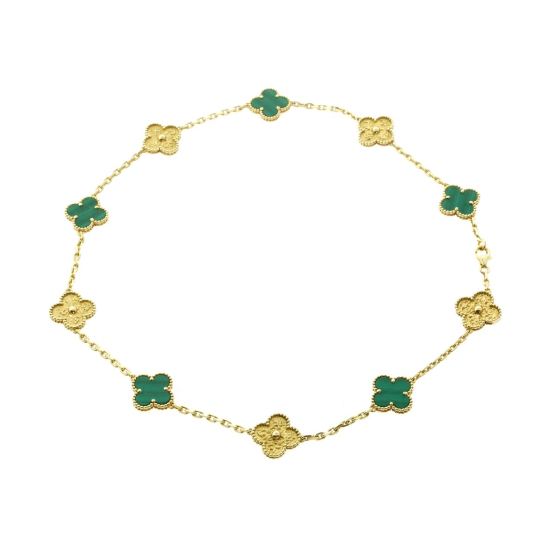 Courtesy Opulent Jewelers
Limited Edition Van Cleef & Arpels Alhambra Letterwood Gold Necklace
 This special gold necklace was made with vintage Bois d'amourette that was purchased by Jacques Arpels over 25 years ago.