FEATURES
3 easy ways to go green
(even while you're stuck at home)
By Rachelle B. April 20, 2020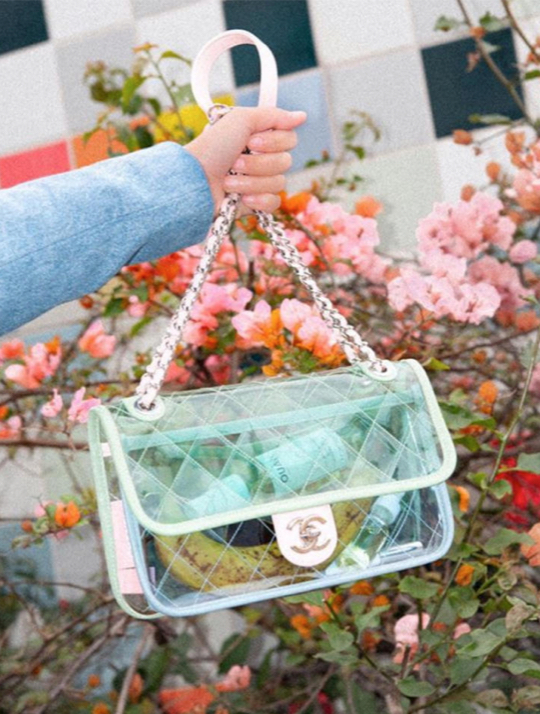 April 22, 2020 marks the 50th anniversary of Earth Day, 
a holiday designed to bring awareness to environmental issues like land, water, and air pollution, but has since amassed a global following that inspires action across the world. For many, it will be difficult to even think about Earth Day.
With the current state of the world, it feels like our efforts can be fruitless, but that couldn't be farther from the truth. There are still little ways to impact our environment for the better – in fact, we have three of them, and the best part is that they're actually manageable on an everyday basis. Read on for a summary of our three tips to practice, not only on Earth Day but everyday.
TIP NO. 1: REDUCE FASHION WASTE
If you're here at Rebag, you're likely already a participant in the fashion resale industry. Your buying and selling habits contribute to fashion's circular economy, which in itself reduces fashion overconsumption and waste. But besides that, how else can you mindfully reduce your waste when it comes to fashion?
Well, first thing's first: all those belongings in your closet and handbag collection should be kept, and worn, for longer. By raising the average number of times your item is worn, you can truly capture its value. To maintain your closet, learn how to care for the items you already own so they don't sustain extra damage, and more importantly, learn how or where to have them repaired so you can extend its life cycle.
And for those who are worried about getting bored with their closets, remember to have fun with all your fashionable belongings. Before you consider getting rid of that blazer, change up how you style it to see if you can refresh it, or before you brush off that bag you haven't worn in a year, see if there's any cosmetic change you can make to add more appeal.
If you really don't have any use for it anymore, don't throw it out; you can simply pass it on. Partake in a closet swap, gift it to a friend, resell it, or hand it over to a local donation service like refashionNYC – just make sure that whatever you decide to do, you abide by local laws such as social distancing. Remember that keeping textiles and accessory materials out of landfills is extremely beneficial and goes hand in hand with reducing fashion waste.
TIP NO. 2: LEARN HOW TO RECYCLE
Let's take it back to elementary school, but this time, we're getting a lot more specific. To put it simply, recycling is not as easy as one, two three. Not all plastics are the same, and therefore can't all be recycled in the same manner; that also applies to glass, metal, carton, paper, and more. Since the process isn't black and white, it's best to become well-versed in recycling waste correctly by consulting comprehensive resources from your local government and other organizations dedicated to proper recycling and waste management. But, where to get started?
Recycling programs will vary from location to location, so firstly, hop online or call your city's sanitation and recycling department for the specifics. If you're a New Yorker like us, you can check out NYC's Department of Sanitation recycling guide. Make sure you're reviewing not just what gets recycled, but also how to separate and categorize your recyclables; what the collection schedule is; how to set up a collection; and, where to bring your recyclables, if a drop-off facility is available. Then, research more – find how-to videos and educational articles that go the extra mile in providing more recycling resources applicable to your life and home. With patience and willingness to learn, you'll become a recycling expert in no time.
TIP NO. 3: CONSERVE ENERGY & RESOURCES
Relegated to the indoors, it seems that conserving energy and resources is simultaneously easy to do, yet even easier to forget. We're not going places anymore, which means less car rides, and lesser flights – but, that also means we're stuck inside, leaving more lights on, powering entertainment, and running more water (to wash our hands with, of course). So, how can we easily conserve while we're indoors? We have some tips below for the main energy resources we're consuming on a daily basis.
Water

:

 

enjoy shorter showers; hand wash laundry, or lessen laundry loads; wash dishes strategically, and if you have a dishwasher, make sure to fully load it before letting it run

Electricity:

 

air-dry your laundry, rather than running it in the dryer; turn off the lights and electronic devices when you're not occupying a room; switch to candles for some special ambiance; opt for using more energy-efficient lights

Gas:

 

still a little chilly? Turn off the heat and get cozy with blankets; lastly, be strategic with your stovetop cooking and oven baking – as in, try to bake all your loaves of banana bread in one go, instead of every single day
And hopefully when life goes back to normal, you can continue your energy conservation efforts beyond your home's walls. When shopping is more broadly available, you can begin to practice more electrical efficiency by switching over to reusable batteries, and power-saving light bulbs; when it's time to get back to the office, try out a public transportation commute, or a carpool to save gas; and lastly, when you can finally, finally start planning your post-quarantine vacation, see if you can travel any other way than on a plane. Or, if you do have to fly, consider purchasing carbon offsets – when you buy an offset, you fund projects that reduce greenhouse gas emissions.
There you have it – all of our manageable tips that are easy to consider every now and then! Incorporate one or all these into your routine for a more environmentally conscious approach to life, both in and outside of quarantine. Happy Earth Day!