DESIGNER 101
 Chanel 101:
Fashion Jewelry
By Taylor M. Feb 18, 2021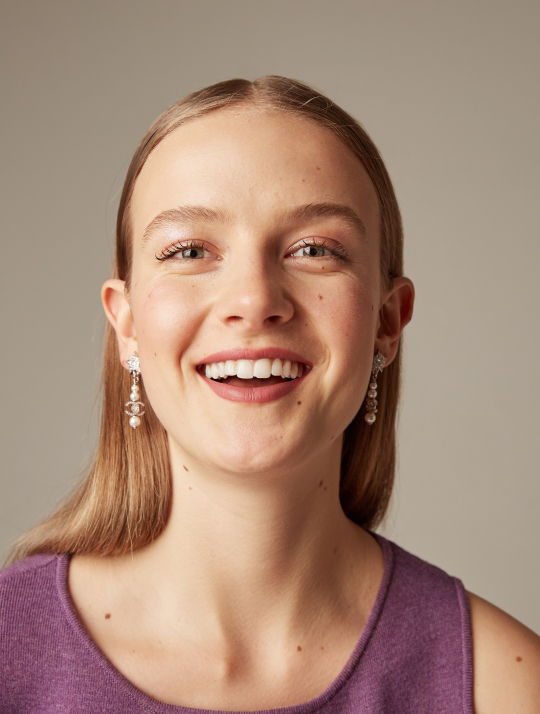 Chanel costume jewelry – from earrings that boldly spell out
C-H-A-N-E-L to brooches that boast the recognizable double-C motif – are all the rage right now. But how did the French fashion house get started in this particular category? Let's go back in time and look at how Gabrielle Coco Chanel and her successors changed the world of jewelry with some of the most memorable costume pieces.
How Chanel Changed Jewelry As We Once Knew It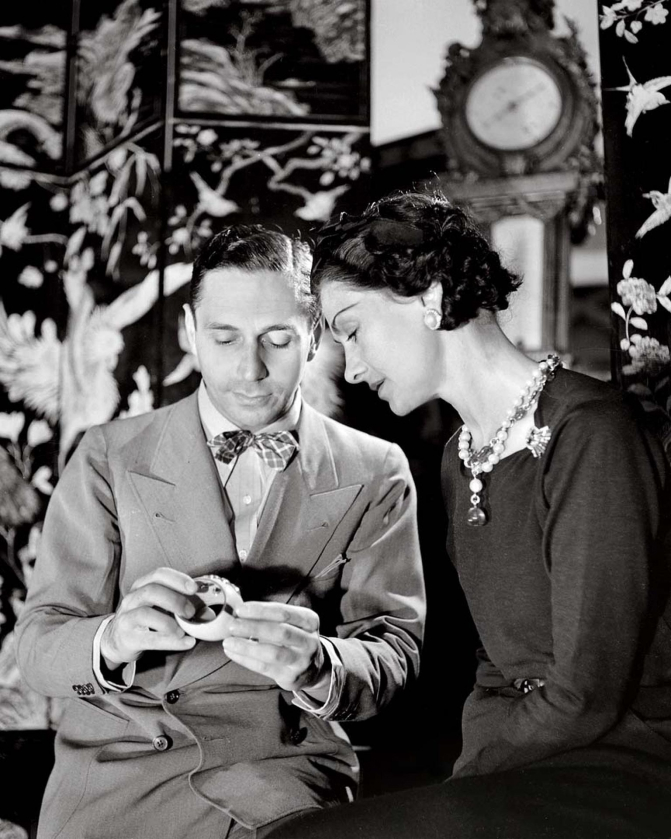 Coco Chanel & Verdura with the Maltese Cross Cuffs they designed | Source unknown
In the 1920s, the Chanel style of dress was all the rage- skirts became shorter and hung in breezy, movable silhouettes. These looks were a clear rebellion against the traditional styles that western women had worn in previous decades, giving them room to move freely and independently. Chanel's designs were the antithesis of Christian Dior's New Look, which put women back in cinched waist dresses with lengthy hems. Chanel had long been creating silhouettes that shocked people with their innovation and promiscuity, while the fabrications also put forth a quiet sophistication. These revolutionary garments required accessories with an equal ability to awe, which is why Coco Chanel opted to layer fine jewelry made of precious materials with less-expensive pieces on top of her own ensembles. Using copious amounts of costume jewelry or "Bijoux" gave contrast to the clothing's understated elegance, adding an almost overly-accessorized feel to the entire look. She also did this because the mix of precious and non-precious materials confused viewers. This innovation marked the first time that high fashion embraced lower-priced jewelry, as the costume tier was previously reserved for those that could not afford more exquisite adornments. Chanel once said, "Costume jewellery isn't made to provoke desire, just astonishment at most. It must remain an ornament and an amusement…"
As Chanel's fashion jewelry entered the runways and boutiques, it became an iconic component that remains instilled in the brand's highly recognizable look. Coco worked on the jewelry offering in collaboration with Fulco Santostefano della Cerda the Duke of Verdura, making him head of jewelry design at the fashion house. She was introduced to Verdura thanks to none other than Diana Vreeland, and the two traveled all over the world to gather inspiration for Chanel's jewelry collections. The pair both had interests in baroque art and began to study and reimagine long-established symbols and depictions.  
Verdura and Chanel shared an outlook on jewelry that focused more on the design than the value of the materials used, which undoubtedly aided in their teamwork. Not needing to focus on the budget for the pieces allowed them to be more imaginative with the creative process. In general, Verdura was known to have a disdain for matters of money and is said to have exhausted what remained of his inheritance by the age of thirty, which may have helped him relate to Chanel's reluctance towards exclusively making fine jewelry for high fashion.
Verdura, Chanel & The Maltese Cross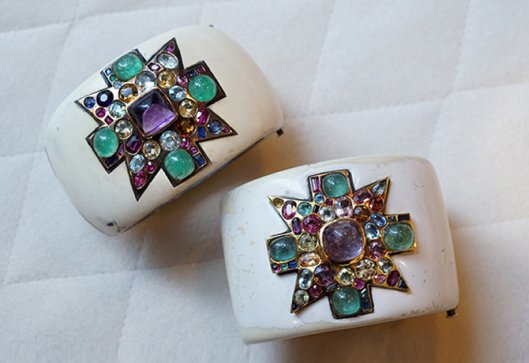 Coco Chanel's Original Maltese Cross Cuffs | Source unknown
One of the earliest emblems produced at Chanel depicted the Maltese cross. This design, seen on countless necklaces, earrings, bracelets, and belts today, was modeled after the star of the Knights of Malta, a military group founded nearly a thousand years ago. Established in Malta in 1048, the Knights of Malta, also known as The Knights Hospitallers, became known for its devout Christian members' charity and obedience and still exists today. The cross was an image worn on the back of the Knights' robes, and the jewel tone stones used on the jewelry pieces were meant to resemble stained glass windows. The Maltese cross was a meaningful symbol to Verdura that he continued to rework into collections at Chanel, as it brought up his early childhood memories of Palermo, Sicily, situated just across the Mediterranean sea from Malta. 
The first implementation of the Maltese cross at Chanel appeared on a pair of brooches, which were later gifted to Vreeland since she had facilitated Chanel and Verdura's partnership. Another early appearance of the cross was in 1930 on a pair of cuffs for Coco Chanel's own collection. The designer adored the bracelets, and she has been pictured wearing them for all sorts of occasions- from very casual to the most formal. The original construction situated the stones in a silver-alloy base and the cuffs had a white enamel foundation. The bracelets have significant wear to the enamel, indicating just how often Chanel wore them. 
At the beginning of World War II, Verdura moved to New York after creating countless other iterations of the Maltese cross for Chanel's jewelry archive, among other designs. There, he became renowned among celebrities in New York and Hollywood and eventually released designs at a boutique under his name, "Verdura." Though he branched off from Chanel, his impact still stands today as an instrumental aspect of the brand's aesthetic and success.
Chanel Jewelry in the Lagerfeld Era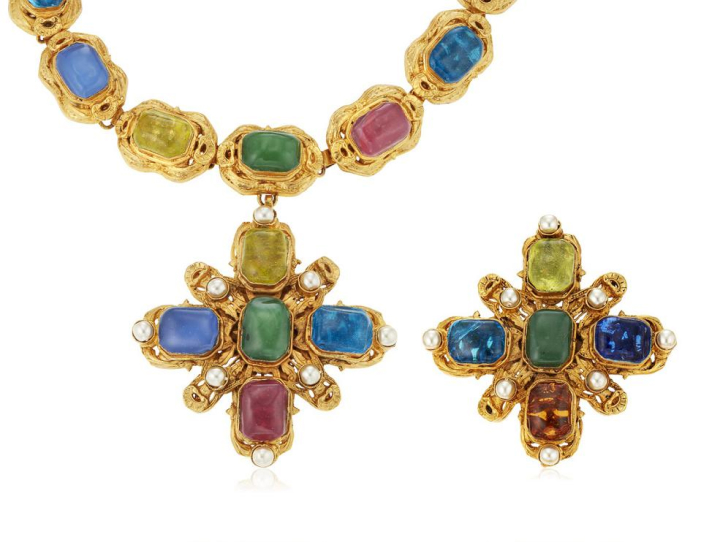 A piece from Christie's Auction of Lagerfeld's Jewelry Archive
In 1965, Chanel's jewelry supply was entrusted to Desrues, and it became a part of the fashion house officially in 1985. Jewelry during Lagerfeld's sixty-plus-year reign evolved over each season but always carried reverence for the brand's founder. He consistently used core Chanel symbols such as the CC logo, faux pearls, camellia flowers, and chain links to adorn runway models. He also used jewelry in the same ingenious manner that Coco had done in her tenure, positioning the accessories as an extension of the clothing. After Karl's passing in 2019, a collection of 106 of his personal pieces was auctioned at Christie's, valued at around 7 million in total worth.
Chanel Costume Jewelry Today
Today, both Chanel's new and vintage jewelry is highly sought after. Buyers around the world seek out the posh ornaments attributed to the highly respected label. Popular items include; vintage chain belts (a nod to the 90s trends of the moment), faux pearl clip-on earrings, lengthy, layered statement necklaces, and of course, chunky cuffs. These items have proven to stand the test of time, remaining classics and therefore perfect wardrobe investments, and the best part: they won't break the bank. 

CC Cross Bracelet Metal with Cabochons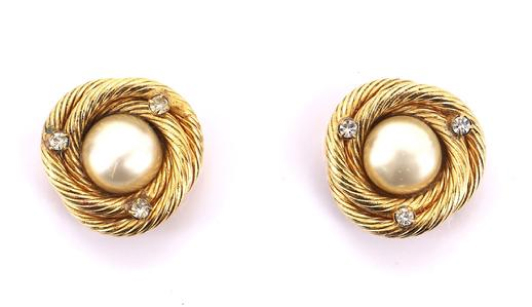 Vintage Round Clip-On Earrings Embellished Metal with Faux Pear

l