DESIGNER 101
Chanel 101: The Chanel 22
By Ann Binlot, Nov. 21, 2022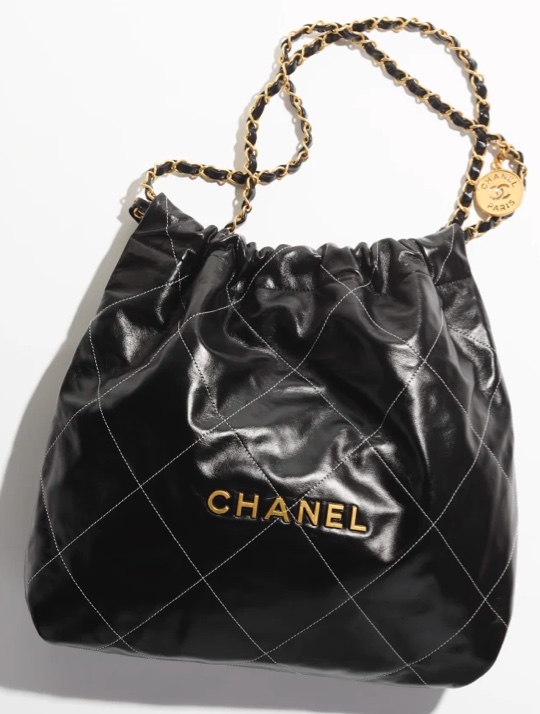 Virgine Viard named the Chanel 22 for the year it was born.
Chanel introduced the Chanel 22 for the Spring/Summer 2022 collection, and it's immediately caught on as one of this season's most popular bags.
The History of the Chanel 22
The Chanel 22 bag was unveiled at Chanel's Spring/Summer 2022 runway show. (Chanel)
Chanel creative director Virginie Viard introduced the Chanel 22 as part of the French fashion house's Spring/Summer 2022 runway show. The bag was shaped like a square with a drawstring closure at the top, and a chain-and-leather strap. Chanel referred to it as, "A genuine ally for daily life that closes with a magnetic button and purse-like drawstrings, featuring an inside zipped pocket and a removable pouch."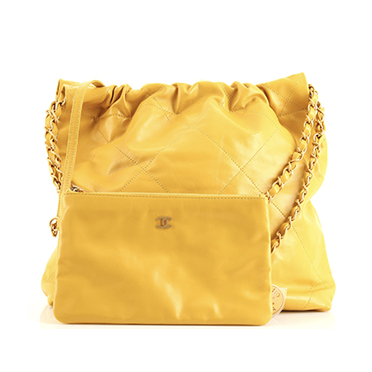 The Chanel 22's pouch (pictured above) allows you to carry smaller things — like your keys, wallet, and phone — without them getting lost in your enormous handbag.
The giant Chanel 22 helped spark the oversized bag trend that influencers and It girls are all over. Now they're sold out at many Chanel boutiques, and they go fast at resale.
The Chanel 22 on the Runway
The Chanel 22 Campaign
"This might be my favorite Chanel bag so far. I'm a huge fan of function pieces, and tend to travel with my life in my bag."
-Whitney Peak
Lily-Rose Depp, Whitney Peak, and Margaret Qualley star in the Chanel 22 campaign, shot by Inez & Vinoodh.
"I feel like I could bring this bag anywhere! To work, to stroll around alone, to sit and read in a park, on a date, even to the beach!"
-Lily-Rose Depp
Chanel tapped a trio of young Hollywood starlets — Lily-Rose Depp, Whitney Peak and Margaret Qualley — to be photographed for the campaign by photographer couple Inez & Vinoodh. Depp is shown lowering her sunglasses poolside in Los Angeles with a white Chanel 22 in tow, Peak stands against the New York City skyline with a pink Chanel 22, and Qualley sits in the desert — conjuring up memories of her outdoorsy childhood in Montana — with a pink Chanel 22 on her shoulder and a backpack on her back.
"The Chanel 22 bag is a perfect example of Virginie Viard's natural ability to create pieces that empower women. This is a bag that accommodates a woman's every need."
-Margaret Qualley
The Chanel 22: A Street Style Star
Chanel 22 Materials
The Chanel 22 comes in a variety of materials including calfskin, tweed, as well as velvet and sequins, as seen below, left to right.
Chanel 22 Sizing
The Chanel 22 comes in two core sizes at the time of writing: Chanel 22 large measuring 18.3"  W × 17.9" H × 3.9" D and the Chanel 22 medium or regular, with dimensions of 14.8" W × 16.4"  H × 3.1" D. There are reports of a small Chanel 22 that was 14"H x 15" S. The Chanel 22 large backpack with measurements of 14″ W x 15.5″ H x 3.5″ D, a 3.5" handle drop, and 11" strap drop.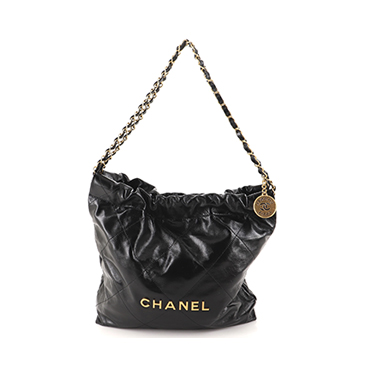 Chanel 22 Chain Hobo Quilted Calfskin Small
12″ W x 12″ H x 3″ D
Handle Drop: 9″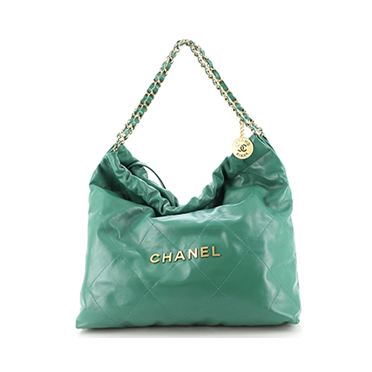 Chanel 22 Chain Hobo Quilted Calfskin Medium
14.8" W × 16.4"  H × 3.1" D
Handle Drop: 7"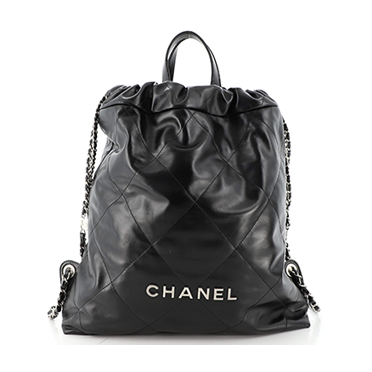 Chanel 22 Chain Backpack Quilted Calfskin Large
14″W x 15.5″H x 3.5″D
 Handle Drop: 3.5″
Strap Drop: 11″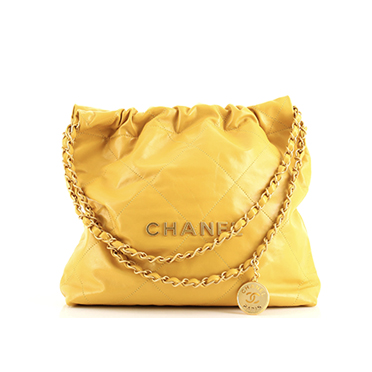 Chanel 22 Chain Hobo Quilted Calfskin Small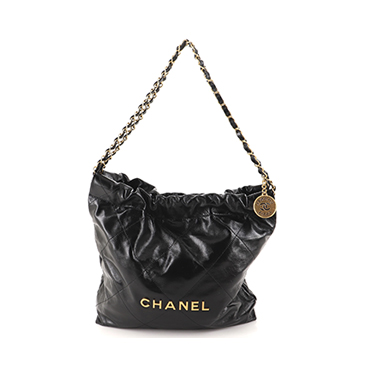 Chanel 22 Chain Hobo Quilted Calfskin Small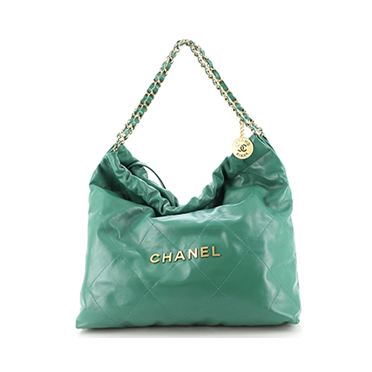 Chanel 22 Chain Hobo Quilted Calfskin Medium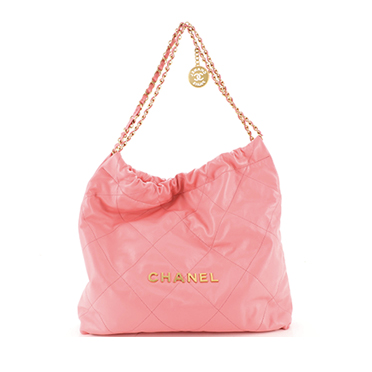 Chanel 22 Chain Hobo Quilted Calfskin Medium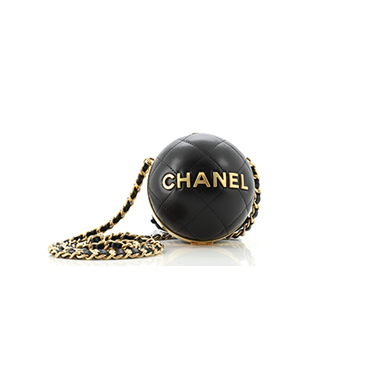 Chanel 22 Sphere Minaudiere Quilted Lambskin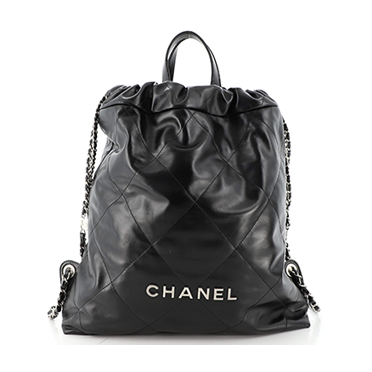 Chanel 22 Chain Backpack Quilted Calfskin Large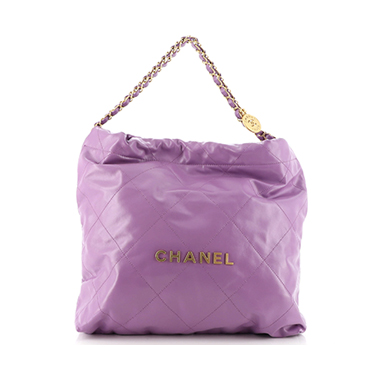 Chanel 22 Chain Hobo Quilted Calfskin Medium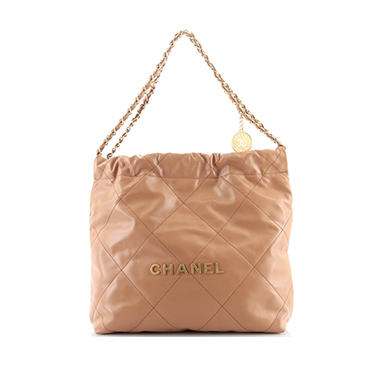 Chanel 22 Chain Hobo Quilted Calfskin Small