REPORTS
Fashion Resale & Consumer Behavior:
During Covid-19 & After
By AKS. June 9, 2020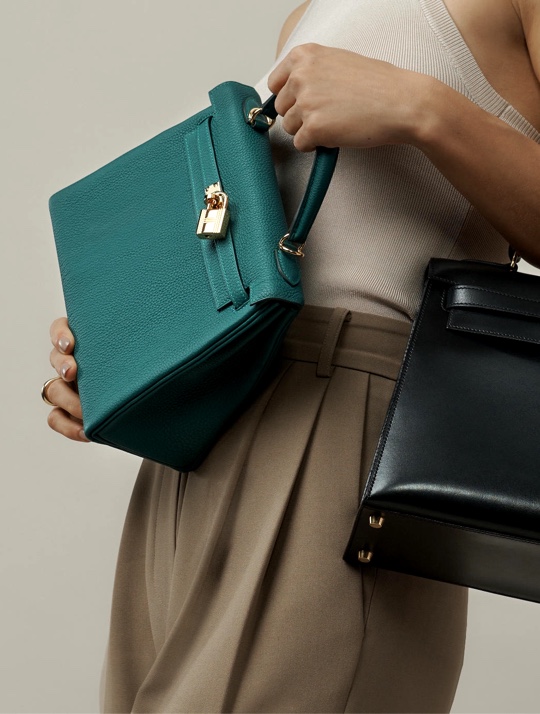 An analysis of the pandemic's effects on the resale industry
Since 2018, the adoption of secondhand shopping grew exponentially; according to Cowen Research, the U.S. luxury resale market was estimated at $7 billion in 2019, and was expected to grow to $11 billion in 2022. But Covid-19 has officially changed the playing field for luxury resale in the US – and may bring about a major shift in how the consumer's buying decisions are made.
Entering into 2020, the effects of Covid-19 have disrupted fashion and resale industries, as well as consumer shopping behaviors. Read on as we dive into how consumers and resale brands are responding to Covid-19 and what we anticipate may happen once we begin recovering from the pandemic.
Prior to the pandemic, Millennials were spending their money on experiences instead of things. Due to Covid-19 and PAUSE orders, Millennials have shifted their buying habits. This change aligns more with the older generations, where acquiring items is preferred to more ephemeral commodities. When major circumstances outside of our control take place (like recessions, pandemics, terrorist attacks) our cultural values tend to shift across multiple behaviors, and spending has not been immune to this. Thankfully, we have e-commerce, where most of us are doing our shopping for both essential and non-essential items, and where resale mainly resides.
According to GlobalWebIndex (GWI) in a Mar 31-Apr 2, 2020 survey, 40% of Americans say they are spending more time shopping online – something that Gen Z and Millennials were already accustomed to doing. Having halted their spending habits due to the pandemic, Gen Z and Millenials are by far the largest groups shopping for fashion/accessories. Neither generation feels the need to hold onto items and will resell in order to finance new purchases; especially luxury pieces, and usually secondhand.
Most luxury resale shopping already happens online. Through secondary luxury, at-home shoppers are able to access brands who are not available on e-commerce, such as Goyard and Hermès – making the digital resale market a great place to find affordable luxury.
With the closure of brick and mortar stores, the rise in e-commerce demand is accelerating technological innovation and development of new immersive shopping experiences. Some social platforms are doubling as a place to shop, and some resale platforms are finding that its even easier to communicate with customers through social. One of the best perks of buying from online resellers and retailers is that they are offering free or quick delivery times (same day, curbside, etc.) as a way to make shopping easier for their customers.
With people spending so much time home and online, we have had to adapt and find new ways to stay connected to our friends and family, as well as find novel ways to entertain ourselves. Naturally, Millennials and Gen Z have always been digital savvy, and connectivity via social media use has greatly increased since the pandemic – across older generations as well. Fifty-two percent of Americans say they're spending more time on their mobile phones since the start of the outbreak (from GlobalWebIndex, Mar 31-Apr 2, 2020).
As a way to stay engaged with their customers, many influencers, brands and resellers are using various social platforms to build connections and continue to involve their audience with constant and new content. According to Facebook Internal Data from March 2020, Instagram and Facebook Live views doubled within a week in Italy when the country went on lockdown.
With the outside world seemingly on pause, social media followers are looking for meaningful content from brands and influencers. They expect more than just fashion shots on the street corner, they want storytelling and relatable content. Brands and influencers are adjusting to this by developing cross platform posts with a more personal feel to the content – a view into their day, with cooking and workout videos on Youtube, Facebook or Instagram live. Fun snippets of kids, dancing, pets – or all combined, dancing pets plus kids – on TikTok are posted for entertainment. Brands and influencers are also jumpstarting new lockdown trends like #imgoingnowherebutfuckitimgettingdressed – which consists of curated lounge wear, slippers, and facemasks. The continual demand for diverse content on social media means constant wardrobe updates for the content creators. Most influencers do not want to be seen in the same outfit twice. By mixing in secondhand items, creatively reinventing, recycling or even swapping closets, they are able to build a more individual style without breaking the bank.
What will a post-Covid world resale world look like? We think consumers will strive to remain fiscally conservative, and for this reason shop the secondhand market when looking for luxury pieces. For those who thought luxury was out of their reach, resale is an entry point for them, and it can boost primary market sales. When making primary market purchases, shoppers are buying with resale value in mind, making it less likely the item will end up in a landfill. This is appealing to environmental, value and fashion-conscious consumers. It also adds to the perception of a brand's sustainability, which helps to build loyalty amongst the younger customer who is looking to buy from brands with values aligned to their own.
Pre-owned luxury's appeal is cross-generational. All age groups buy luxury products for their immutable prestige, and classic investment pieces are seeing an uptick in sales. Savvy buyers know that investment pieces yield better cost per wear, and they will prioritize quality over quantity by shopping luxury instead of fast fashion, proving that consumers don't mind spending more if there is a strong perception of long term value. Classic investment pieces like Hermès and Chanel are well known to maintain or increase value as they age, as long as they are well maintained.
What we do know is that style and fashion trends will change, continuing their endless progression through the seasons. How those trends will evolve is still unknown. A good example of what could be in our future is fashion's response to the last recession in 2008; brands like Celine picked up popularity with their minimal design and clean lines. We may see a resurgence in minimalism and more conservative designs as fashion moves away from the eclectic trends of 2019. Possibly we will see a trendless future, with less seasons, in gender neutral pallets that are easy to wear. And most of all in quality materials that have been designed with sustainability in mind.
Perhaps the fear and uncertainty of the future will drive a return to traditional or heritage styling with core items in the forefront. No more logocentric or prominently logo-splashed designs – instead there will be cleaner silhouettes that are less risky, and have a lifespan longer than just one season. True authenticity, craftsmanship, and tradition will arise once again as a movement toward "quiet luxury" or understated high quality takes over for the hype culture of streetwear.
Or, fashion may swing the other way as consumers return to the outside world, no longer cooped up at home. Will we go back to going out and having lively, loud fashions? Similar to the return to life after WWII? Only time will tell.
Despite all these predictions, we can now only prepare ourselves for the future of luxury resale ahead, and watch it play out before us as fashion wakes up with a new landscape in front of it, and a clean slate with which to start over, if it so chooses.