VAULT 101
How To Sell Your Juste un Clou Bracelet
By The Rebag Team, Aug. 14, 2023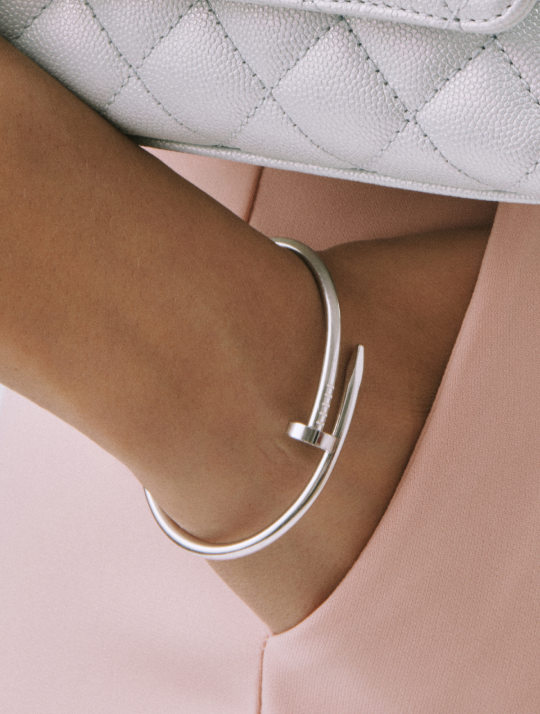 How To Sell Your Juste un Clou Bracelet
When it comes to parting with your once-loved Cartier Juste un Clou bracelet, you can expect that taking good care of it and doing a bit of research to find the right selling avenue will go a long way in maximizing your earnings. Read on for some helpful tips on how to do just that, plus utilize Rebag's various informational tools and seller-friendly services to make the process as easy and stress free as can be.
Doing The Research
It's helpful to understand the market value of your Juste un Clou bracelet before you sell it. While research on recent sales and market trends can be time-consuming and professional assessments can be subjective, there are a few assets at your disposal to save time while rooting your valuation in data.
Clair Codes
Rebag's proprietary tracking system, known as Clair Codes, is a helpful tool that uniquely identifies styles (including many by Cartier) by brand and model using millions of data points to determine their resale value. You can even track the value of most items over time; simply log into or create an account on Rebag.com and begin searching for a Cartier style within the "Sell" section of the site. After selecting the type, designer, model, and material (for example: bracelet, Cartier, Juste un Clou, 18K yellow gold), click the 'Follow' button to track that item's price in real-time. You can then visit the "Followed Clair Codes" section of your account to keep an eye on an item's pricing history.
The Clair Report
Named after our proprietary software suite known as Clair, or Comprehensive Luxury Appraisal Index for Resale, our Clair Report investigates the value of brands on the resale market. Each year we share what our data reveals as the most worthwhile investments, the pieces to hold onto to maximize value, and the styles to sell now to earn better returns. The 2022 Clair Report tells us that Cartier pieces retain an average of 79% of their value at resale and that the Juste un Clou, Love, and Trinity collections are among the brand's most valuable. The Maison's bracelets have a 96% average retention value on the secondary market; the Juste un Clou, more specifically, is the third most investment-worthy bracelet–behind only the Trinity on Cord and the Love–with 95% average value retention.
Condition: Items in pristine or excellent condition retain the most value on the resale market. Thus, taking proper care of your bracelet is of the utmost importance.
To extend the longevity of your piece, make sure to take it off whenever you bathe or engage in water activities like swimming. Furthermore, avoid your bracelet coming in contact with harsh chemicals, such as cleaning agents. To keep your Juste un Clou looking bright, wipe with a soft cloth after each use and before storing it. Habitual at-home cleaning can help remove oils and residue from daily wear. Proper storage is also a key factor in keeping your jewelry in top shape. Be sure to use the protective pouches or cases that come with your purchase, and make sure to keep it out of direct sunlight. Moreover, taking it to a professional cleaning service every so often can ensure your cherished item remains in optimal condition. Professional cleaners have the expertise and specialized tools to remove dirt, oils, and other contaminants that can accumulate on your jewelry over time.
Original Packaging And Certificates: Make sure to bring your piece in its original packaging. Additionally, bring any paperwork that came with your jewelry, such as a receipt or appraisal.
For more information on how to care for and clean your Cartier Juste un Clou bracelet, click here.
Choosing The Right Platform
When deciding on the selling method that works best for you, consider if you'd like to be hands-on during the process or prefer a white glove service to take care of the details for you. Below we've compared a few options to help you make that decision:

Peer-to-peer platform: a marketplace that facilitates direct transactions or interactions between individuals without the need for intermediaries. You are required to handle the photographing, pricing, listing, shipping, and returns (and anything else) yourself.
Typical consignment platform: a marketplace that acts as an intermediary between sellers (consignors) and buyers, facilitating the sale of goods on your behalf. The platform showcases, markets, and sells the items while the seller retains ownership until the items are sold. Although they offer a white-glove service that verifies, photographs, and lists your item, they often have fluctuating commission rates, unclear payout amounts, and uncertain timelines. You may need to check in on the status of your item frequently as the listing price and your payout could decrease.

Rebag: an online marketplace for luxury handbags, watches, jewelry, accessories, and more, Rebag provides a white-glove service, taking care of item verification, photography, and listing. Expect transparent quotes supported by AI-powered data, upfront payments, and flexible options, such as the opportunity to buy and sell your items in one transaction using Trade. Rebag offers the convenience of a seamless online selling process from home or in-store, allowing you to receive a check, bank transfer, or credit for your items.
To sell your Cartier Juste un Clou bracelet online, simply create an account on Rebag.com and navigate to the selling page, where you'll be prompted to upload photos of your jewelry and provide some basic information, such as the model, material, and condition. If an offer isn't instantly available, you may be asked to submit additional photos and will receive an offer via email within several days. Once your offer is accepted and you ship your item using a convenient prepaid shipping label, you will receive payment as soon as your piece is processed and verified. All of this can also be done in-store at any Rebag location with the assistance of our helpful stylists.
​
How To Maximize Your Earnings
In order to get the best possible value when you sell your once-loved Cartier bracelet, you can make use of Rebag's offers:
Trade
You can trade in your pieces in just one simple transaction. To do this, simply bring your jewelry to a Rebag store to get a credit amount (worth up to 15% more than your items) towards the purchase of a new Cartier piece — or anything else you'd like to acquire. Or, if you prefer to do this process online, just add a coveted accessory to your shopping cart, receive an offer for your once-loved Cartier bracelet, and then check out by paying the difference (if any).
For more information on our Trade program, click here.
Premium Payouts
Another excellent way to get the most out of your pieces is by making use of our Premium Payout offering. After you've completed a sale, your payout will be deposited in the form of Seller Funds into your Rebag Wallet and will automatically increase by 1% every month for up to a year, generating up to 12% in bonus payouts. What's more, any time you put the Seller Funds in your Wallet towards a Rebag purchase you can enjoy a 10% Spending Bonus. Put them towards your next Rebag purchase or transfer them at any time, via check or bank transfer, no fees applied.
For more information on our Premium Payouts program, click here.
Consignment
Rebag's consignment offering is the way to go if you're aiming to get the highest possible payout for your Cartier bracelet. To consign, simply follow the same process as you would with Trade or Premium Payouts — up until we've inspected your item. After that, it will go live within 5-10 days. Once sold, proceeds are automatically deposited in your Rebag Wallet in 15 days. And, with Rebag's accelerated payout timelines, you'll get paid up to 5 weeks sooner compared to other consignment platforms.
For more information on Consignment, click here. 
To self-generate a transparent, upfront quote, click here.