DESIGNER 101
Off-White 101:
Virgil Abloh Launches a Revolution
By Thelma M, Jul 20, 2021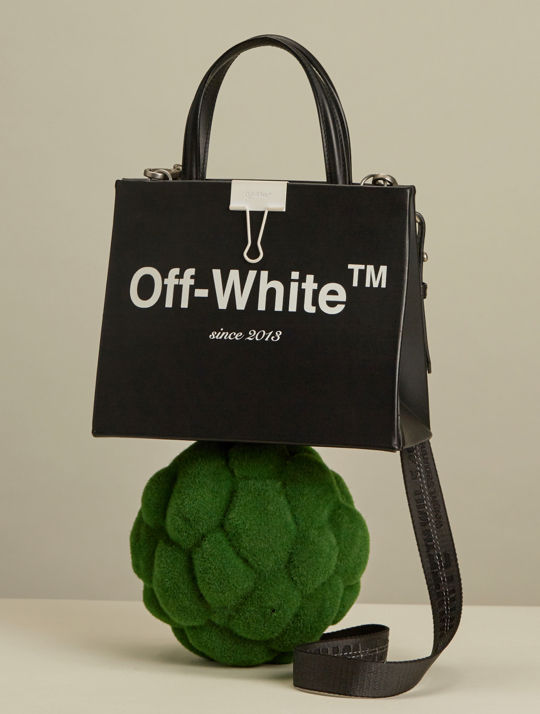 Virgil Abloh
redefined fashion through Off-White.
Virgil Abloh took the fashion world by storm when he founded the fashion house Off-White. The brand quickly gained a massive cult following by embracing the youth culture. The sleek brand found a middle ground between polished luxury and streetwear.
How It All Began
Off-White wasn't always Off-White. In the years leading up to its launch, Abloh worked at a print shop in Chicago. Kanye West noticed Abloh's work, and they soon became good friends. The duo wanted to make history by combining their creative visions in art, music, and fashion. West hired Abloh to join his team in 2007, and he became his right hand. Eager to work in fashion, they visited Central Saint Martins in London to meet with Louise Wilson, who was head of the fashion masters program at the time. She balked when they asked about going to fashion school, and instead they landed an internship with Fendi in Rome. There they developed new skills that would further inspire them to work in fashion. They worked closely together and Abloh soon became West's creative director. As his creative director, Abloh was exposed to highly influential individuals within the entertainment industry, which would later benefit his career greatly.
Off-White was not Abloh's first attempt at launching a fashion label. Abloh started a brand named Pyrex Vision, which he saw as more of an art project that, he told GQ Style, "needed clothing to support this idea of a team with no sport." Abloh printed the word "Pyrex 23" on Ralph Lauren's flannel shirts and sold them for $550. But when Pyrex wanted to sue Abloh he decided to develop an entirely new brand, one that was based in Milan and show during Paris Fashion Week. The concept for Off-White was born, and the label officially launched in 2013.  
The name Off-White was meant to resemble the gray color between black and white. A metaphor for combining two opposites; high fashion and streetwear. Just don't call it streetwear; Abloh told GQ Style, "This isn't a streetwear brand. This isn't a contemporary brand. This is designer, just the same way that X, Y, Z are designer, where you say their name and it carries this whole esteem and emotion to it." At that time, Off-White embraced the millennial ambiance and created a brand that spoke to youth culture. With his new label, Abloh was ready to take the high-end fashion market by storm. The new Off-White headquarters were based in Milan because Abloh believed that Italy had the premium materials needed for his new brand. Although based in Milan, Abloh emphasized the importance of maintaining an American aesthetic to the brand.
Virgil Abloh found a niche market that was willing to buy expensive luxury streetwear. The label's signature marks are yellow and white diagonal lines, crossed white arrows, and yellow barricade tape. In recent years, Abloh has added a new signature trademark to the brand: quotation marks. Abloh will place the word "SHOELACE" on shoelaces, or "FOR WALKING" on boots. The quotation marks are meant to challenge the viewer's perspective on our social norms. In July 2021, LVMH announced that it had acquired a majority stake in Off-White. 
On November 28, 2021, it was announced on Abloh's Instagram account that he passed away at age 41 from a "rare, aggressive form of cancer, cardiac angiosarcoma."
Countless Collaborations
Throughout the years, Off-White has collaborated with multiple companies ranging from sportswear brands to furniture stores. A notable and career-changing collaboration took place in 2017 when Off-White collaborated with Nike. Abloh redesigned Nike's top-selling shoes and called it "The Ten." The highly-anticipated collaboration was a major success and the two brands have continued to collaborate to this very day and will release a new collection called "The Twenty" in fall 2021.
Just when we thought that Virgil Abloh had done it all, he collaborated with the Swedish furniture store IKEA. Although the collaboration was marketed as IKEA x Virgil Abloh, the design elements used were similar to those seen on some of the Off-White items. The collaboration included rugs, mirrors, tables, and more in a collection called MARKERAD. The ultimate goal with this collaboration was to merge the idea of art and furniture, where a viewer would question social norms and view furniture as a piece of art. Off-White has collaborated with countless other brands on a number of products, including Levi's, Moncler, Jimmy Choo, Kith, Byredo, Champion, Sunglass Hut, Timberland, Le Bon Marché, and more. 
From Streetwear to Bridal Gowns
Off-White has become a household name in the fashion industry, and unless you have been living under a rock for the past few years, you have seen some of Abloh's incredible designs. A number of celebrities have been seen wearing Off-White both on and off the red carpet. Rihanna, Justin Bieber, Kim Kardashian, A$AP Rocky, Kendall Jenner, and Bella Hadid are among the celebrities who have worn the brand. 
In 2018, Hailey Bieber tapped Abloh to design her wedding dress. She wanted her everyday streetwear aesthetic to be reflected on her wedding day and who better to design her dress than Abloh. The dress made headlines for weeks. Abloh wanted to ensure that the dress stayed on brand and did so by implementing the slogan "TILL DEATH DO US PART" at the end of the tulle train. 
More recently, in April of 2021, Kid Cudi performed on Saturday Night Live and in honor of Nirvana frontman Kurt Cobain, he wore a custom made white floral dress designed by Off-White. After receiving a lot of buzz from the performance, Kid Cudi announced that he, alongside Abloh, would be creating a collection for Off-White. The new collection will include the iconic white floral dress.  
Off-White Range and Limited Editions
Abloh partnered with Rimowa on a line of luggage that launched in October 2018. The collaboration featured the "See Through" and "Personal Belongings" collection designed by Abloh.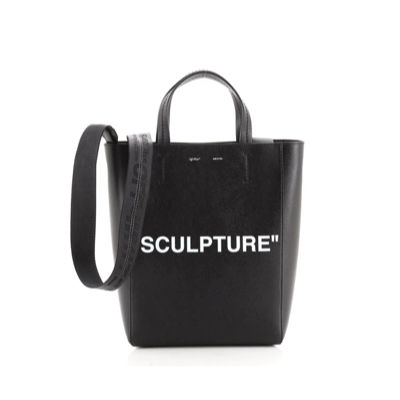 These handbags are marked by the word "SCULPTURE" in between quotation marks.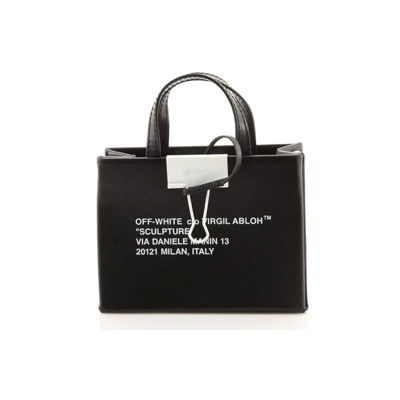 Abloh took an everyday office object — the binder clip — branded it Off-White and used it to decorate this line.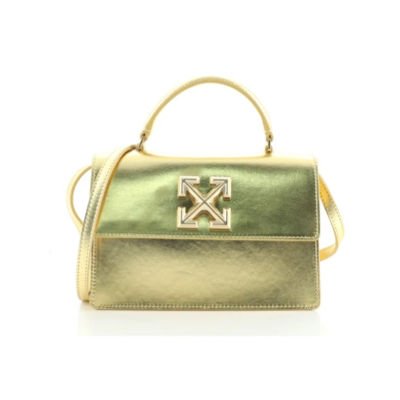 The Jitney is marked by a rectangular shape, top handle, and Off-White's crossed-arrow logo.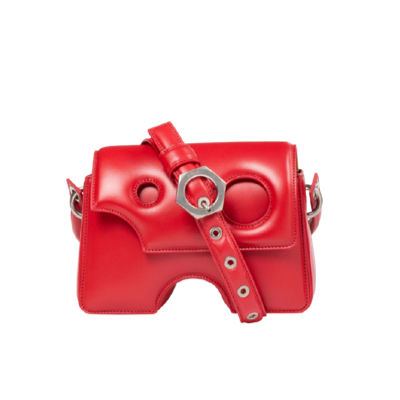 Dotted with holes within the bags, the Burrow takes a Surrealist approach to the handbag.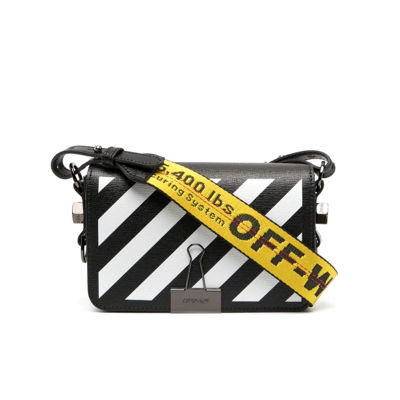 The Diag line features Off-White's signature diagonal striped print.