2022 CLAIR REPORT
Telfar Is the
Biggest Brand of 2022
By The Rebag Team, Oct. 18, 2022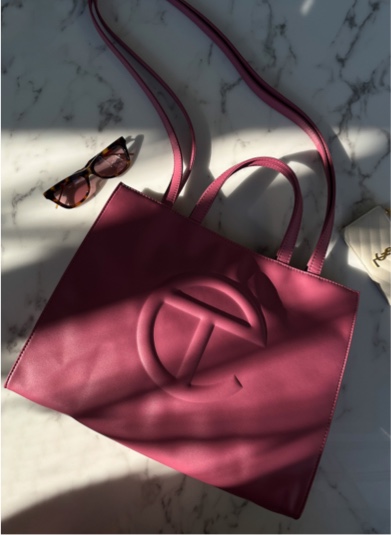 Telfar bags make a great investment.
According to Clair, Telfar is the biggest brand of 2022 in terms of average value retention, followed by
Hermès, Louis Vuitton, and Chanel. Prada, Gucci, Bottega Veneta, and Fendi are the biggest movers.
Rebag calculated the average percentage of value retained compared to retail pricing for handbags, accessories, fine jewelry, and watches with proprietary data pulled from our very own tool, Clair.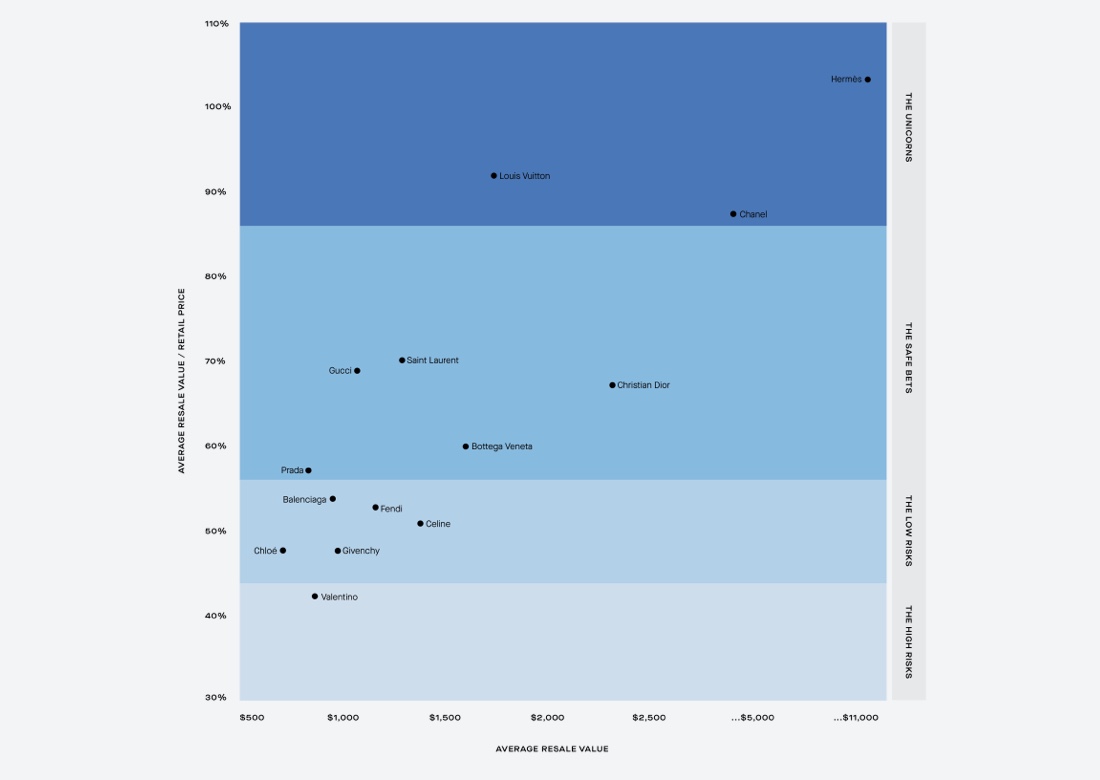 Off the Charts: Telfar
It's been nearly nine years since Telfar first launched its viral Shopping Bag —  famously nicknamed "The Bushwick Birkin" — and it's not showing signs of slowing down anytime soon. The highly sought-after brand was even recently mentioned in "Summer Renaissance," the final track of Beyoncé's album "Renaissance," earning the already buzzy label a boost in searches and sales. 
The New York-based brand, founded in 2005 by designer Telfar Clemens, was added to Rebag's roster of brands in 2021 and immediately soared to the top of our charts. Telfar bags average a surprising yet wildly impressive 195% of their retail value, proving to be an excellent investment. The Shopping Bag is an ideal choice for consumers who want to keep up with the latest trends while still being practical and budget-conscious. With a more affordable price point and major celebrities including Oprah Winfrey, Madonna, Zoë Kravitz, and Dua Lipa to count as fans, Telfar figured out a formula for success.     
How did the label get here? Telfar built its cult following on a series of limited drops of its signature Shopping Bag which sold out within minutes. Available in three sizes (Small, Medium, and Large) and marked by a rectangular shape, shoulder straps, top handle, and circular "T" logo embossed on vegan leather, it has only gained in popularity over the years. Although Telfar introduced their democratic Bag Security Program in 2020, allowing eager customers to pre-order as many bags as they want in any color, the Ugg collaboration sold at Nordstrom, and most recently the pop-up Rainbow Bag Drop during New York Fashion Week, demand remains higher than supply, making the brand go off the charts — and an investment that carries a higher price on the secondary market than at retail.
The Unicorns
Aside from Telfar, this year Chanel and Louis Vuitton also joined Hermès to reach Unicorn status, meaning their styles average 85% or more of the retail price at resale. Hermès gained 15 percentage points over last year, resulting in an average value retention of 103%. That means on average, Hermès bags end up being worth more on the resale market than their initial retail value. 
Louis Vuitton gained 12 percentage points from 2021 with an average 92% retention value at resale, while Chanel's resale value climbed with its primary market price increases, moving up 12 percentage points to an average value retention of 87%. On the primary market, Chanel increased its handbag prices multiple times during the same period.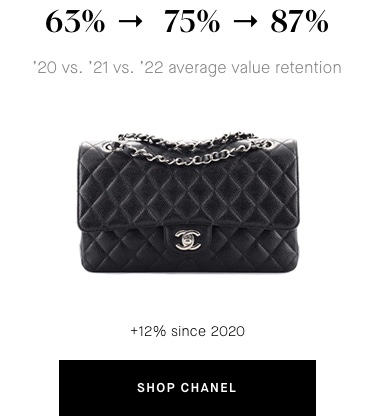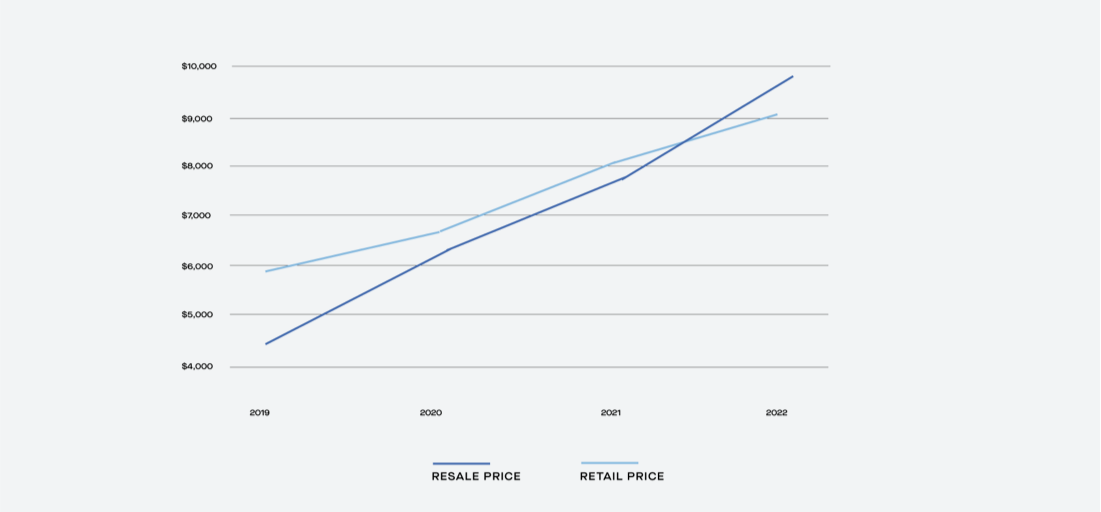 The Rising Brands of 2022
Clair, Rebag's own proprietary technology shows that Prada, Gucci, Bottega Veneta, and Fendi – coincidentally all Italian labels – made the most impressive gains in 2022. Prada's value increased by 11%, while Gucci, Bottega Veneta, and Fendi each went up 10 percentage points from 2021. The return on investment for these brands is only climbing.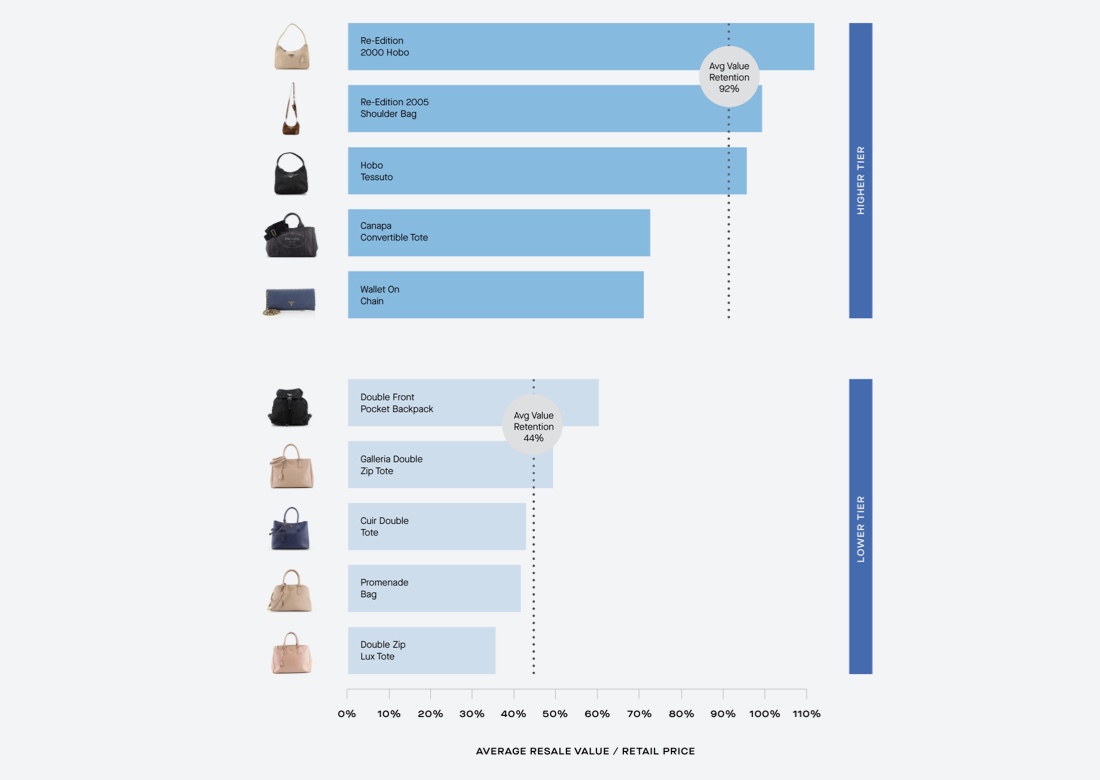 Gucci's value climbed 10 percentage points, with handbags by the Florentine fashion house averaging 69% of their original retail value at resale. Celebrating its 100th anniversary last year, the house has been led by creative director Alessandro Michele since 2015, whose arrival prompted a period of impressive growth. Gucci is no stranger to innovative risks — it was among the first luxury labels to work with NFTs, and earlier this year it released Gucci Flora in Gucci Town on the gaming platform Roblox complete with a Miley Cyrus avatar. For Spring/Summer 2023, Michele sent out real-life twins on the runway after twinning with Jared Leto at the Met Gala in May.
Several factors have helped solidify the brand as a consistent part of the pop culture zeitgeist. Ridley Scott's film House of Gucci, starring Adam Driver as Maurizio Gucci and Lady Gaga as his wife Patrizia Reggiani, was released with much fanfare at the end of 2021. A collaboration with Balenciaga dubbed 'The Hacker Project" also debuted on the market last year. Last June, the brand announced its GUCCI HA HA HA collection with Harry Styles before embarking to Puglia for its Resort 2023 Cosmogonies show. Jessica Chastain wore a romantic Gucci gown on the Oscars red carpet and later changed into a second Gucci look for the Vanity Fair Oscars afterparty the night she won Best Actress for The Eyes of Tammy Faye. Jared Leto and Gucci's Michele caused a stir while twinning on the Met Gala 2022 red carpet, and fresh off her Paris honeymoon, Jennifer Lopez wore the label for the LUISAVIAROMA x UNICEF Capri Gala 2022.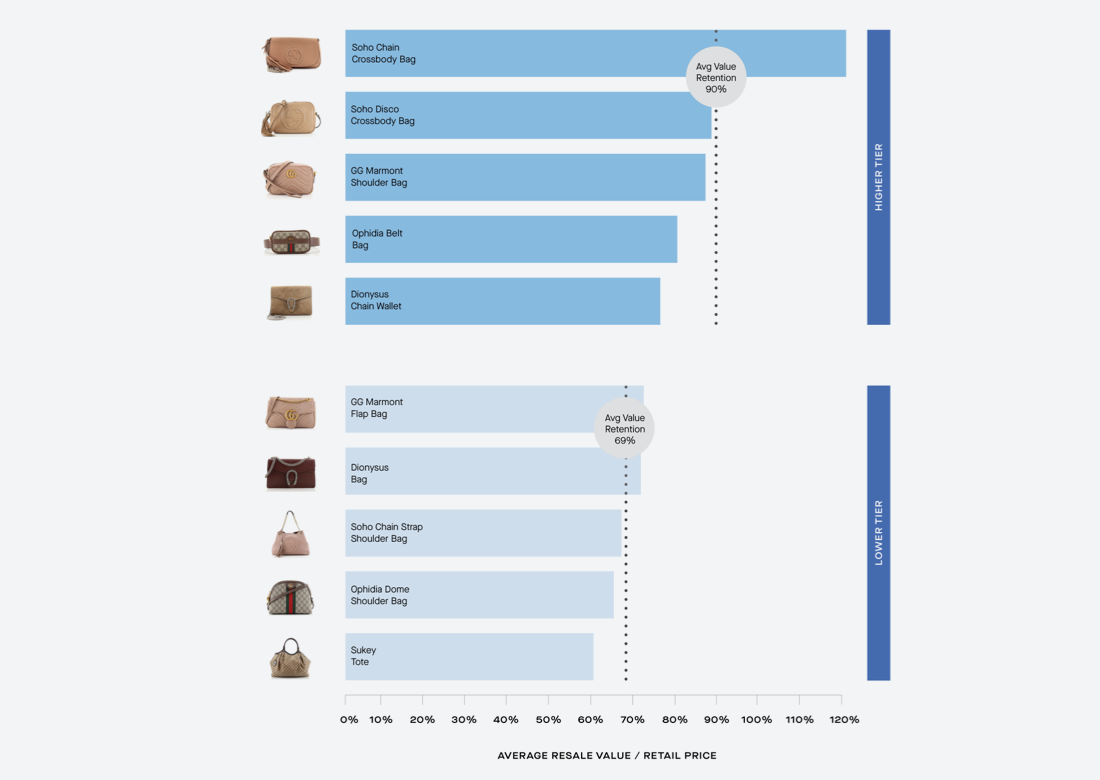 Bottega Veneta went through a major change last fall after the brand suddenly announced that designer Daniel Lee, who was credited with reviving the Italian brand, was departing. During Lee's reign, Bottega Veneta entered into the Clair Report's Safe Bet zone, with a 60% average value retention ('Safe Bets' average between 55 to 85% average value retention). New creative director Matthieu Blazy reintroduced an updated version of the box knot clutch at his February 2022 runway debut. Although Bottega Veneta still managed to climb 10 percentage points in 2022, it's too early to say whether or not Blazy's Bottega Veneta will continue to rise in the coming year.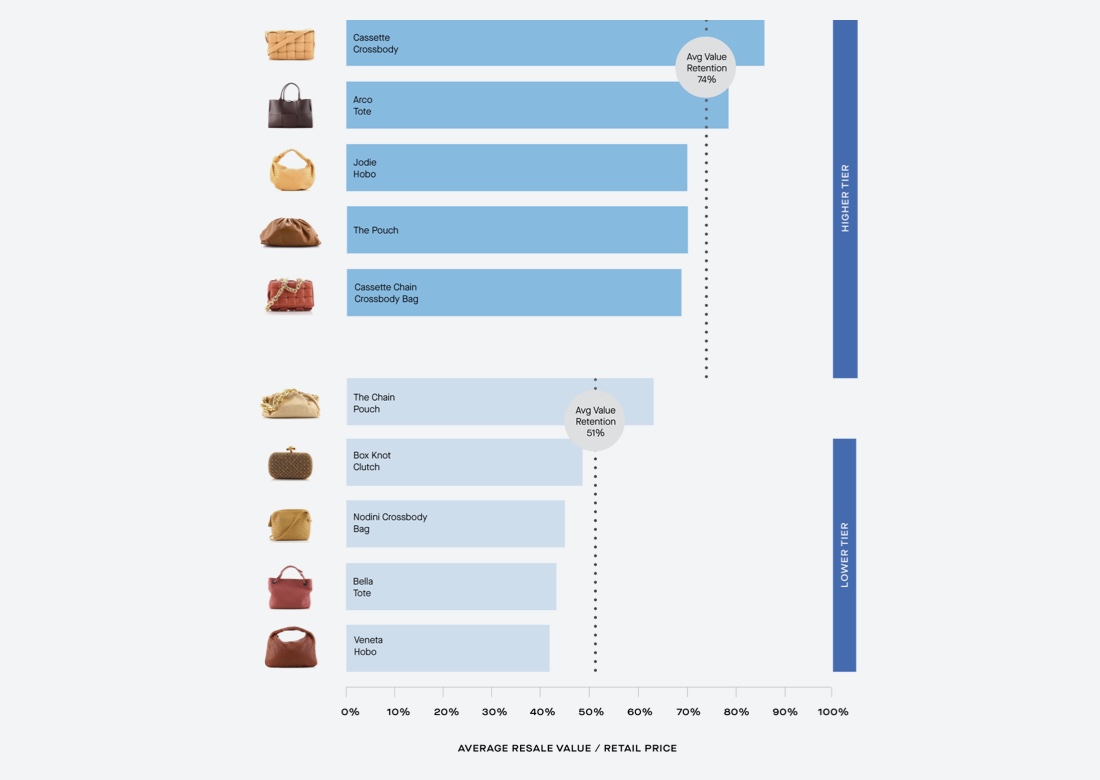 It's been nearly two years since Kim Jones joined Fendi as artistic director. Karl Lagerfeld's shoes — the late designer was Jones's predecessor — aren't easy to fill, but so far, Jones is showing that he's up to the task. According to Clair, Fendi's resale value rose 10 percentage points, moving higher up in the Low Risk category ('Low Risks' average between 40-55% average value retention).
Jones's inaugural bag for Fendi, appropriately named the Fendi First, has an impressive 92% retention value, keeping most of its worth at resale. The Pre-Fall 2022 Fendace collaboration brought together Fendi and Versace, resulting in a combination of Milanese excess and Roman luxe that fans of both houses clamored to get their hands on.
On top of the aughts redux amplifying the Fendi Baguette's resurgence, there's its 2019 revival, ties with the popular And Just Like That… series, and the Fendi Baguette's 25th anniversary New York Fashion Week spectacular with Sarah Jessica Parker, Kate Moss, and Kim Kardashian sitting front row. All of these factors caused the iconic Fendi Baguette to land at a 115% average value retention on the secondary market.