VAULT 101
The Top Cartier Love Bracelet Styles: A Breakdown
By The Rebag Team, Aug. 16, 2023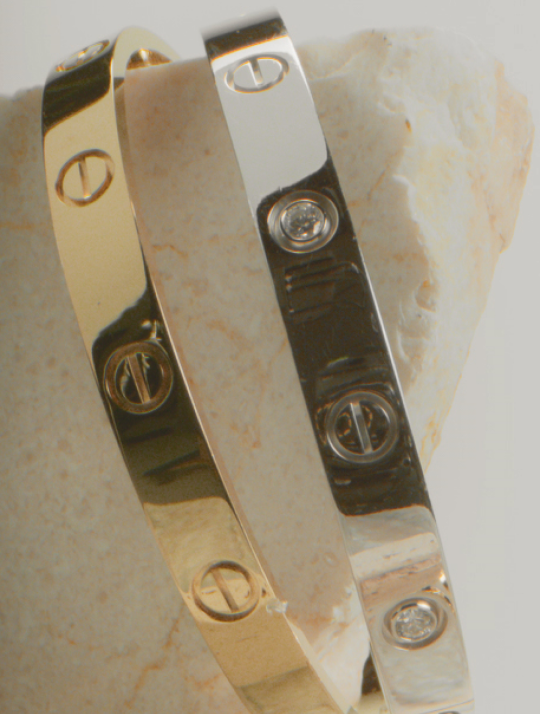 The Top Cartier Love Bracelets: A Breakdown
With a heritage dating back to 1847, Cartier has long been synonymous with meticulous craftsmanship. The prestigious French jewelry maison presents an extensive collection of bracelet styles that cater to diverse tastes, including the subtle and graceful Love bracelet, perhaps the most coveted Cartier model in the world. Selecting the perfect piece amidst such a remarkable selection can be a daunting task. Let us guide you through the top Love bracelet styles by Cartier.
Top Cartier Love Bracelets
Love Bracelet: Designed in 1969 by jeweler Aldo Cipullo, the Love bracelet quickly became one of Cartier's most iconic pieces. This model can be made of white, yellow, or rose gold, with diamond-set iterations available, and is secured with screws that can only be opened with a Cartier-issued mini screwdriver.
Love 4 Diamond Bracelet: This style is a luxurious variation of the iconic Love Bracelet. Available in 18k gold, it features four dazzling diamonds set within the bracelet's sleek and modern design.
Love 6 Diamond Bracelet: Going a step further, this Love bracelet features six diamonds set within the style's frame.
Love 10 Diamond Bracelet: A luxe variation of a diamond-studded Love, this iteration features ten sparkling diamonds set within the bracelet.
Love Pavé Diamonds Bracelet: Perhaps the most luxurious iteration of the Love bracelet, this style showcases a pavé diamond-studded bangle.
Additional bracelet variations within the Love line consist of the following options. While these may not adhere to the traditional bangle style, they still fall under the category of Love bracelets:
Love Interlocking Bracelet: Crafted in 18k gold, it features interlocking Love rings held by a delicate chain that create a captivating visual effect. This model represents the unbreakable bond shared between loved ones and adds a touch of glamor to any ensemble.
Love Chain Bracelet: Available in 18k gold variations, this model features a unique chain link design with two interlocked Love rings, symbolizing eternal love and commitment.
Open Cuff Love Bracelet: Unlike most bracelets in the Love line, this model is not secured by the characteristic Cartier screwdriver; rather, it showcases an open cuff style, ideal for wearer's who might wish to easily take their jewelry off.
Double Love Bracelet: Available in 18k gold variations and diamond-studded versions, this impactful style presents two interlocking Love bracelets in one.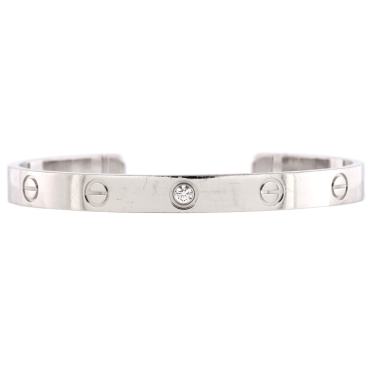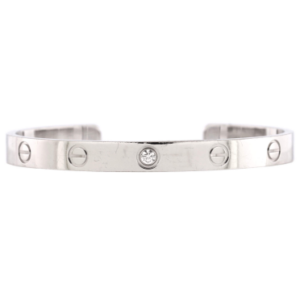 Cartier Love 1 Diamond Cuff Bracelet 18K White Gold with Diamond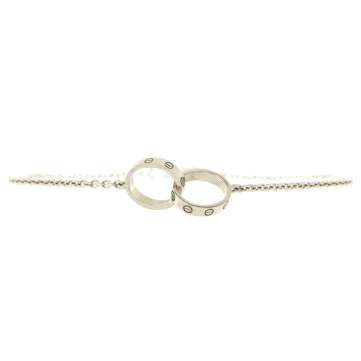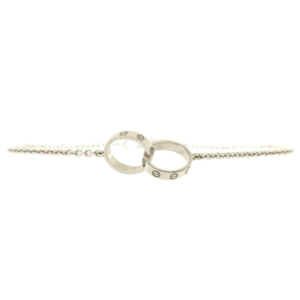 Cartier Love Interlocking Bracelet 18K White Gold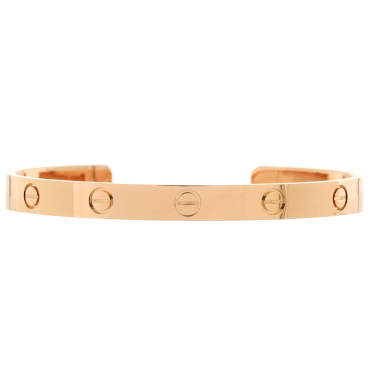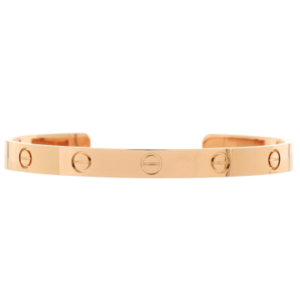 Cartier Love Cuff Bracelet 18K Rose Gold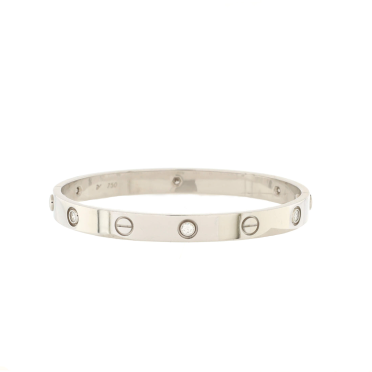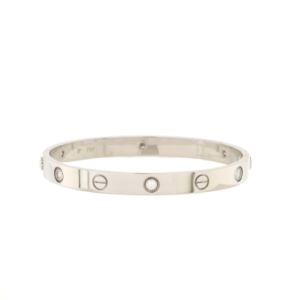 Cartier Love 6 Diamond Bracelet 18K White Gold and Diamonds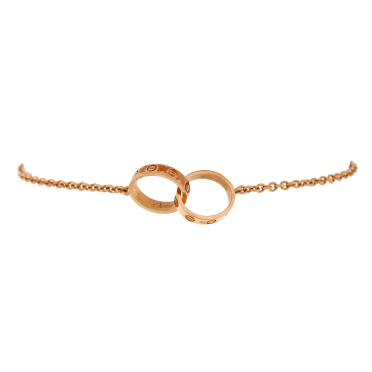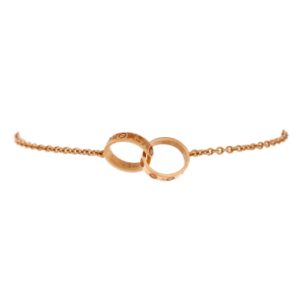 Cartier Love Interlocking Bracelet 18K Rose Gold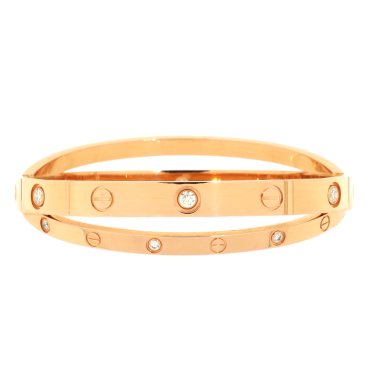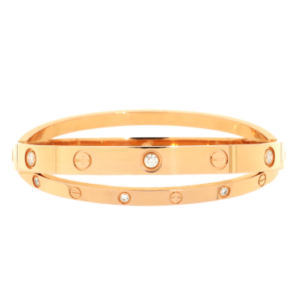 Cartier Double Love Bracelet 18K Rose Gold with Diamonds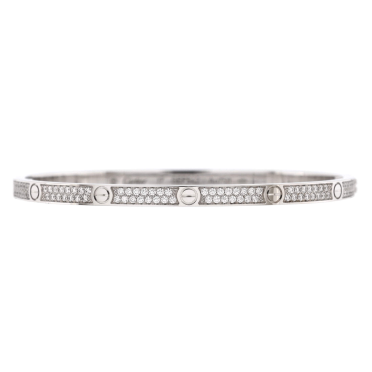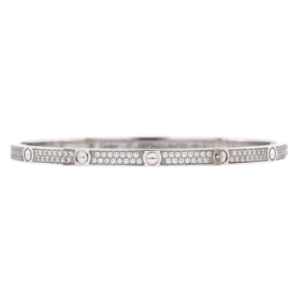 Cartier Love Bracelet 18K White Gold with Pave Diamonds Small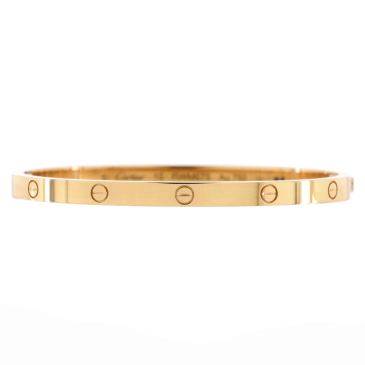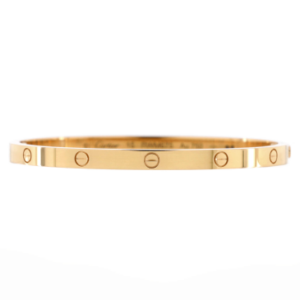 Cartier Love Bracelet 18K Yellow Gold Small