VAULT 101
Which Cartier Bracelet Is Right For You
By The Rebag Team, Aug. 23, 2023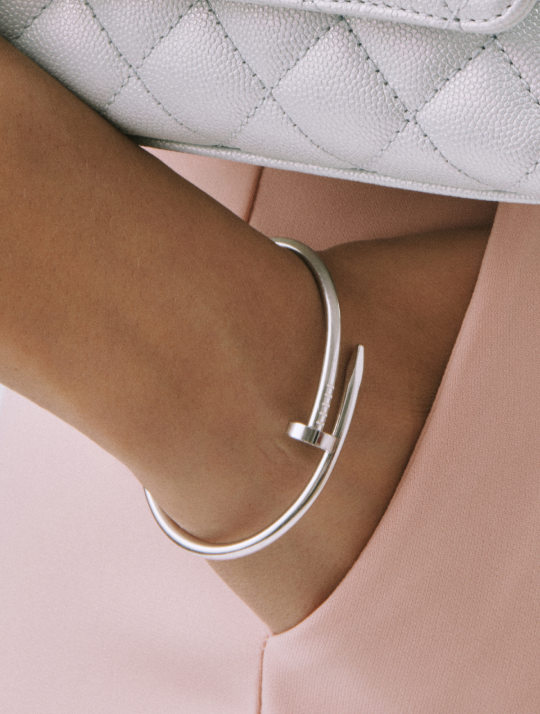 Which Cartier Bracelet Is Right For You
Deciding on the right Cartier bracelet can be simple when you know what to take into account. Do you need something versatile to wear on a daily basis, or are you looking for a statement piece to wow at your next social event? Are you in the market for something understated, or perhaps something sparkling and unique? Read on to figure out which Cartier bracelet is right for you depending on your personal preferences, your lifestyle — and even your investment mindset.
According To Personal Style
Whether you favor timeless elegance or contemporary flair, Cartier has something for every preference. The first step in choosing a piece that fits your personal style is to consider your wardrobe and overall aesthetic. Do you lean towards classic and traditional styles, prefer more avant-garde and experimental models, or something in between?
For a classic look: The Cartier Lanieres bracelet is a delicate and refined piece of 18k gold jewelry that features a slim and flexible chain encrusted with a row of diamonds, with a small circular plate engraved with the Cartier logo. It is ideal for your day-to-day style.
For a bold statement: The Panthère de Cartier Bracelet is a bold and glamorous bracelet that is inspired by the shape of a panther, often iterated with black onyx panther spots, and is sure to complete an audacious look.
A stylish in-between: The Cartier Trinity collection features pieces with three interlocking rings made from three different types of gold, symbolizing love, fidelity, and friendship. Bracelets from the line, both on chain or on cord variations, are a meaningful choice, perfect for pairing with summer dresses, or to wear for a romantic date night, but also a great final touch for an otherwise simple look.
Cartier jewelry is more than just an accessory — it's a statement piece that can accompany you throughout life's big events, as well as your day-to-day routine. Whether you frequent the hiking trail or the philanthropic gala circuit, Cartier has a diverse range of pieces that cater to different lifestyles. Consider the occasions for which you plan to wear it: do you need a piece that will stay in place regardless of your level of activity, or are you looking for something to carry you from the office to formal gatherings?
Active lifestyle:If you're always on the go, an uncomplicated piece like the Cartier Love bracelet is a great choice. It is easy to wear, secured with screws that can only be opened with a Cartier-issued mini screwdriver, and won't get in the way of your daily activities.
Professional: If you work in a creative field and want to express your artistic side, the Cartier Clash bracelet is a fantastic choice. Bold and expressive, it is perfect for the creative professional. If, on the other hand, you need something to fit in a more conservative work environment, you might want to reach for an Amulette de Cartier bracelet, simple and elegant enough to match a three-piece suit or a dress with heels.
Trendsetter: If social occasions fill up your schedule, a diamond-studded or double-wrap Cartier Juste un Clou bracelet will be an iconic choice that will make a statement. For extra glam, try a piece from the Cartier Diamond Collection, which features sparkling diamonds in different designs.
According To Investment Value
Aside from being a strikingly beautiful addition to any jewelry collection, Cartier jewelry pieces can oftentimes double as wise investments. If you're searching for a piece that will hold its value over time, these are some of the best options available according to the data featured in our 2022 Clair Report:
Trinity on Cord Bracelet: belonging to the classic Trinity line, designed by Louis Cartier and marked by three intertwining rings in rose, yellow, and white gold, this relaxed bracelet holds 109% of its resale value.
Cartier Love Bracelet: a symbol of love and a sound investment, this iconic and popular bracelet holds an impressive 99% of its resale value, meaning that it could potentially be sold for more than its original purchase price.
Juste un Clou Bracelet: an edgier yet still sophisticated style, the Juste un Clou bracelet retains 95% of its resale value, making it a splendid choice for buyers looking to invest in a piece of Cartier jewelry.