KNOWLEDGE
Hermès 101:
Silk Scarves
By Taylor M. June 19, 2020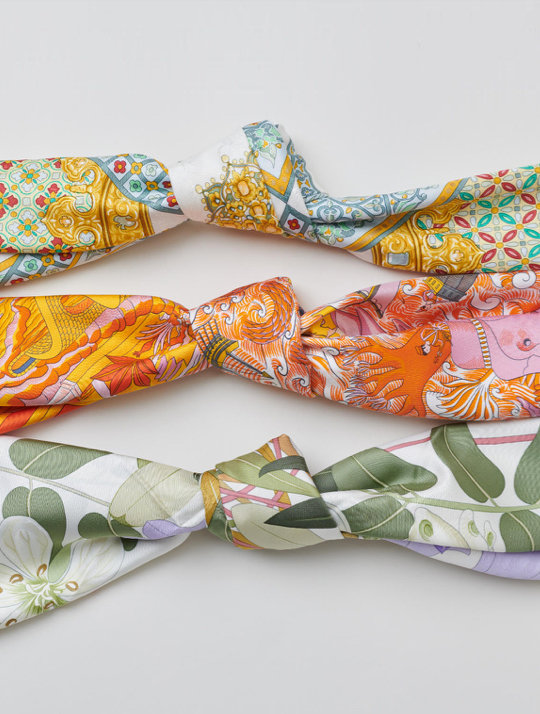 Although most recognized in popular culture for their 
handbags, Hermès is also well-known for their production of highly-collectible silk scarves. Besides their superb quality and craftsmanship, the fashion house's scarves are extremely versatile, making these accessories an excellent addition to any wardrobe. But, just how did the luxury purveyor get started with this delicate craft?
The production of silk scarves at Hermès began in 1937. At this point, the fashion house had been in business for one hundred years. The very first to design artwork for these scarves was Robert Dumas, whose father-in-law was Emile Hermès. Dumas was the first in-house artist to hand design a scarf for Hermès.
Something to note about the first Hermès silk scarf designed by Dumas is the silk itself. At the time of its debut, these scarves were made using the strongest materials available on the market – silk from 250 mulberry moth cocoons, imported from China – which undoubtedly contributed to the immediate rise of demand.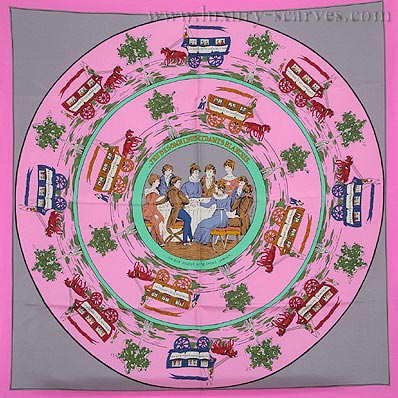 Jeu des Omnibus et Dames Blanches' Scarf, made in 1937
Courtesy of The Hermès Scarf Collectors International Group
Craftsmanship Of Hermès Scarves
One of the reasons that Hermès scarves are so highly regarded is the thorough creation process, which stretches over a year per design. Usually, the house releases twelve scarf designs per year. From conceptualization to production, it takes a solid eighteen months to complete a scarf from start to finish. Choosing a color scheme for each scarf is a process in itself, which includes up to twenty seven different colors, and the development lasts for up to six months. When a design has been affirmed, it is screen printed in Hermès' French atelier. The printers used in production must be engraved according to every new print, which can take over seven hundred hours to implement. The scarf hems, of course, are hand-stitched.
For each collection, Hermès selects different artists to configure each scarf motif uniquely by hand, and the array of styles that have been born out of each individual process is more than impressive. Detailed depictions range from traditional equestrian prints to modern or even fanciful forms, depending on the artisan, and the precise details attest to the inevitable quality of every scarf.
Hermès scarves are produced in an array of shapes and sizes. The classic Square shaped silk scarf comes in 20cm (nano), 40cm (also comes in a pocket square), 70cm (coeur bandana) 90cm (carré), and 140cm (shawl size). The Twilly scarf, which is a long and narrow silhouette with diagonally hemmed ends, comes in these sizes; standard Twilly, Maxi Twilly Slim and Maxi Twilly Cut . Scarves are also produced in Triangle and Losange shapes. The triangle speaks for itself, an elongated three-pointed scarf, available in Giant and standard size. The Losange fit is a lengthened rhombus and can be found in large, medium, and slim sizes, and also comes in a necktie.
A popular detail available in Hermès silk is plissé. This word means that the entire scarf is intricately pleated from end to end, creating a structured texture against the silky fabric. The plissé effect has been applied to all of the shapes and sizes.
A fun benefit to the numerous different shapes and sizes of scarves is the versatility that they lend. Possibilities for styling Hermes scarves are seemingly endless, from using a square to adorn the handle of a Birkin or Kelly, to a losange as a belt or a headband. Bloggers, celebrities, and socialites have been known to get creative when it comes to tying their scarves. One of the longest standing icons of Hermès scarves is the Queen of England herself, usually wearing it as a head covering.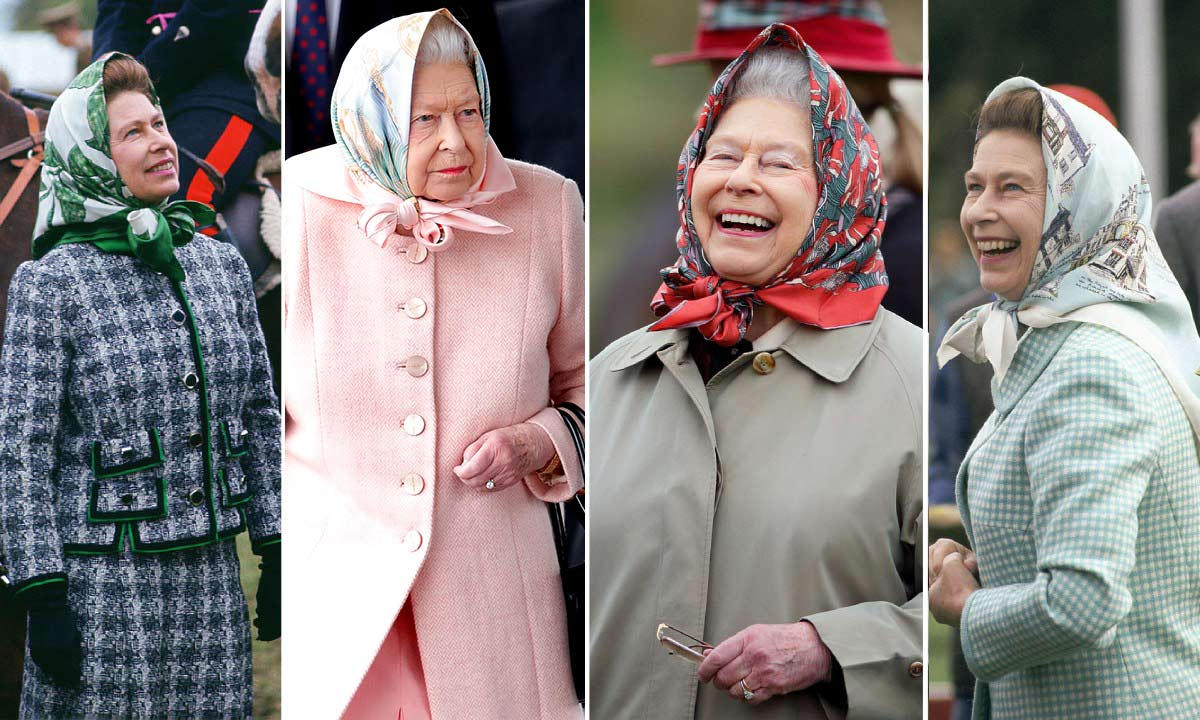 The Queen's Scarves Courtesy of Hello Magazine
Important Designs & Designers Of The Hermès Scarf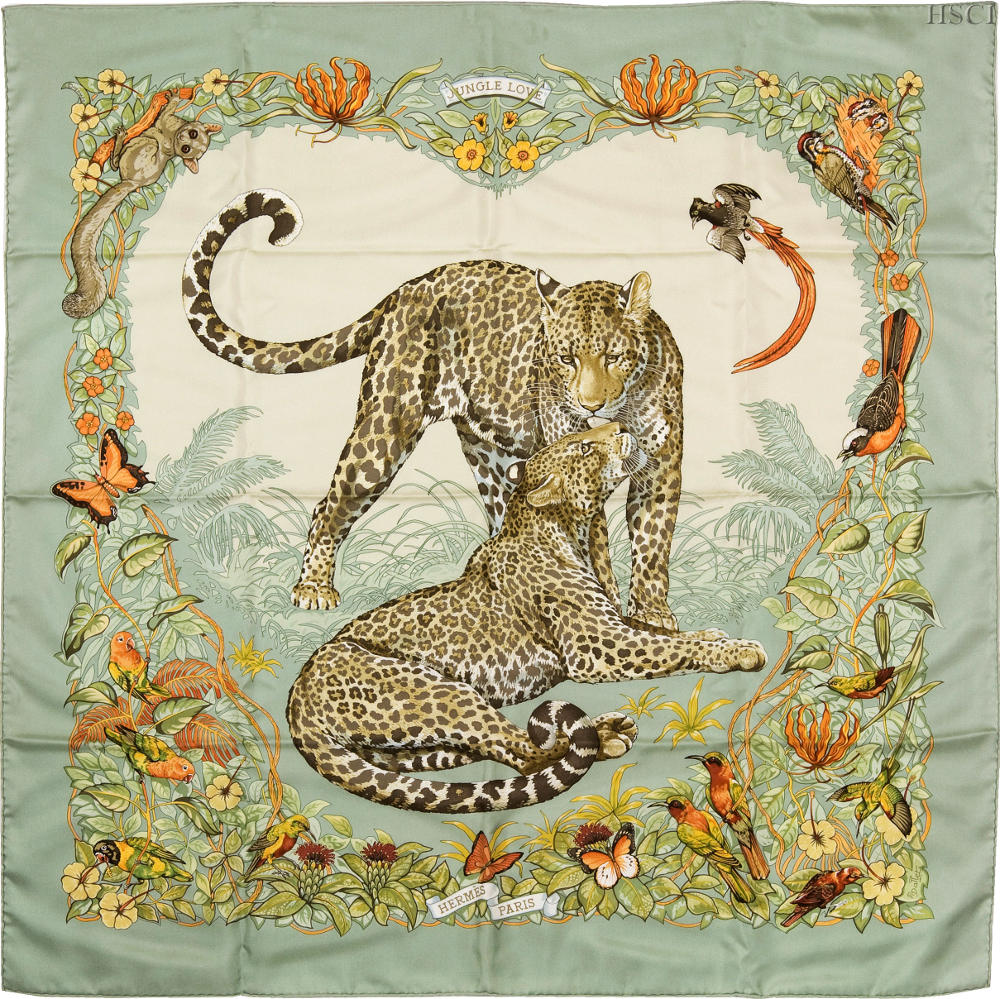 'Jungle Love' by Robert Dallet, Courtesy of The Hermès Scarf Collectors International Group
Each season, Hermès selects different artists to configure motifs uniquely by hand, and the array of styles that have been born out of each individual process is extremely diverse. Detailed depictions range from traditional equestrian prints to modern or even fanciful forms, depending on the artisan, and the intricate details attest to the inevitable popularity of every scarf. Each individual artist marks the collection with their independent style, but these creators are purposefully selected because their styles fit seamlessly into Hermès' aesthetic. For example, Robert Dallet is famous for the jaguar scarf print, "Jungle Love" that was released in 2000.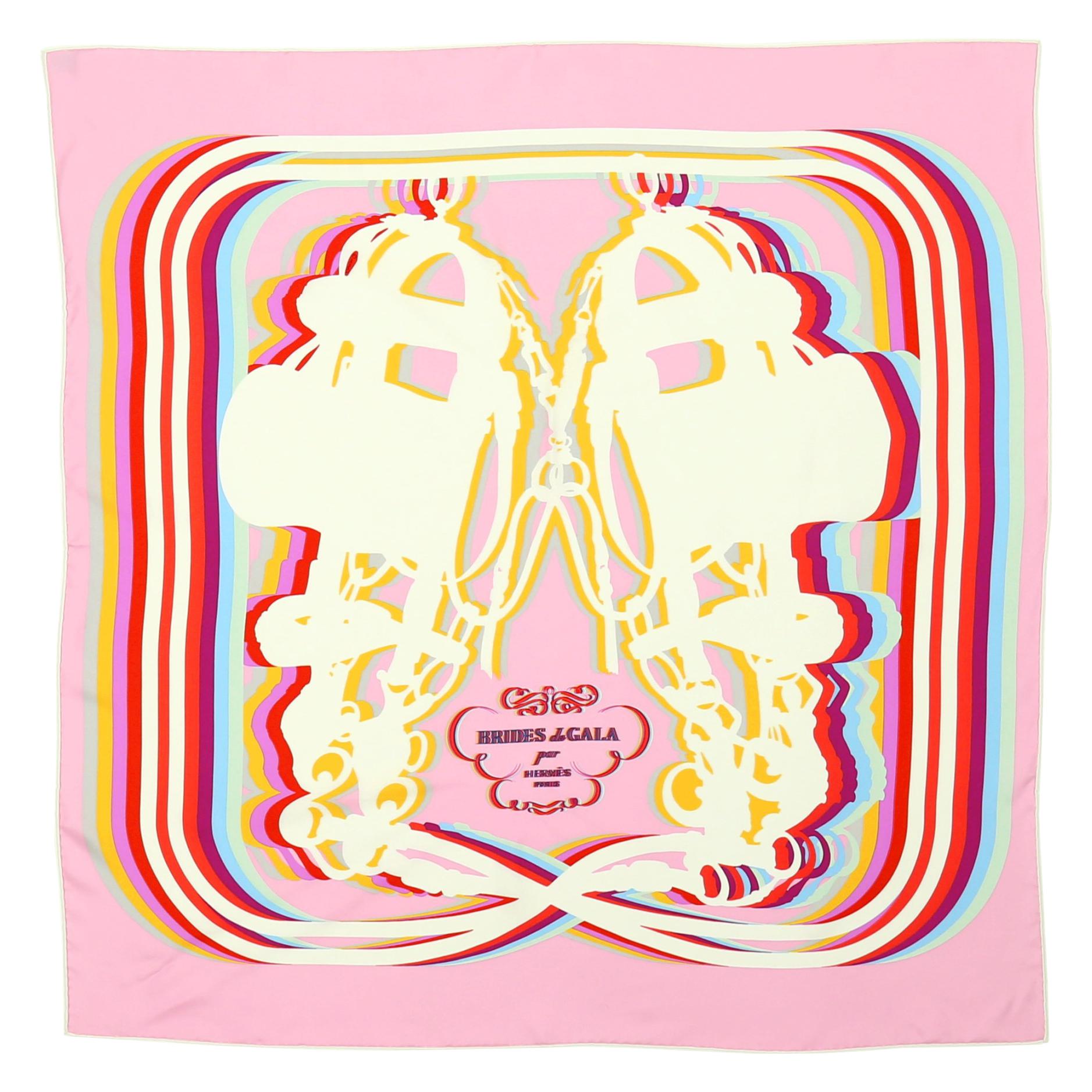 A renowned Hermès motif is the "Brides de Gala" print, designed by Hugo Grygkar in collaboration with Robert Dumas in 1957. The scarf alludes to the origins of Hermès as a fashion house, as it emerged from the equestrian world. The simplistic concept of the image, two bridles laid facing out from one another, paired with the decisive application of the design by Grykar, created a flawless depiction of the brand story while encapsulating its core ideals: functional art that lasts.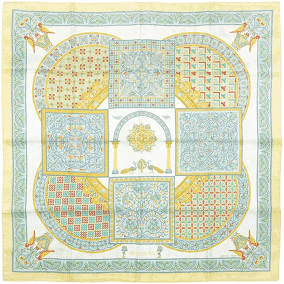 In 1997, Julia Abadie's "Ciels Byzantins" scarf was brought to life. The silk jacquard, now rare and valuable due to the priciness of printing on it, is the pinnacle of luxury with its geometric patterns and vibrant colors to pay tribute to Byzantine decor. Julia Abadie is a renowned artist for Hermès, designing scarves from the late sixties into the two-thousands. Her other designs, such as "Cliquetis" have become extremely iconic to the brand and are highly copied as a result of their success.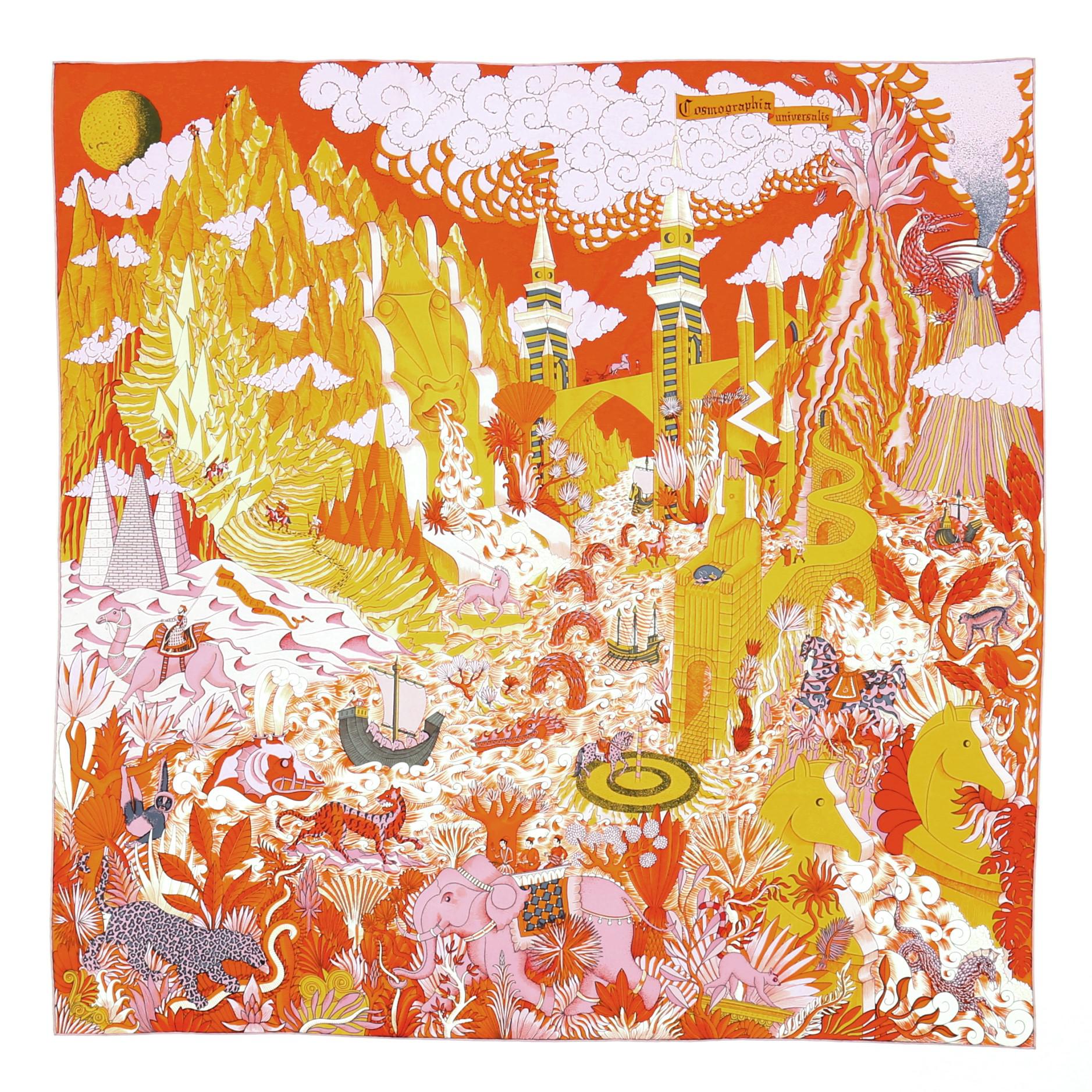 Jan Bajtlik, an illustrator of children's books, recently told a story from 1544 that he uncovered in a Polish library through his design for a 2019 Hermès scarf. The author of this book, Sebastian Münster, was a Hebrew scholar who wrote Cosmographia Universalis, a popular book of the sixteenth century. The "Cosmographia" scarves capture the world outlined in Munster's book, which was composed of mythology. The environment displayed in the scarves includes marvelous creatures living among architectural references to world history. From corner to corner, the enchanting design holds countless intriguing details, beautifully arranged for visual indulgence.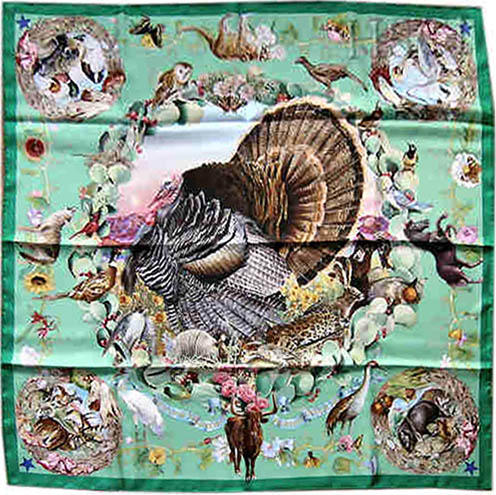 Faune et Fleur de Texas,
Courtesy of The Hermès Scarf Collectors International Group
Another noteworthy artist of Hermès is Kermit Oliver. He was introduced to Hermès by Neiman Marcus founder, Lawrence Marcus, and his wife, Shelby. At the time, the brand was in search of an artist to implement a western American theme in the scarf collection. Oliver is the first African-American, and the only American who has designed scarves for Hermès. Living in Waco, Texas, the artist leads a humble life as a U.S. Postal Service employee and a painter on the side. Despite being modest about his impressive work, by the age of seventy, Kermit had already completed sixteen designs for Hermès. His painting subjects are often family members, sometimes combining religious themes with his family tragedy: the incarceration and execution of his youngest son. As for his Hermès scarves, Oliver is known for designs involving figures of American history, from indigenous people and colonists, to wildlife native to North America. All the while, these designs are marked with Oliver's vibrant colorways and use of elaborate detail that align well with Hermès' meticulously calculated design philosophy.
The history and the craftsmanship of Hermès scarves is rich and diverse, much like its product offering. This category of Hermès items is especially varied due to the unique minds trusted to generate the art printed on the sumptuous silk. Dating back to the dawn of the brand, many of these vintage scarves have gone on to become cherished and sought after artifacts, only increasing in value and popularity with time. The multitude of shapes, sizes, and models ensures that one (if not many) of these items will speak to the tastes and personalities of the fanbase, making it an essential form of expression within an individual's wardrobe.