RUNWAY
See the Bags at Chanel's
2022/2023 Métiers D'Art Show in Senegal
By The Rebag Team, Dec 13, 2022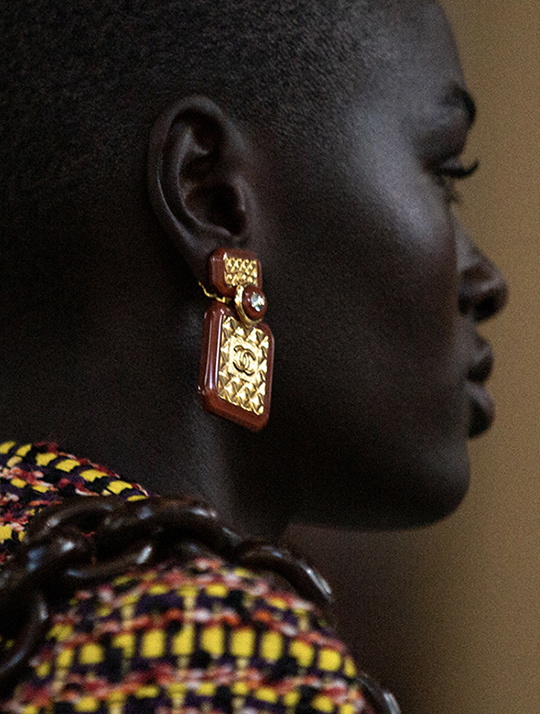 Chanel voyaged to Senegal for its 2022/2023 Métiers D'Art show.
Virginie Viard found inspiration in Senegal's soulful '70s for the 2022/2023 Chanel Métiers d'Art show at the Palais de Justice in Dakar, Senegal. Bold chunky earrings and vibrant bags dominated the runway. Scroll down to see Rebag's favorite accessories. 
Each year Chanel travels to a distant locale for its Métiers D'Art show, which started in 2002 under Karl Lagerfeld. This year, the French Maison voyaged to Dakar, Senegal for a three-day activation that involved a series of panels and performances ending with the annual Métiers D'Art runway show.
How did Chanel select Senegal for its destination? Here's what Chanel said in a statement:
"The choice of Dakar to present the CHANEL 2022/23 Métiers d'art collection on December 6th, 2022, is the result of meetings three years ago with friends of the House who have lived there, who are carrying out artistic projects there, who are planning to do so, or who are simply interested in its creative effervescence. 
Dakar is an influential artistic capital on the international scene, especially in all the fields that are dear to us such as fashion, cinema, dance, literature, contemporary art, and music.
Going to Dakar means engaging in a dialogue with the country that welcomes us. The honour bestowed upon us must go hand in hand with concrete actions in terms of creative dialogue, transmission of know-how and sustainable development."
Chanel selected the Palais de Justice as the show's venue. Still, it's doing more than simply presenting a collection there; the house also plans to contribute to the restoration of the famed Dakar building. "The former Palais de Justice in Dakar, where not only the runway show but also a major part of the accompanying artistic programme are taking place, is one of the most beautiful venues we have ever presented a collection in," said Viard. "It was an obvious choice, and has been a source of inspiration as well."
Scroll down to see the bags, earrings, and more that were presented at Chanel's Métiers D'Art Show in Senegal.