DESIGNER 101
Cartier 101: The Timeless
Allure of the Tank
By The Rebag Team, Jun 13, 2023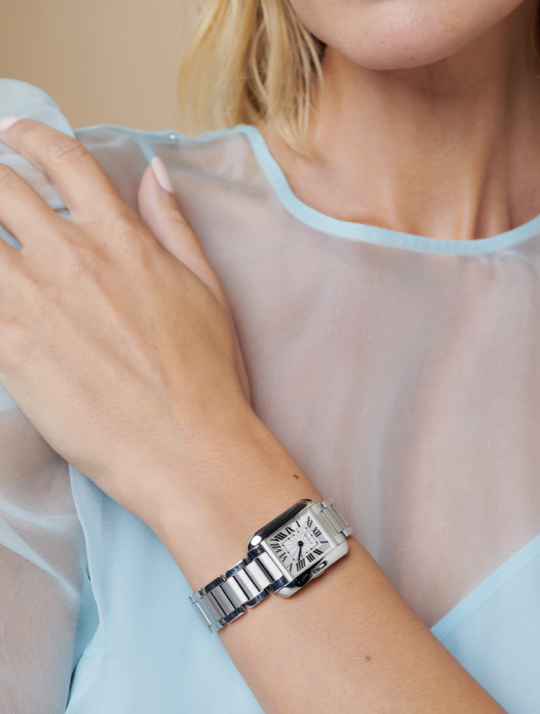 The Cartier Tank
is one of the world's most iconic timepieces.
Renowned for its distinct rectangular case, slim build and blue hands, the Cartier Tank is one of the most coveted watch styles in the world. Designed by Louis Cartier himself in 1917, the Tank's design was inspired by the shape of tanks used during World War I. A symbol of everyday sophistication, this legendary timepiece has graced the wrists of notable figures like Princess Diana, Jackie Kennedy, and Michelle Obama. Explore the history and characteristics of the Cartier Tank watch, including the various models available, materials used, and a sizing guide in this comprehensive article.
The Tank de Cartier Look
The Cartier Tank watch, with its characteristic rectangular case and clean lines, illustrates a harmonious blend of classic and modern aesthetics. The dial's Roman numerals exude sophistication, while the sleek and slender profile adds an element of understated elegance. The blue-steel hands provide a subtle pop of color, enhancing the watch's overall appeal. The Tank's design seamlessly transitions from formal to casual occasions, making it a versatile accessory for any wardrobe. Crafted with meticulous attention to detail, the Tank de Cartier watch is an embodiment of understated luxury and enduring style, perfect for everyday wear.
Tank de Cartier Materials
As with everything Cartier, the Tank de Cartier watch collection is known for its sophisticated design and the high-quality materials used. The cases are made from a variety of materials including stainless steel and 18k gold, which are carefully selected for their durability and elegance and are often combined to create striking two-tone or three-tone designs. Some models may even feature diamond-set bezels, dials, or bracelets, adding an extra touch of luxury.
Dials in the line are often crafted from materials like silver, gold, or lacquer, providing a rich and elegant backdrop for the watch's intricate design elements. As for the strap or bracelet, Cartier offers a range of options, including leather (such as alligator or calf) for a classic look, or metal (like stainless steel or gold) for a contemporary touch. The movements, meaning the watches' mechanisms, are typically made of sturdy and precise materials such as stainless steel and brass. Overall, the Tank is a testament to the brand's commitment to using only the best materials in its products, resulting in a line of watches that is both beautiful and durable.
Tank de Cartier Models
There are several models available in the Tank collection, each with its own unique features and designs. Every iteration is crafted with attention to detail and combines traditional watchmaking techniques with modern technology to offer accurate and reliable timekeeping. Any Cartier Tank style can be worn by both men and women; however, specific models may be designed with certain genders in mind, so it's important to consider individual preferences. Popular styles include:
Tank Louis Cartier: A timeless and iconic model with a rectangular case, Roman numerals, and a clean, minimalistic design.
Tank Solo: A versatile and accessible version of the Tank, featuring a slightly larger case size and a simplified dial layout.
Tank Française: A sporty model with an integrated bracelet, bold case proportions, and a modern aesthetic.
Tank Anglaise: This variation of the Tank series showcases a unique design with a prominent crown guard and a seamlessly integrated case and bracelet.
Tank MC: A masculine and bold version with a larger case size, a skeletonized dial, and a visible movement.
Tank Américaine: A curvier interpretation with a rectangular case, a distinctive winding crown, and a refined and elegant appearance.
Tank Cintrée: An elongated and slender model, characterized by its curved case and delicate proportions, creating a sophisticated and elongating effect on the wrist.
Tank Asymétrique: A unique and unconventional model with an off-centered dial, slanted case, and an artistic, avant-garde design.
Tank Chinoise: A limited-edition model inspired by Chinese art and culture, featuring a rectangular case with rounded corners and intricate detailing.
Tank Divan: A wide and rectangular model with a slightly curved case, offering a contemporary twist on the classic Tank design.
How To Style Your Tank de Cartier
A Cartier Tank in any of its iterations makes for a sophisticated addition to any wardrobe. Men can achieve a classic look by pairing it with a tailored suit, while women can complement a little black dress or formal gown. To dress it down, jeans and a T-shirt or button-down will suffice. When selecting a Tank model, women may want to consider which jewelry pieces, if any, they'd like to pair with their timepiece, and whether they like to match or mix metals. Consider the strap or bracelet options available for the watch—leather for a classic look or metal for a modern twist. Wear yours comfortably on your day-to-day routine or to formal gatherings, either solo or stacked with your favorite bracelets for an extra impactful look.
History Behind the Tank de Cartier Watch
Military tanks inspired the design of the Cartier Tank watch in 1917. Louis Cartier created the watch, drawing inspiration from the shape of the French Renault FT-17 tanks used in World War I. The public debut of the Cartier Tank took place on November 25, 1919, with only six watches available at the time. Despite the limited quantity, all six were sold within two months. 
The market for Cartier Tank faced challenges during the Great Depression and the economic turmoil following the Wall Street crash of 1929. To address declining sales, Cartier introduced new models within the collection: the Tank Cintrée, followed by the Tank LC, the Tank Chinoise, and the Tank à Guichets were some of the few. It wouldn't be until the 1960s that the label regained momentum, with the help of Robert Hocq and Robert Kenmore. They revitalized the brand by reintroducing the Tank watch and diversifying Cartier's offerings. In 1972, Hocq and investors acquired Cartier Paris, London, and New York, reuniting the three branches. Cartier continued to innovate the Tank line, introducing new models such as the Tank Americaine in 1989, Tank Française in 1996, Tank Divan in 2002, and Tank Anglaise in 2012.
Cartier Redesigns The Tank Française: The New 2023 Models 
Cartier's 2023 Watches & Wonders lineup prominently features new iterations of the Tank collection. Standouts include the diamond-studded Small and Medium models in stainless steel, featuring twin rows of diamonds on the brancards. However, the showstopper is the Tank Américaine, an elongated iteration that draws inspiration from the classic Tank Cintrée. Cartier subtly enhanced the case's lines and improved the watch's curvature on the wrist, as well as the integration of the brancards with the strap. The collection comprises 11 new Tank Américaine references, including large models in steel and rose gold, small models in steel and gold (some with diamonds), and five mini models in various styles and materials, including a fully diamond-set white gold option.
Celebrities Wearing The Tank de Cartier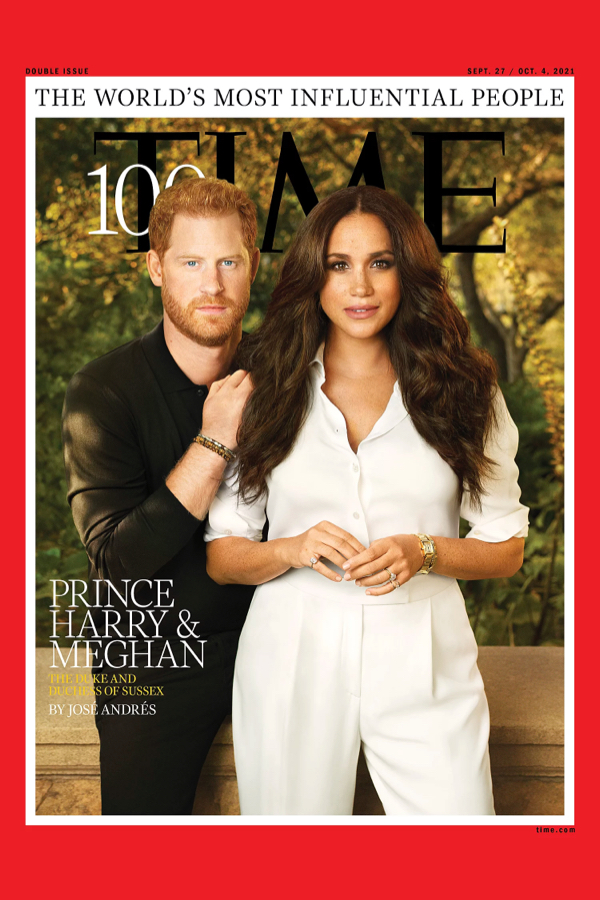 Meghan Markle
Courtesy Time
Meghan Markle wears Princess Diana's Tank Française watch on the cover of Time magazine.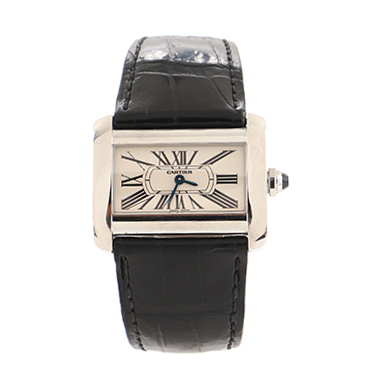 Cartier Tank Divan Automatic Watch Stainless Steel and Alligator 38

Case Size/Width: 32mm
Watch Height: 7mm
Band Width: 24mm
Wrist circumference: 5.75″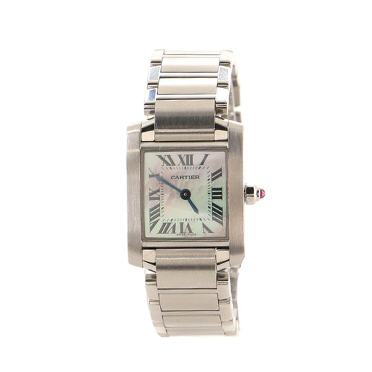 Cartier Tank Francaise Quartz Watch Stainless Steel with Mother of Pearl 20
Case Size/Width: 20mm
Watch Height: 6mm
Band Width: 15mm
Wrist circumference: 5.5″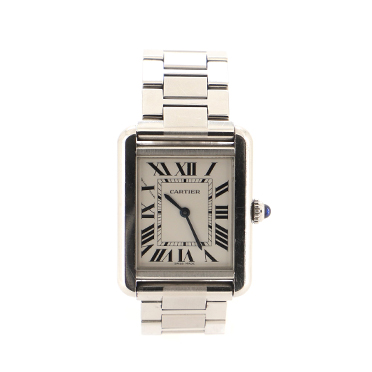 Cartier Tank Solo Quartz Watch Stainless Steel 27
Case Size/Width: 24mm
Watch Height: 6mm
Band Width: 16mm
Wrist circumference: 5.5″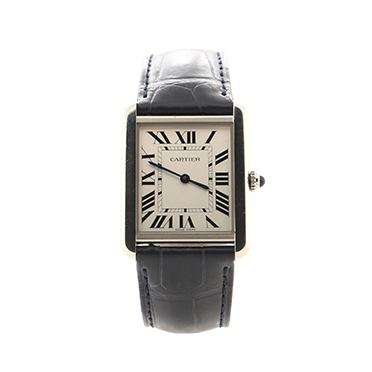 Cartier Tank Solo Quartz Watch Stainless Steel and Leather 27

Case Size/Width: 27mm
Watch Height: 6mm
Band Width: 20mm
Wrist circumference: 6.75″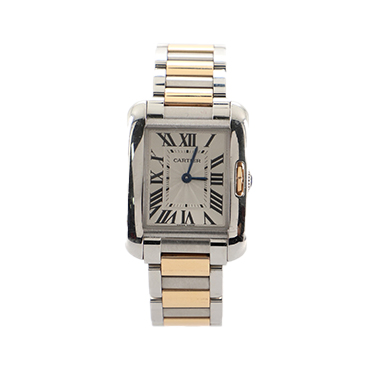 Cartier Tank Anglaise Quartz Watch Stainless Steel and Rose Gold 23
Case Size/Width: 23mm
Watch Height: 7mm
Band Width: 14mm
Wrist circumference: 6.0″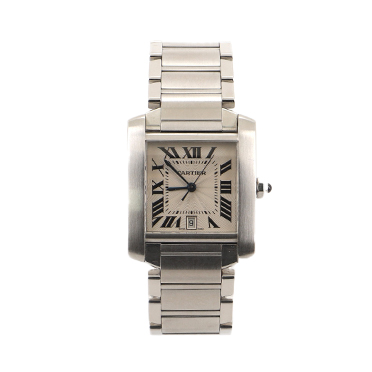 Cartier Tank Francaise Men's Automatic Watch Stainless Steel 28

Case Size/Width: 28mm
Watch Height: 8mm
Band Width: 20mm
Wrist circumference: 7.0″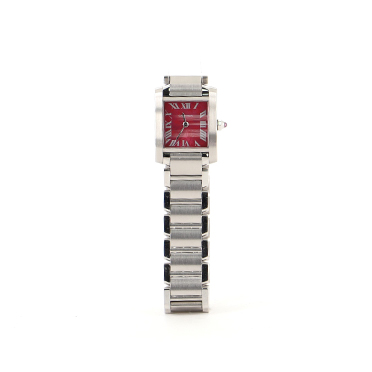 Cartier Limited Edition Tank Francaise Quartz Watch Stainless Steel 20
Case Size/Width: 20mm
Watch Height: 6mm
Band Width: 14mm
Wrist circumference: 7.0″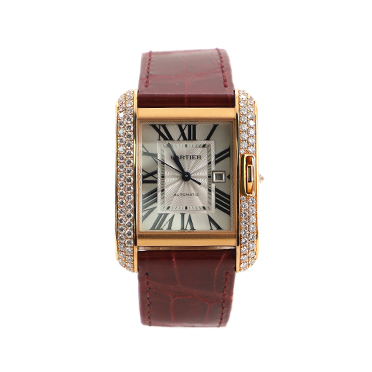 Cartier Tank Anglaise Automatic Watch Rose Gold and Alligator with Diamonds 30
Case Size/Width: 30mm
Watch Height: 9mm
Band Width: 18mm
Wrist circumference: 9.0″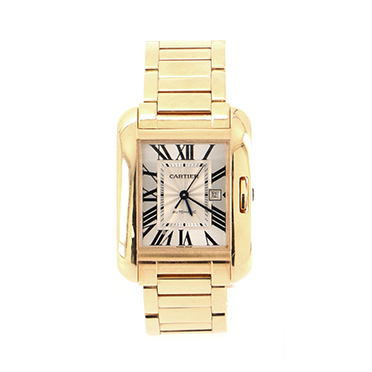 Cartier Tank Anglaise Automatic Watch Rose Gold 30
Case Size/Width: 30mm
Watch Height: 10mm
Band Width: 19mm
Wrist circumference: 7.0″